UFC 136: Why Brian Stann vs. Chael Sonnen Is a Huge Miscalculation by the UFC
July 12, 2011
With the announcement of the matchup between middleweight contenders Chael Sonnen and Brian Stann as the co-main event for UFC 136, two very important questions were answered: who would be Sonnen's next opponent, and whether the UFC could make a bad matchup.
The common pro wrestling matchmaking formula of placing a hero against a heel fits perfectly for this fight.  However, in the world of mixed martial arts, the most important phrase in matchmaking is "styles make fights."  By that logic, this fight is going to be lopsided. 
Sonnen, a controversial yet world-class wrestler, has been one of the most infamous MMA fighters in the last year thanks to his legendary mouth and the controversies that surround him.  Prior to his first UFC title fight last October against P4P UFC Middleweight Champion Anderson Silva, Sonnen promoted the fight to the max.  Whether by equating a Noguiera Black Belt to a happy meal toy, comparing Silva's previous opponents to ice skaters or proclaiming the fight to be "Anderson's retirement party," Sonnen backed up every word in the fight. 
With the Oakland crowd as energized as any arena I have even been in (they booed and chanted the fighters several times each), the greatest Middleweight title fight ended in the greatest comeback in MMA history, with Silva catching Sonnen in an triangle choke late in the fifth and final round.  Following the loss, a huge money rematch seemed in line until Sonnen tested positive for high testosterone after the fight, leading to a year-long suspension.
Sonnen has kept himself in the minds of MMA fans thanks to his battles with the Nevada and California Athletic Commission over his use of TRT (testosterone replacement therapy) as well as just about every fighter in Brazil.  He has promoted himself to the fullest and built a huge interest among fans, who are ready to boo his every shortcoming.  This, it would seem, would be the perfect fighter to place against fan favorite and American hero Brian Stann.  However, in truth it is the complete opposite.
There are many reasons why UFC VP and matchmaker Joe Silva and UFC President Dana White got this wrong, none being more important than the fact that this will destroy the momentum build by both fighters.  One of Sonnen's biggest selling points is his trash-talking, and during this fight, he most likely will keep his mouth shut. He is fighting someone he respects and feels is a true American.
Meanwhile, Stann is a developing fighter who is far from ready for a title contender like Sonnen. Having only been training full-time for five years, his biggest victory to date is his defeat of the sick-as-a-dog Chris Leben on New Year's Day. He has yet to show all the needed tools to be a UFC Champion.
Sonnen possess all the tools to defeat Stann, while Stann will need a miracle to win.  Sonnen's main and glaring weakness is his submission defenses, and while Stann does have a submission victory on record, Sonnen's submission losses have only been to the top BJJ practitioners in the world: Silva, Demian Maia, Paulo Filho, Jeremy Horn (three times) and Renato Sobral.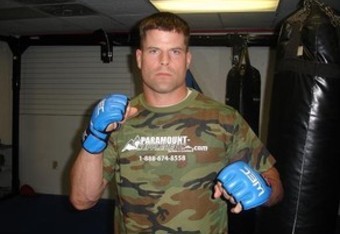 Even at his worst, Sonnen is a dominant wrestler, while Stann has never shown the ability to stop a takedown. He was also dominated in a light heavyweight fight by NCAA Champion and UFC contender Phil Davis in February of 2010.
Now I know what you're saying: Sonnen needs a comeback fight while Stann needs to build his profile, so this is a perfect match.  However, if the fight goes as many expect, Sonnen will disinterest fans with his smothering fighting style while also making an American hero look completely outclassed.  For his part, the shine will disappear from Stann because his greatest weakness—his lack of any wrestling—will be exposed and show him to be years of sprawls and takedown drilling from being a true title contender.
So, with whom would I match up the fighters?  First, I'd keep Stann fighting in Houston and match him up against a different NCAA Champion wrestler, this time one who hasn't shown to be as dominant: Oklahoma State's Mark Munoz.  A fight between this two contenders would answer questions for both: can Stann stop a title contender level takedown, and can Munoz take a punch? 
Next, I would have Sonnen fight someone coming off a loss in a title fight, and someone who can promote a fight just as well: welterweight title contender Josh Koscheck.  Koscheck has said that he wants one fight at middleweight in San Jose at UFC 138, and this would seem to be the perfect co-main event.
With a proposed heavyweight title fight of two soft-spoken fighters in champion Cain Velasquaz and Junior Dos Santos, the two big-mouthed fighters would promote the fight to bring in many extra eyes, helping the UFC promote their two ultra talented heavyweight fighters.  It would also serve as the perfect comeback fight for Sonnen while being a great fight to keep Koscheck busy while other welterweight contenders are occupied.
Hopefully, the UFC will come to its senses and scrap the Sonnen vs. Stann fight before it stops both fighters' momentum.  Otherwise, there will be a lot of disappointed MMA fans when the fight is over...
Bonus Thoughts:
Forget Cruz-Faber III. Been there, done that.  Plus, that fight will always be there.  Make Faber vs. Torres happen now!  For hardcore MMA fans, these two dominated their respective divisions, and people dreamed of a possible fight between the two when the WEC was at its peak.  Now, both are free and ready to go. Just think of this fight as the lighter weight version of Chuck Liddell vs. Wanderli Silva.
People are killing the UFC for their Evans vs. Davis and Jones vs. Jackson set of fights.  However, in my eyes, this is perfect.  Think of the possible matchups should the winners and losers of each fight face one another.  How does Jones vs. Davis and Evans vs. Rampage II sound?  How about Jones vs. Evans and Rampage vs. Davis?  Either way, the fans win.
Remember this name: Alexander Gustafsson.  This 11-1 fighter's only loss came to Phil Davis, and his ever improving game will make him a light heavyweight contender for years to come.  Look for him to use "The Janitor" as a stepping stone on the Spike portion of the UFC 133 card much like Jon Jones did, though in less impressive fashion.
Please let me know what you think, and be sure to look out for my UFC 133 preview and review as well as my thoughts on the upcoming Fedor vs. Hendo matchup.