Wayne Rooney Transfer Saga: Will Manchester United Suffer the Backlash?
July 12, 2011
Jamie McDonald/Getty Images
Manchester United fans are spoiled.
We watch one of Europe's greatest teams play in the greatest European stadium, witness some of the most talented footballers, observe some of the finest youth prospects develop; and all under the guidance of the greatest manager to ever manage.  The success, the trophies, the players are easy to take for granted.  Winning is something Red Devils supporters expect, not hope for. 
 The fact that United has continued to flourish and maintain sustainable success is due to what many other teams do not have.  Managerial stability. 
Not one of us dare to question Sir Alex Ferguson and his methods, is that a bad thing?  After hearing and reading about Arsene Wenger criticized, scrutinized, analyzed and getting constantly torn into lately, Sir Alex remains unscathed.
Its is the responsibility of the fans to go over with a fine-tooth comb the decisions that managers make.  Ultimately, the decisions that affect our clubs.  United may not be in the same boat as Arsenal, due to our success, and commitment to strengthening the squad; but fans must not be complacent about vocalizing concerns, and issues with the management of our clubs.   
Aside from the rare flop in the transfer market, Sir Alex is never questioned.  That is not normal.   I would bet that when Sir Alex does call it a day, his predecessors will never benefit from the same loyalty, faith and confidence from the fans that Sir Alex currently enjoys.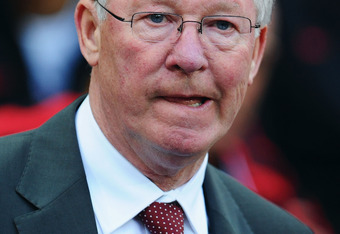 Clive Mason/Getty Images
Having such strong faith in a manger is a positive however.
Supporters can rest assured that Sir Alex would never let Manchester United be pushed around by players, or by other clubs.  Outbursts in the locker room over playing time, wages, or teammate scandals and affairs would never surface like they do at Stamford Bridge.  Players would be shown the door if they decided to be disloyal to the club that gave them everything they have, and made them into the players they are today, kind of like some players from Arsenal. 
Sir Alex was someone who would not budge, and would not allow Manchester United to be held ransom.  In Ferguson we trust.
At least until October 17, 2010.
While we may never know what actually happened behind closed doors, Wayne Rooney decided that his ambitions could not be met by Manchester United.  Whether that was a ploy to receive a rebuffed £180,000 a week contract, or he was actually disillusioned with his current teammates remains unknown and only Rooney will ever know his true objectives.
Under Article 17 of FIFA's transfer rules, a player could buy out the last year of their contract.  Known as the Webster ruling, meaning that Rooney could have left for only £5 million to United's closest rivals.

Denis Doyle/Getty Images
Valued at £50 million, Rooney has been indispensable to Manchester United.  And Rooney knew that.  For the first time in Sir Alex's reign, he was powerless.  Either prove his ambitions to Rooney, or risk having Rooney line up against United as a Sky Blue.
What Manchester United have now done is merely caught up with what most clubs already have been doing.  For so long United held on to being a club that had shown the door to some of the most talented footballers in the world, who dared go toe-to-toe with Sir Alex and Manchester United.  Now, were just like everyone else.
Player power is now in full effect at Manchester United.  What's to say that Nani might decide that his league leading assists deserves him a pay raise? Or After being EPL top scorer, Dimitar Berbatov might want to cushion his salary a bit? Or Chicharito wants some pay-back for the amount of times he rescued United en route to historic No. 19?
Now any player who reaches meteoric levels like Rooney did in the 2009-2010 season, will be able to reasonably inquire about an increase in their paycheck.  It does not matter if Rooney is held to a different standard, or if he is a member of the squad that United rely heavily upon. The fact is a dangerous proverbial can of worms has now been opened.  And wage demands are likely to increase this summer.
Initially I had been resolved to seeing Rooney follow the money to Spain, Italy, or the other side of town.  I have always been a fan of Manchester United, not van Nistelrooy United, Beckham United, or Ronaldo United.  Seeing Rooney leave would have been difficult, but names have come and gone, and the club has always remained.
It makes little sense to depart with our No. 10 now, but the invincibility surrounding Sir Alex and Manchester United, has certainly diminished.  No longer can United be a club that runs players, it is now like every other club.  Run by players.