Seattle Mariners: Why the Weekend Sweep Shouldn't Deter Team, Fans
July 11, 2011
Jeff Gross/Getty Images
In the summer of 2007, the Mariners were a surprise contender. They held the wild card lead into August and had a shot at the division title late in the season.
The Mariners marketing department had labeled the series "Lollablueza," encouraging everyone to fill the city and ballpark with Mariners blue. A buddy and I purchased tickets for all four games. We approached the stadium with the sounds of "Thunderstruck" already in our ears.
Fast forward to 2011. The Mariners were just swept by the Angels in a four game series that has all but dashed hopes at a 2011 playoff run. While the situations aren't all the same with this series being in Anaheim in July and no flopped promotion, the sting is the same.
Four games. Four losses.
You're going to read a lot of things over the next few days while the team is off for the All-Star break. Questions about the team not making a move for a bat, questions about Eric Wedge's lineup construction and continued use of Carlos Peguero.
I'm here to tell you, though, that those things likely don't matter all that much.
In a season where we expected nothing, we had a surprise fall in our laps. Until this weekend collapse, the team was in the thick of a division race, even though we all knew they had no business being in it.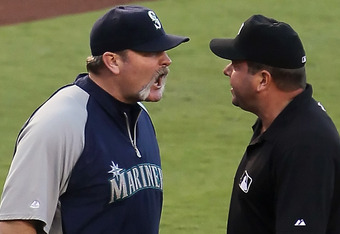 Jeff Gross/Getty Images
What do people want Jack Zduriencik to do?
Head into a near non-exisitent trade market, thanks to so many perceived sellers contending, and offer up a bunch of mediocre prospects for reclamation projects?
Make a bad contract swap with someone for Jack Wilson or Chone Figgins?
If you really stop and think about what the Mariners have to offer, from either the big league roster or the farm, what could we have expected those pieces to net a Mariners offense that needed a lot of hope?
Did you want Zduriencik to shoot for the moon? What is the the moon, though? The name that comes up most frequently, Prince Fielder, is on a team leading a division. So, please, stop with all that talk. The Brewers aren't trading him.
The Mariners only have a few prospects that other teams would find highly valuable. They aren't willing to raise payroll. There isn't much available on the market. They realistically would need three or four upgrades for it to matter.
Looking to a rushed Kyle Seager to save your season isn't ideal. And, yes, seeing your team stand pat is frustrating.
Right now, though, there's nothing else this front office could reasonably do.
When you find yourself frustrated and wondering why Zduriencik didn't use his chips to make a run at the one piece we all think the team is missing, just take a trip down memory lane.
Sometimes, it's best to stand pat with what you have and hope for the best.