50 Reasons Why WWE Is Better Than UFC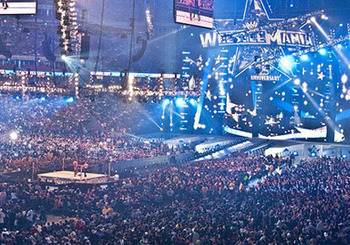 I recently read an article entitled "50 Reasons Why the UFC Is Better Than the WWE." After reading it, I decided to create this slideshow in response. It is my first article for Bleacher Report, and I don't expect it to be any good. I am not the best writer in the world. I'm only in high school, and I got a C in my English class. This article isn't meant to target anyone, especially UFC fighters. I actually like the UFC. They are some of the toughest people in the world. I hope you enjoy the article. Feel free to comment.
Acrobats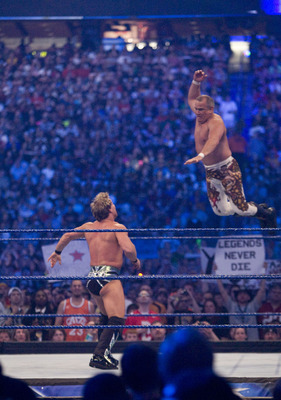 Bill Olive/Getty Images
Have you ever seen a shooting star press in person? It's moves like that that make the WWE so entertaining. There aren't many athletes that could spin 360 degrees in the air and land safely.
Returns
When a WWE wrestler makes an epic return, it's something that can make an entire arena go crazy.
Injuries Are Worse
The WWE is scripted and the wrestlers know what is going to happen when and where. But injuries are not scripted. They happen out of nowhere and can end careers and even lives. Yes, that's Brock Lesnar.
Kurt Angle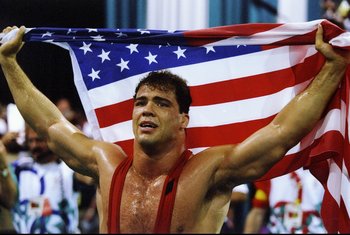 Jed Jacobsohn/Getty Images
Kurt Angle could be a better wrestler than anyone in the UFC. Why? He won a gold medal in the Olympics! With a broken freaking neck! (Only WWE fans get this)
Oh, its true,
Characters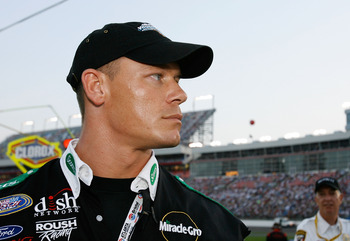 Kevin C. Cox/Getty Images
Sure it's a little childish, but it's entertaining. And WWE IS ENTERTAINMENT.
JBL- rich conservative businessman
Mr. Kennedy- self announced wrestler
Santino Marella- Italian American stereotype
Who comes up with this stuff?
Comedy
Everyone needs a good laugh sometimes. The comedy in WWE is great.
Hulk Hogan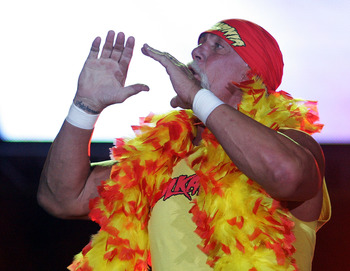 Paul Kane/Getty Images
A lot of people don't like him, but Hulk Hogan is one of the biggest draws of all time. He is a household name and a legend in sports.
Signs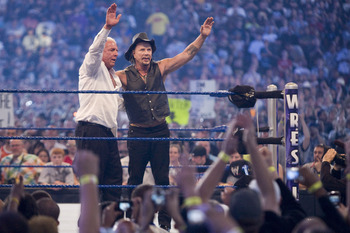 Bill Olive/Getty Images
It's always fun to look at other people signs. Everyone pretty much has one. The fans can really express themselves in the WWE.
The Rock
Who doesn't like The Rock? His character, I mean. Not his movies. He's electrifying. He's legendary. He's got a million catch phrases. This guy is a true entertainer.
Good Matches Guaranteed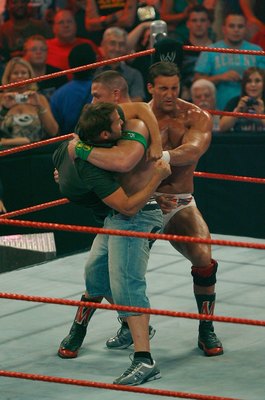 Jim Rogash/Getty Images
In the UFC, a good fight is not always guaranteed. Sometimes they just grab each other on the ground and don't let go for the whole round. Since the WWE is scripted, the matches are usually excellent. At Wrestlemania, there are always several great matches.
Chris Jericho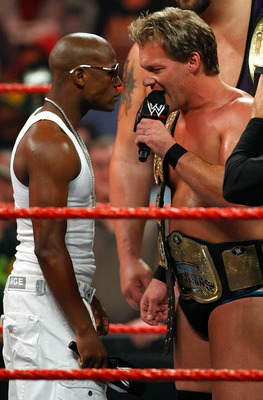 Ethan Miller/Getty Images
Chris Jericho is the definition of success. An entertainer. A rock star. An author. Now a dancer! When will he stop?
Retirements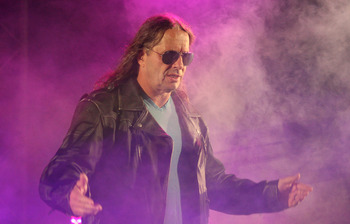 Gallo Images/Getty Images
A good WWE wrestler always goes out with a bang. Look at Shawn Michaels, who retired with an epic match, and an emotional ceremony. Way to pay off 25 years of hard work.
Heels
It takes a special person to be a good heel. It's not easy to make thousands of people hate you.
Babyfaces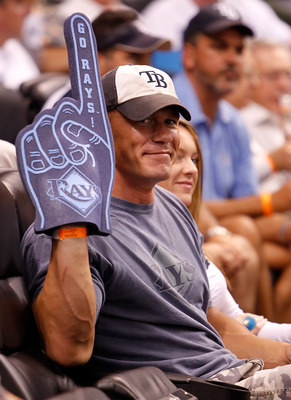 J. Meric/Getty Images
It's also not easy to get thousands of people to like you.
Undertaker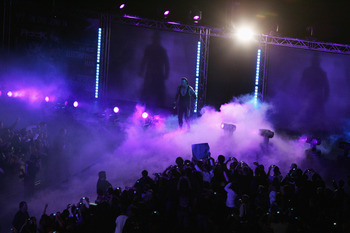 Gaye Gerard/Getty Images
The Undertaker is a once in a lifetime character. When that bell gongs, and the arena goes dark, the crowd goes crazy. This guy has poured decades of blood and sweat into the business and is one of the best of all time.
Undertaker vs. Mankind Hell in a Cell
This is one of the most iconic moments ever. Period. I dare someone to try something like this. Mick Foley has some serious guts.
Stables
Ray Amati/Getty Images
We all love a good group. A bunch of guys that you love or love to hate.
Andre the Giant
This guy was larger than life. A huge draw. Try knocking him out. RIP Andre.
Competition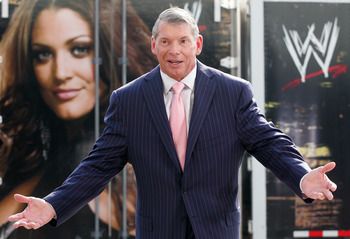 Mark A. Wallenfang/Getty Images
UFC has no competition. They will probably blow the WWE out of the water one day. But the WWE has had to face other promotions to stay in business all the time
Plots
It's like a movie that never ends. And who doesn't like movies? Non-stop entertainment!
Stone Cold Steve Austin
The Texas Rattlesnake. Stone Cold has wrestled through neck injuries and knee problems. He carried the WWE through their toughest times.
Memorable Moments
The WWE has more memorable moments than the UFC, in my opinion. Hogan slamming Andre, Eddie Guerrero winning his first WWE title and many many more.
History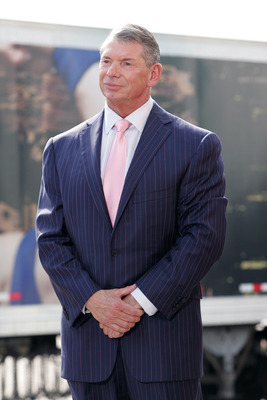 Mark A. Wallenfang/Getty Images
WWE history goes back to 1952. That's over 50 years of fans and champions and moments.
Better Commentary
All those great moments in WWE history might not have happened without great commentary from guys like Jim Ross, Gorilla Monsoon, Jerry Lawler and others.
Cooler Titles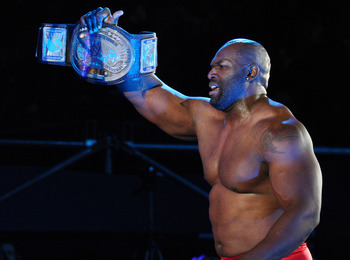 Gallo Images/Getty Images
Big, colorful, and flashy titles. I don't know about you, but i think they are pretty cool.
Edge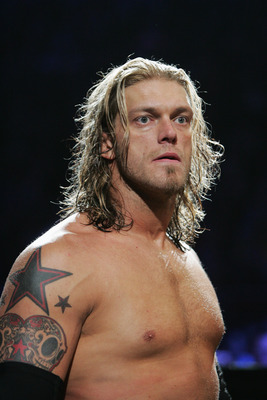 Gaye Gerard/Getty Images
Edge's career shows how dangerous being a WWE superstar can be. He was forced to retire early, because of all the injuries he's suffered throughout his career. This was diagnosed as cervical spinal stenosis and because of it, the doctors cannot medically clear him to compete without him risking neck-down parlysis, or even death.
Fire
You'll never see that in the UFC.
Thumbtacks
You'll never see this either.
Elimination Chamber
To think they would actually put six men in here. This steel contraption really punishes these guys.
Good for People of All Ages
Men, women, children, even old people love the WWE.
Chyna
She could beat up most men if she wanted to.
Tougher Women
Let's see one of those UFC girls do this!
Iron Man Match
An hour of wrestling. An hour of entertainment. Only in the WWE.
TLC
Tables, ladders and chairs.
Oh My!
Tragedies
These moments stay with fans forever. It's heartbreaking.
Royal Rumble
It's the pay per view we wait for every year. Only the toughest survive.
Better Ring Entrances
These guys have their own music and the crowd is really into it.
It Almost Killed Brock Lesnar
This moment almost ended Brock Lesnar's career and maybe could have taken his life. If he landed any worse, he wouldn't be kicking it in the UFC today.
Rey Mysterio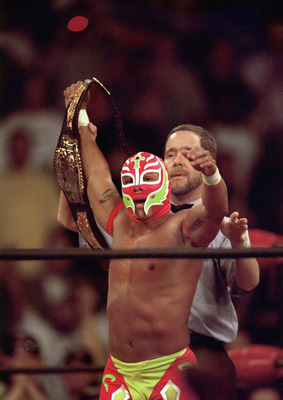 Elsa/Getty Images
The ultimate underdog. Rey Mysterio always delivers a world class performance. He's done stuff other athletes couldn't even think of doing. A true genius in the ring.
Surprises
Who in the world saw this coming?
More Drama
The WWE can produce more drama than TNT at times.
Shawn Michaels
The Heartbreak Kid. The Showstopper, the Headliner. Shawn Michaels has had the Wrestling Observer Newsletter match of the year award 2 years in a row. And he is a multiple time PWI match of the year winner. He always delivers.
They Grant Wishes
Great entertainers. Even greater people.
High Risk
Sorry, but you'll never see a UFC fighter jump off the top of the cage.
Even the Owner Takes Hits
Yes, that's Vince McMahon lying with a trash can over his head waiting for someone to jump off a 20-foot ladder onto him. He does stuff like this all the time because he is willing to sacrifice his body for his company.
The Attitude Era
The Golden Age of wrestling. You were guaranteed something amazing ever week.
Dreams Come True
These guys sat in front of their TV screens when they were kids dreaming of becoming a WWE wrestler. They wait years and years and give everything they have for just for one moment. Watch the emotion on Benoit and Guerrero in this video. Truly amazing.
Wrestlemania
The Grandaddy of them all. Wrestlemania is the greatest pay per view extravaganza of all time! Wrestlemania not only put the WWE on the map, but it changed the sport of professional wrestling forever. Over a million people have watched the event live and many more on television. Former wrestler Jesse "The Body" Ventura has compared it to the World Series, the Super Bowl and even the Rolling Stones. He said Wrestlemania is unlike any of them. Wrestlemania lasts forever.
More Passionate Fans
A WWE fan is unlike any other. They've shed tears for superstars that passed away. They support their favorites through thick and thin. In my opinion, you'll never hear anything more incredible than when a stadium full of die hard fans go crazy for one moment. Look at Wrestlemania 3, when Hogan slammed Andre and 93,000 people erupted like a volcano. I don't think you'll ever see something like that in UFC. It's an incredible feeling to be a WWE fan.
Keep Reading