British Open 2011 Predictions: Will Rory McIlroy Run Away with the Tournament?
July 11, 2011
Andrew Redington/Getty Images
Rory McIlroy is playing golf like Frank Sinatra sang songs: with the world on a string. 
Gary Player, the South African golfer and Hall of Famer with nine majors under his belt, says the kid, "can conceivably be the next Grand Slam winner—if he has the passion and the desire," according to Ryan Ballengee at NBCSports.com.
Graeme McDowell, the reigning champ of the 2010 US Open and Northern Irish countryman of McIlroy, said, "[Rory] can do things to a golf ball that I can't. That almost no one can…He makes the game look so easy, it's a joke," according to Sports Illustrated's Alan Shipnuck.
Nicklaus was 22 when he won his first major, the 1962 US Open. Ballesteros was 22 at the Open Championship for his first major victory in 1979. Woods was 21 the day he strode up the 18th at Augusta National to capture the Masters for his first major in 1997. Last June, Rory McIlroy routed the US Open field by eight shots to win in historic fashion. He is just 22.
Among the array of records he set over those four fateful, and now famous, days in Bethesda, Maryland at the US Open, McIlroy now holds:

- The 72-hole record at 268.
- The 54-hole record at 199.
- The 36-hole record at 131.
- The most under par at any point at 17-under.
- The quickest to reach double-digits under par—26 holes when he got to 10-under in the second round.
It wasn't Nicklaus, Palmer, Woods or Mickelson who had their name etched into golf's record books, but a 22-year-old Northern Irish lad who had no business romping the field had it not been for his father's tireless commitment—working three jobs—so his son could pursue his passion.
This Thursday, June 14, will be McIlroy's next adventure at tempting fate, breaking records and trouncing a field of the world's most elite golfers.

However, McIlroy will face a golf course two centuries old—Royal St. Georges in Kent, England—fortified by blind tee shots, swirling winds, blisteringly quick greens and undulating fairways that cause golf balls that land in the middle of the fairway to roll endlessly into cavernous pits of despair, or what the English refer to as "sand traps."  
To say that all eyes will be on McIlroy at the British Open is like saying chocolate and vanilla ice cream mix well together. It's a gigantic understatement.

When a young kid like McIlroy—whose boyish smile and titanium-denting swing blend to charm fans on either side of the pond—tragically melts down in the final round of the Masters only to return resilient, rejuvenated and trample over the US Open competition, he is not just the favorite to win the next major, but rapidly on the rise as the new icon in the world of golf.
But for a moment, forget the records, forget the acclaim and forget the momentum of McIlroy's mesmerizing triumph. 
It's been a month of nearly unfettered celebrating—including a brief vacation to Wimbledon—media engagements and starry-eyed nostalgia for McIlroy. Although he clearly knows how to prepare for major championships—accumulating three top-three finishes, a top-10 and now a victory in his last 10 major championship appearances—his complete lack of competitive play since the US Open causes considerable doubt about his readiness for the British Open.
Sports fans can't realistically expect him to play the exact same borderline flawless golf that he displayed at the US Open, can we? What has he been practicing? What is the state of his game?
He has accumulated more experience in his last three years of competition than most professional golfers will in their entire careers. He's held the lead, contended and now won a major championship. Except, he will enter the British Open in a unique and potentially bizarre position.
In his short career, McIlroy has come excruciatingly close to winning a variety of majors, including the PGA Championship last year and the Masters last April. His inability to close, and ultimately win, a major championship prior to June had caused him to enter each of the previous major championships with his head held high, completely consumed by a single, motivating idea—learn from his previous mistakes and come out on top.

But after putting on the most dominating performance in golf since Tiger Woods' 15-stroke thrashing at the 2000 US Open, McIlroy doesn't have any knowledge of what it's like entering a major, let alone a regular Tour event, as a major champion.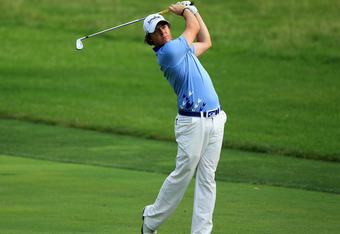 David Cannon/Getty Images
He doesn't know the pressure.
McIlroy had been having a promising 2011 season prior to the US Open, finishing out of the top-20 just once in a combined nine events between playing on the PGA and European Tours. 

At the US Open he was a blueprint of consistency, not only pummeling his drives off the tee over 300 yards on average and draining putts virtually on command, but notably leading the field and setting a new record at the US Open for hitting greens in regulation 86 percent of the time. Compare that with past major winner and perennial threat Phil Mickelson who hit 63 percent of GIR, which led to a dreadful 47th in the field.
McIlroy ran away with the US Open because he continually put himself in favorable situations to make birdies and pars. His driving accuracy was reliable, his precision with his irons was unrivaled among the field, and his touch on and around the greens was the most stable, and consequently most significant, element of his championship victory.
Unfortunately, there's a specter of doubt wading just behind McIlroy's still dazzling win last month. Without engaging in a competitive environment over the last month, McIlroy's stock has dropped. A top-five finish is out of the question for McIlroy, who will struggle to find his rhythm amidst the changing tide of his career in professional golf.
However, even Sinatra knew, "the best is yet to come."