MLB Trade Rumors: Will Florida Marlins Trade Anibal Sanchez or Ricky Nolasco?
July 11, 2011
After enduring a rough and gloomy June, the Florida Marlins have seem to have fought their way out of an unorthodox slump by winning nine of their last 12 games to close out the first half of the season. 
But the slump certainly damaged like that chunky iceberg did to the Titanic, the Marlins sit fifth in the NL East at 43-48. They will have a favorable schedule to begin the second half facing the Cubs at Wrigley in a four game set, the Mets in a makeup game in Queens and Padres in a three game home series, paving the way to get back to .500. 
The question that lies is, will a continued run to start the second half help push the Marlins back into the race with two months left and perhaps change the market for them from sellers to a bare buyer? 
Surely, the run will have to be just the opposite of what the Marlins endured in June for them to avoid dealing closer Leo Nunez among others but if they fail to reach .500 soon enough they might have to re-adjust course.  
A point that was brought up Fox Sports Ken Rosenthal is if the Marlins make little or no progress in the standings, will they seriously entertain offers for starting pitchers Ricky Nolasco and Anibal Sanchez?
Both stand as the Marlins top two starters with their main ace Josh Johnson still on the shelf with a nagging shoulder issue.
Last offseason, the Marlins were at a crossroads with Ricky Nolasco on a contract extension speculating that he might be on his way out. In the end, Nolasco signed for three years and $26 million, making him a mainstay until the 2013 season.
In the upcoming offseason, the Marlins will be faced with a similar situation in Anibal Sanchez who might command a similar if not better deal considering how well he has pitched this season (6-2, 3.58 ERA, 117 Ks in 113 innings). 
There is almost no chance they will deal both between now the opening of the new stadium, after all, it won't sit well with fans after trading fan favorites in the past and will set them back while teams like the Nationals and Braves are rising. 
But in the business of baseball and the Marlins front office, you just never know what will happen next and while they have a run now, that can easily fall apart like we already saw a month ago. 
If the Marlins collapse, they would be more inclined to dangle Nolasco out there just because he is under a three year contract and the fact he is a year older than Sanchez, whose consistency might prove more valuable to the Marlins as they enter the new stadium.
Nevertheless, the Marlins will not deal either for a cookie, they'll want major league ready prospect(s) in return. In Nolasco's case, think back to what the Milwaukee Brewers had to give up (top prospect Brett Lawrie) last offseason for then Blue Jays' pitcher Shawn Marcum. The Marlins will certainly demand the same quality in return but in the mold of a pitcher(s).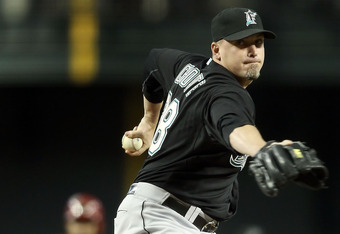 Christian Petersen/Getty Images
One team who matches up with the Marlins based on need would be the Detroit Tigers, who sit in first place in a tight AL Central where three other teams (Indians, White Sox, Twins) are within 6.5 games out. 
The Tigers who would want starter and a left handed reliever who could propel them ahead into the playoffs for the first time since 2006. A package centered around top prospect Jacob Turner for both Nolasco and left-handed specialist Randy Choate would be beneficial for both sides.
Under that scenario, the Marlins could allocate the intended Ricky Nolasco money towards Anibal Sanchez contract extension and afterwards still pursue a veteran starter to round out their rotation. 
Considering how packed the Braves and Phillies are with talent, it would make sense to get reloaded a bit with young pitching while still making a run this offseason at veterans who might want to play in a brand new ballpark closer to South Beach. 
For all the latest sports news and tidbits revolving around South Florida, follow me on twitter @james_bondman.