Juan Francisco: Cincinnati Reds' Third Baseman of the Future?
July 10, 2011
Christian Petersen/Getty Images
Over the past three seasons, Reds fans have gotten many glimpses of the young power-hitting third baseman; but will we be seeing him in the corner infield for years to come?
Most fans with casual knowledge of the slugger tend to make two associations with him: a fierce bat and a glove that's just as scary for the wrong reasons. 
Juan Francisco has some tantalizing power, with the ability to hit upwards of 30 home runs a season.  He has a good hit tool to match; in a typical MLB season he projects to hit somewhere in the neighborhood of .280 to .290.
Francisco's plate discipline, however, leaves a bit to be desired.  In 637 career plate appearances with AAA Louisville, Francisco has a walk-to-strikeout ratio of 27/147, or 18.37 percent.  Even strike-out artist Mark Reynolds would scowl at those kinds of numbers.
The good news, though, is if you follow Francisco's development, his discipline has slowly improved year-to-year, level-by-level. 
Below is his BB/SO ratio, with the minor league level in which he spent the majority of time that year.
| | | | |
| --- | --- | --- | --- |
| Year | Level | BB/SO% | OPS |
| 2006 | Rk | 13.95 | .718 |
| 2007 | A | 14.29 | .763 |
| 2008 | A+ | 15.45 | .799 |
| 2009 | AA | 20.87 | .847 |
| 2010 | AAA | 19.75 | .890 |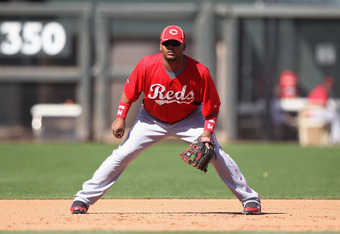 Christian Petersen/Getty Images
Through each season, the more Francisco's improved his plate approach the more his periphery numbers have crept up.  When it comes to discipline he's never going to spark any comparisons to Wade Boggs.  Heck, if the guy musters a plate approach leaning more towards Reggie Jackson than Bo Jackson that'd make his bat plenty dependable enough.
Delving even further into some of Francisco's metrics shows he has even more promise of ironing out his approach.  The following are two key Sabermetrics showing Francisco's plate discipline:
| | | | |
| --- | --- | --- | --- |
| Stat | Description | League Average | Francisco |
| O-Swing% | Pitches outside of the strike zone swung at | 30% | 32% |
| Z-Swing% | Pitches inside of the strike zone swung at | 65% | 76% |
Francisco is about the league average when it comes to swinging at pitches outside the zone and has shown superb recognition of strikes.  Obviously Francisco has good pitch recognition, which is the biggest part of becoming a disciplined hitter. 
So why are both his walk and strikeout rates so ugly?  It all comes down to mentality. He has the approach of someone playing in a slow-pitch beer league: Walks are for chumps.
Francisco's style doesn't need completely retooled, but if he could just improve a couple facets of his approach he could truly become a monster at the plate.  Like any other batter, Francisco works much better from ahead in the count, but Francisco ahead in the count and Francisco behind in the count are worlds apart.  Take these splits from his MLB career thus far:
Batter Ahead: 1.600 OPS
Full Count: 1.351 OPS
Even Count: .494 OPS
Pitcher Ahead: .276 OPS
While the sample size of only 104 plate appearances is relatively small, these numbers are fairly reflective of Francisco throughout his professional career.  The skills are there—he just needs to learn how to take a pitch now and then and work a count.  His outright aggressive approach has served him pretty well thus far, so don't expect him to become some walk-taking machine like Daric Barton.  If Francisco can just keep from falling behind early so often and work more counts full, he'll see a lot of production at the big-league level.
Whether Francisco's glove is solid enough to keep him in the infield has always been a point of contention.  He's never came with a pedigree for defense, but given the upside of his bat if he can play anything that approaches an average defensive third base he'll be fine. 
Francisco sports a very strong and accurate arm.  No shades of Edwin Encarnacion launching routine outs into the stands to be seen here, but he's fraught with flubs nonetheless.  His range and ability to pick up the ball off the bat are both a tick below league average, but more than anything he needs to work on mental miscues.
Looking at Francisco's stats, his glove may have come around enough to keep him in the infield.  He's shown gradual improvement since hitting a high-water mark of 39 errors in 336 defensive chances in 2009.  Over the past two seasons in minor ball he's accumulated 18 errors in 269 chances.  I don't see any Rawlings Gold Glove Awards around the corner, but they're at least semi-bearable numbers.
All things considered, I think Francisco has what it takes to be a productive third baseman in the MLB.  Considering the glut of outfielders vying for the Reds starting left field position, it's also his only way to receive regular playing time.  Being blocked at third base by Scott Rolen is actually a great thing; it will only continue to give him time to work on his game. 
Barring a trade, I expect to see Juan Francisco manning third base, bobbling balls and launching heroic home runs in a Reds uniform for years to come.