NFL Free Agency: Could Jason Babin Be the Next Titan to Defect to Detroit?
July 9, 2011
Grant Halverson/Getty Images
2010 marked the first time in defensive end Jason Babins career that he recorded more than four sacks in a single season.
So why would the Detroit Lions pursue a guy that has played for three different teams in the past three seasons and only recorded more than four sacks only once in his eight-year career?
Because Babin is an absolute monster.
He is the prototypical blue collar, high energy, gym animal that Jim Schwartz covets in defensive prospects.
The former first-round draft pick out of Western Michigan University is a prime example of how hard work and determination can reinvent a player's career.
I wouldn't say that Babin is a late bloomer. As a successful defensive end for the Broncos in college, the Houston Texans thought well enough of Babin to draft him 27th overall but decided to move him outside linebacker.
Though Babin enjoyed a somewhat successful rookie campaign at oustide linebacker in '04 for Houston, he would spend the majority of the next six seasons on four different teams struggling for playing time.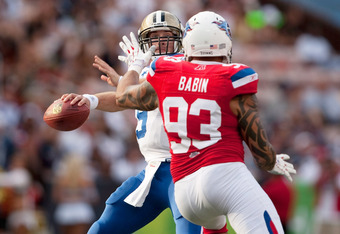 Kent Nishimura/Getty Images
Whether it be the defensive scheme or their willingness to play the well-traveled veteran, Babin flourished in his first season in Tennessee in 2010.
Last season for Tennessee Titans, he recorded 12.5 sacks and forced two fumbles en route to his first Pro Bowl selection. Babins sack total was good for sixth best in the National Football League.
For the first time in his career, Babin was permitted to do what made him a first-round draft selection, speed rush off the edge.
"All I wanted was an opportunity to play, and when I looked into Coach Washburn's eyes and shook his hand, I could tell he was passionate as I was and I'd get that chance," Babin said. "I'm aggressive, passionate and relentless when I play. You're not going to win every play, but I'm sure going to try and win every play."
As far as the impact a 31-year-old, one-year wonder could bring to potential free-agent suitors, Babin said,
"The lockout happened on March 2, so I wasn't able to get a feel for the teams wanting to court me," Babin said. "I'm sure I'll have a couple of knocks on me with last season being my first big year and my age, but I don't have the mileage per se," Babin said. "I've been garage-kept for a few seasons and I'm now out of the box. I'm looking to get a three- or four-year contract. I plan to play the last few years on my terms."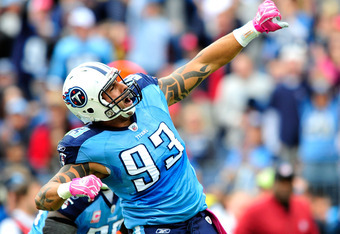 Grant Halverson/Getty Images
With Kyle Vanden Bosch coming off neck surgery to correct a bulging disk that was a cumulative result from years of hitting, it is highly improbable that he plays a significant amount of the 2011 season.
An end like Jason Babin would be an excellent acquisition and an immediate plug and play option for the Lions if the need may present itself.
Vanden Bosch has been adamant in saying that he is fully recovered from the operation and that rehab was a "piece of cake."
Whatever the case may be, Jason Babin would be a valued commodity for the Detroit Lions defense.
Though it would be nice to see Babin in Detroit, his primary concern is signing with a team that he will assuredly see a substantial amount of playing time with.