2011 British Open Picks: Top 10 Players Not Named Tiger Woods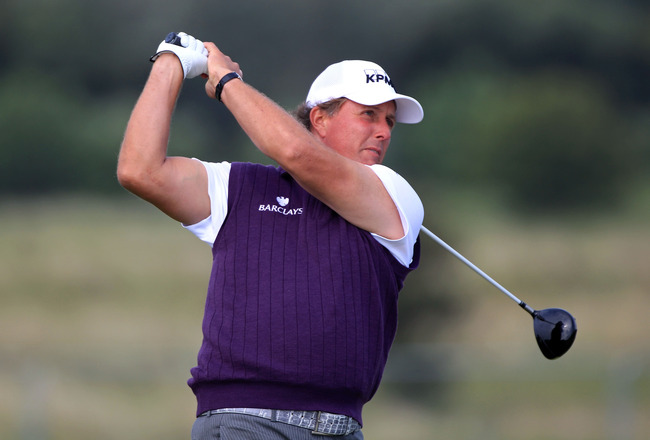 This year's winner will be a whopper-stopper that is purely Mickelsonian.
Streeter Lecka/Getty Images
The Sandwich, England weather doppler is beginning to come into focus. There is a chance of heavy rains, strong wind and they're calling for the flag-sticks to bounce around like a tiny buoy floating off the North Sea. The perfect storm? Sonny Eliot, the longtime weather forecaster in Detroit would likely call this week's conditions: blogerstorm. Which, obviously means blustery, foggy and a chance for storm like conditions.
The Royal St. George's course is not particularly long by Open standards. And, with the blogerstorm weather report, the names that could win this Sunday have been reduced to simply two sets of golfers not named Tiger Woods. The winner of this year's Claret Jug is going to come from one of two groups. The first group is called the goretexians. Yes, the goretexians are the players that are used to these conditions and have experienced the weather which is common for European links golf. They can play in rain gear and have a caddy that is adept at umbrella engineering. There are not many Americans in this first group, unless they hail from Texas. The second group is called the whopperstoppers. The whopperstoppers will simply compartmentalize the wind, the rain, and simply crush the tiny white sphere so hard that it cuts through the elements - eliminating most of the trouble. This is a group of the longest hitters of the golf ball in the world.
History at Royal St. George's without weather in 2003 elicited a different result. Ben Curtis was unheralded when he showed up in Sandwich in 2003. He was the kid from Ohio hanging around the first page of the leaderboard on Sunday. As each player checked themselves on a Euro train ride out of town, he was left with the Claret Jug.
This year's champion is either going to be goretexian or a whopperstopper. Here is the TOP 10.
10. JUSTIN LEONARD, USA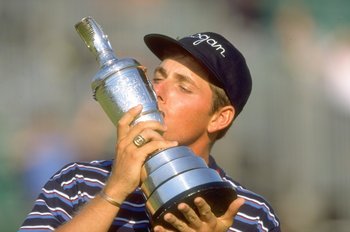 A Texan with the ability to make a good number in bad weather conditions.
David Cannon/Getty Images
Playing better, Justin Leonard knows wind. Growing up at Royal Oaks Country Club in Dallas, gusts would cause the young Leonard to reduce his game to a low-searing ball flight wizardry - a game he knows very well. Obviously a member of the goretexian-set, Leonard likes everything about the British, after all, he has his name on the Claret Jug (1997, Royal Troon). He also has the experience. He could have two Claret Jugs, just missing out on the Vand de Veldian one at Carnoustie in 1999. A great player on any course that contains the word ROYAL. For that, he is a top 10 player.
9. SERGIO GARCIA, SPAIN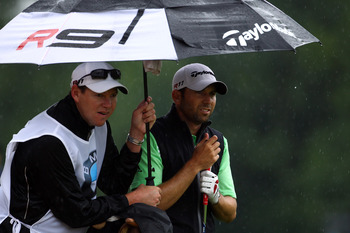 A bad weather technician.
Richard Heathcote/Getty Images
This is the first crossover Top 10 pick. Garcia can be considered both a goretexian and a whopperstopper. He has the ability to bomb the golf ball, and rarely is he unprepared for bad weather. He will know how to play a wet course. The only reason for Garcia to be minus from the leaderboard, would be his flatstick. Consider him a mudder, great if he were a race-horse. Not so great as a British Open front-runner.
8. PADRAIG HARRINGTON, IRELAND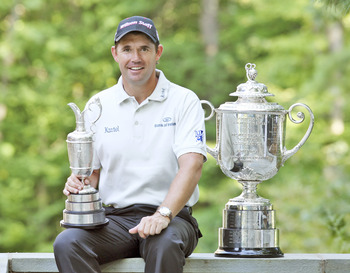 The Paddy Slam in 2008.
David Cannon/Getty Images
The two-time British Open Champion (2007-2008) will have reason to smile at the weather report. It plays right into his game plan. He would love to see the swirling winds, because he know the golf course. With even-par a good score, figure Harrington to be on the first page of the leaderboard. Harrington is as much a part of the resurgence in European golf circles as any one player.
7. STEVE STRICKER, USA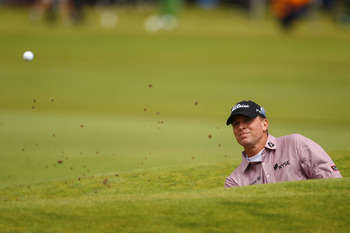 A great bunker artist, Stricker can win at Sandwich, Eng.
Richard Heathcote/Getty Images
USA. USA. USA. British golfing patrons like their cheese on their sandwiches at Sandwich. What better player than Wisconsin native, Steve Stricker to have his name etched on the Claret Jug. First the John Deere Classic and now this. Stricker is not a bomber, more a goretexian engineer. First the Green Bay Packers, now this - cheesehead headwear for everyone!
6. LEE WESTWOOD, ENGLAND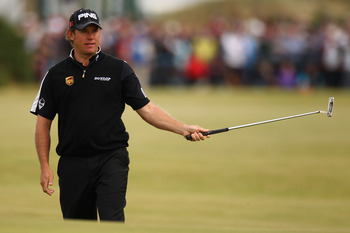 Westy could define second place. A spot he knows a little about.
Richard Heathcote/Getty Images
Too much pressure on the hometown boy? Westwood has shown a knack for disappearing when it seems like the golfing stars are aligning. This week could be the perfect storm for a Westwood disappearing act. Or, maybe the perfect reappearing act? No one player is more used to the weather. And, for that, he deserves consideration.
5. LUKE DONALD, UK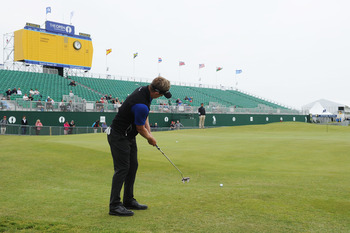 Donald has momentum on his side.
Stuart Franklin/Getty Images
The golf media has been talking about his talent since he was a lad at Northwestern. His ball striking and talent are unquestioned. He has a lovely game for blustery conditions. But, so did Winnie-the-Pooh. Can he somehow cut through the gnarly weather of expectations to raise the Claret Jug. Not so fast.
4. MARTIN KAYMER, GERMANY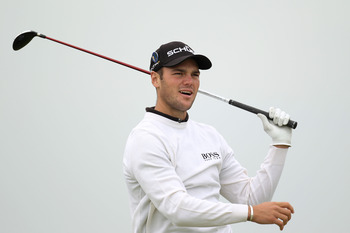 German's Kaymer has the tee-game to reduce Royal St. George's down to size.
Ross Kinnaird/Getty Images
There is no better player to make Royal St. George's seem ordinary. Kaymer is the kind of player that will challenge pins and make birdies with regularity. If he can figure out he greens, he will be a Sunday driver. And, he can play the power game as well. The first whopperstopper on the list. Kaymer can reduce the length of the Sandwich layout - to merely a slider.
3. BUBBA WATSTON, USA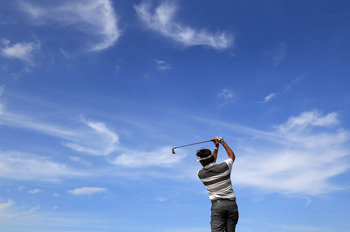 Bubba can bomb it. Blue skies? Maybe not.
Streeter Lecka/Getty Images
The big strong country boy has the tee game to make it interesting. Can the weather whip into a frenzy to make what happened at the French Open seem like yesterday's news? Watson has not proven he is adept at the British Open, but his tee game and his pink driver can not be ignored.
2. RORY MCLLROY, NO. IRELAND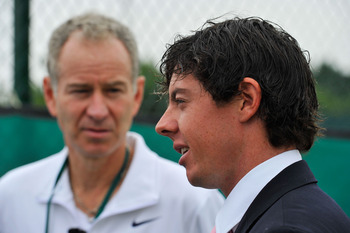 Time for Rory to play some golf.
Pool/Getty Images
The wonderkid has a game, that he ultimately took to Wimbeldon. C'mon Rory. Is this his time? Has the cross-over game to make the few holes with length at Royal St. George's not too intimidating - depending on the wind direction. But, he looks to be the crust at Sandwich. He's bitten off more off field demands since the U.S. Open. and simply not played enough golf. Good for second place.
1. PHIL MICKELSON, USA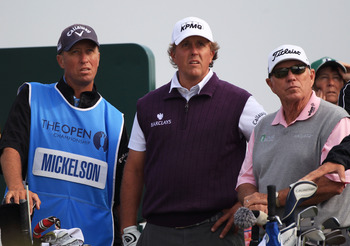 Team Mickelson. Bones, Lefty and Butch.
Streeter Lecka/Getty Images
It seems unlikely. Hardly a factor at other British Opens. That is why this year's champion will be Phil Mickelson.
He has the best caddy at the Open Championship. Bones will make sure his clubs are clean and his glove is dry, and that will be the edge. He joined the ranks at the Scottish Open and made some adjustments to his approach.
This year's champion will be truly Mickelsonian. Call him an open faced sand-wedge tactician.
Keep Reading