New York Mets: Do Jose Reyes and Carlos Beltran Have Adrian Beltre Syndrome?
July 7, 2011
Doug Pensinger/Getty Images
For the first half of this season, Jose Reyes and Carlos Beltran have carried the Mets to the point where a year that looked utterly dismal from the outset actually has some hope.
Both have performed well above expectations in coming off injuries from last season.
However, these players' performances inevitably lead to the following question: Are Reyes and Beltran overachieving in order to earn a contract for next season?
Both players will be free agents and could be auditioning for other teams given the state of the Mets finances.
Let's start with Beltran.
Admit it, Mets fans: Most of you wanted Beltran's head on a platter this past offseason. The trade rumors swirled, but the Mets were unable to pull off a deal involving the injury-prone slugger.
Not making that deal has paid off in dividends, as Beltran has turned in an All-Star worthy first half.
He's playing so well that now some fans are clamoring not to trade Beltran, and some have gone so far as to wanting the Mets to re-sign him for next year.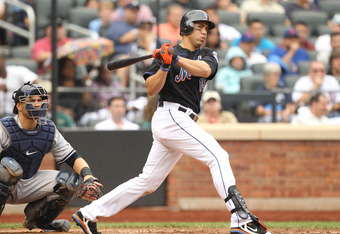 Al Bello/Getty Images
Looking back, it was Beltran's performance in his contract year—most notably his historic playoff run in 2004—that netted him his seven-year, $119 million deal in the first place. He tied Barry Bonds' postseason record with eight home runs and did so in fewer games.
On now to Reyes, who before this recent injury was having arguably the best season in Mets history.
He had to have known that other teams would be keeping their eyes on him this season, knowing that the Mets would have a difficult time re-signing. However, this injury may be a hindrance, especially since it's not the first time in his career that Reyes will miss time.
When discussing a long-term contract, teams may balk at a possible seven-year, $140 million deal based on Reyes' history with injuries.
But given his unreal performance this season, there might be a team willing to take a risk since the reward is priceless.
It's interesting that Reyes and Beltran are enjoying a ton of success right when their contracts are about to expire.
That's where Adrian Beltre comes in.
Beltre had middling success during his first five seasons with the LA Dodgers before breaking out in 2004. He hit .334 with 48 HR and 121 RBI.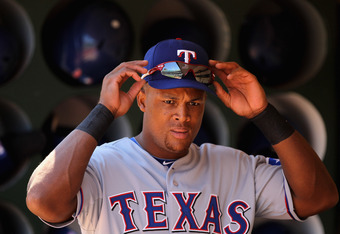 Ezra Shaw/Getty Images
The Seattle Mariners awarded him with five-year, $64 million contract.
During this five-year stretch, Beltre was a good player, but nowhere near worth the money he was paid. He signed a one-year pact with the Red Sox for 2010.
In similar fashion to 2004, Beltre mashed at the plate, hitting .321 with 28 HR, 102 RBI and a league-leading 49 2B.
The Texas Rangers then locked him up to a six-year, $96 million deal.
Do we see a trend developing here?
Every time he was in his walk year, Beltre's stats elevated so that he earned his next contract. Meanwhile, during the bulk of the contract, Beltre never quite reached his full potential.
Now, this could all be a coincidence, but at least in Beltre's case, it happened on two separate occasions. Granted, he earned an All-Star selection this year with the Rangers (.276, 26 HR, 67 RBI) in just his first year of the deal.
The question will be whether Reyes and Beltran continue this pace once they sign multi-year deals—more so Reyes since Beltran may be at the point in his career where he signs one-year contracts until he retires.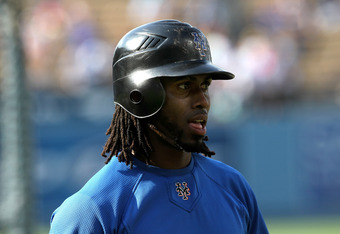 Stephen Dunn/Getty Images
It's a shame that we even have to consider this possibility of someone not performing to the best of their abilities because they know they have job security. Athletes know they will get paid either way so might not exert themselves fully as to avoid career-threatening injuries.
You don't often see people in other professions following these same principles, do you?
Still, most athletes have enough of a competitive edge that they will perform their best no matter if a contract is on the line. But they are also aware that sports are now big business and can cash in based on performance.
Though part of me is skeptical that Reyes and Beltran have a case of Adrian Beltre syndrome, the other part of me is convinced that what we are seeing this season from them is the caliber of player they really are.
Until recently at least, both were fully healthy. While the thought of auditioning for other teams had to pop into their minds at some point, maybe they figured that the Mets could turn doubters into believers in leading by example.
Any way you look at it, Reyes and Beltran are set to gain lucrative contracts based on their walk years.
Is this the result of Adrian Beltre syndrome?
You be the judge.