Pro Wrestling: Who's the Greatest Mosca Luchador Ever?
July 7, 2011
Creature vs. Creature 2.0
Division 1: Dan Power vs. Ben Gartland
Topic: The greatest Mosca (Flyweight) Luchador
Once upon a time, on Bleacher Report, there was a tournament called Creature vs. Creature 2.0. In the second round, Dan Power was put head to head against Ben Gartland with a topic that seemed fun and easy.
Everything started well for Dan Power who made some research to find out what was a Mosca or Flyweight Luchador. That first step was more than easy and the base was found.
A mosca luchador must weight under 52 kg/114.4 lbs. No problemo! Simply some Google researches and, a few minutes later, the perfect candidate should be found.
It would make sense to think it would be easy to find a Mexican wrestler with such a light weight. The problem started from this point because Luchadores are not exactly that light. In fact, their weight range goes from 160 to 230 pounds in average. Even Rey Mysterio and Sin Cara are big men compared to a 114-pound wrestler.
After countless hours on Google and even on the despised site called Wikipedia, it became like a bad episode of Mission: Impossible. Dan explored Internet paths visited by only a few human beings and still nothing, not even on Spanish language search engines.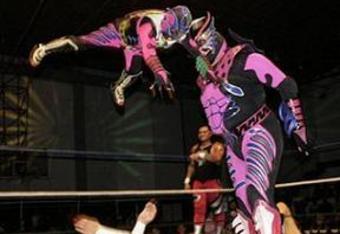 Then, finally, some light appeared at the end of the tunnel and he found a twist with the help of his opponent in the contest.
So, with no more tales about the Mosca Luchador's quest, let's move on and let's see what was discovered about the Lucha Libre universe and who's the greatest Mosca Luchador of all time.
A short presentation of Mexican Lucha Libre
Before going any further, I think it would be appropriate to submerge you a little bit into the wonderful world of Mexican wrestling.
In Mexico, professional wrestling, known as Lucha Libre, is a religion and the Luchadores are considered as gods. Even the wrestlers in the Midget Divisions receive such high consideration from the fans, showing we are far from Hornswoggle here.
The Midgets are more than just a circus-like attraction in USA and in Canada. There are Minis Divisions, with their own Championships, in all major promotions, including CMLL and AAA.
Those midgets are not only used as cheap entertainment for kids. The Minis in Mexico are as respected as any other size Luchadores and they are seen as what actual athletes. Those undersized men fly like any other high flyers and often better.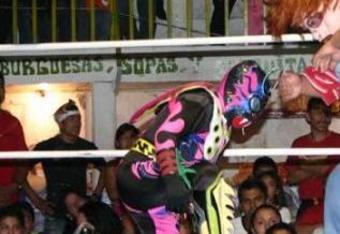 All the Lucha Libre traditions are applied to the Minis. Their masks are sacred and the culmination of their rivalries will occur in Mask vs. Mask matches.
If there is a specific division for the Minis, a selected few can move up and work in the "regular" divisions. The crème de la crème can be put in matches against normal size Luchadores on occasions, but most of the times they will come ringside with their taller alter ego.
In a long time established tradition, many Luchadores have their Minis version following them. Those duos share the same gimmick and the same outfit. Usually, those Minis won't be physically involved with the big men, unless exceptions as you will discover.
The Luchadores and their "Mini Me" were so popular at one point that, in 2002, the AAA promotion decided to create a brand new Championship for such duos.
The AAA Second/Mascota Tag Team Title was then introduced so the fans could witness the best Minis' prowesses on the big men's playground. And that is what leads me to my pick.
Cuije is the Greatest Mosca Luchador ever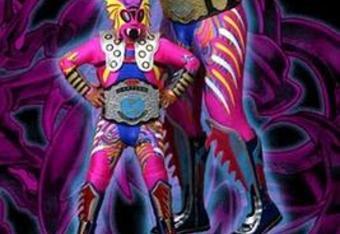 As stated above, the Mosca division is for wrestlers with a weight under 52 kg, but I could not find any regular size Luchador that light. So, with that issue, only a twist to the CvC contest rule allowed to find someone fitting in the flyweight category.
With Midgets exclusively battling in the Minis Divisions not allowed, only one who went on the higher levels could qualify.
Then, with that little twist, the perfect candidate instantly popped out of the thousands of Luchadores' names, past and present, in Mexico. His name is Cuije, a Mexican icon in the Lucha Libre universe who has mesmerized the crowds for over a decade.
Don't get fooled by his unique stature and his colorful outfit. The 71-pound Mini dominated his size Divisions, wherever he competed. From the top of his 3'7", he defeated countless opponents.
Cuije was in fact so amazing that he did even not need to win Minis Championships to move out of his division and to compete in "regular" size Luchadores' rings.
Since his debut in 1999, Cuije still has his mask to prove his uncommon domination. He is so feared that no one ever challenged him or accepted a challenge from him for a Mask vs. Mask bout.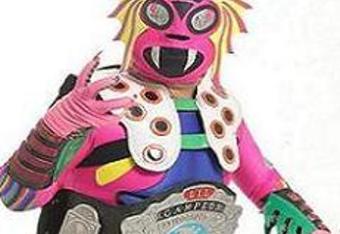 For nearly ten years, he has teamed up with Alebrije, another legend on the Mexican Lucha Libre scene who won multiple Championships since he debuted in 1988. Together, they wrote an important page of the AAA promotion's history and their legacy will remain unmatched forever.
With his partner, Cuije defeated the legendary duo composed of Mascara Sagrada 2000 (a.k.a. the famous Mascarita Dorada) and Mascara Sagrada for the AAA Second/Mascota Tag Team Title in 2004.
Cuije became the third and last Mini to hold that prestigious Championship. The team held the Title until 2009, for an astonishing 1,691-day record reign.
Their reign, one of the longest in Mexican Lucha Libre history, shows how awesome Cuije and his partner are.
Since 2009, when they left the AAA promotion, the Championship is vacated. The Title is now presumed deactivated because no other Mini has Cuije's talent. Actually, he was the last one great enough to step up and to hold his own in bigger men's rings.
In 2010, Cuije and Alebrije joined the other big promotion in Mexico, the CMLL. Both men are members of a stable called Los Invasores, composed of Luchadores billed as coming from outside the CMLL.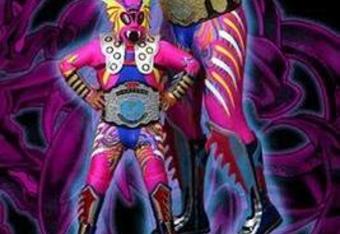 So, Cuije is one of a kind Mini since he is an actual member of a stable without being just a mascot. His role is as important as all of the other members, who are some of the most famous Luchadores in Mexico.
As a fellow Los Invasores, Cuije will be remembered shining beside other legends such as Hector Garza, Mr. Aguila, Psicosis II, Olimpico and many others. Is it necessary to mention that a 71-pound and 3'7" Luchador associated with such a group must possess unreal skills?
In addition to his uncommon career history, Cuije's performances are highly acclaimed by the Mexican medias and, of course, by the fans. He can do maneuvers no one would think he could do for someone his size. If we talk about agility, he is like John Morrison compared to The Great Khali.
As you can see in this video, he is also hardcore, fearless and genuinely entertaining. When you watch him receiving a brutal beating by the bigger wrestlers, you wonder how he could survive for more than one year in that hostile environment.
In conclusion
 As you could see, Cuije is an amazing midget so talented that he can fight in bigger Luchadores' rings with no complex.
His association with the iconic Alebrije and with an all-star Luchadores' stable proves he is a unique phenom. Sometimes he even overshadows his associates with the way he tells stories to the fans who all came to see him used like a missile.
Also, if it was not enough, his record reign as the AAA Second/Mascota Tag Team co-champion is the proof he is the greatest Mexican Mosca Luchador to have ever stepped in a ring.
Finally, he is not just a Mosca Weight or a Mini Luchador. He is a true superstar, loved and respected by everyone.
A fan to another fan:
- Is it a bird?
- No!
- Is it a fly?
- No! ...it's Cuije!