UFC Heavyweight Competitor Apologizes to Tito Ortiz and Jenna Jameson
July 6, 2011
Richard Wolowicz/Getty Images
According to Anton Gurevich of LowKick.com, UFC heavyweight competitor apologized to both Tito Ortiz and his former wife Jenna Jameson for his "off the back" comments made on the MMA Hour Show hosted by Ariel Helwani.
In studio with Helwani, Ortiz commented on the confrontation by saying that, "This guy [Matt Mitrione was a douche-bag by saying what he said. He tried to come up and kiss my butt and shake my hand. I never met the guy...but hey, you got your 15 seconds of fame and you're still a douche."
Responding to Ortiz's comments while speaking with Kenny Rice and the legendary Bas Rutten on Inside MMA, Mitrione lashed back by saying that, "He's [Tito Ortiz irrelevant nowadays. I can't believe that he was able to tie that tie around that giant pumpkin head of his."
When Mitrione was asked about crossing the line and commenting on Ortiz's wife, he responded by saying, "If your wife is a public figure, then it's [comments] kind of open for that."
Back-tracking on his original statement regarding Jenna Jameson and her past in the porn industry, Mitrione pseudo-apologized by saying, "I can see where I was out of line. She [Jenna Jameson] tweeted me back after I told the joke and she thought it was funny. I [Mitrione] thought it was understood that it was a roast and it wasn't hurtful and malicious joke."
Later in the interview, Mitrione realized that he had crossed the line and did offer a genuine apology to Jenna Jameson saying, "To Jenna, I apologize. That was bogus on my part. Even Tito, I'm sorry I shouldn't have said that."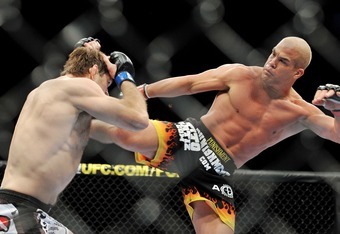 Jon Kopaloff/Getty Images
"I'm an emotional person and maybe that's why people like me or people hate me," Mitrione stated to Bas Rutten. "I'm sorry, I shouldn't have done it. That was bogus."
Seemingly with the feud behind both Matt Mitrione and Tito Ortiz, both fighters will look to continue their momentum inside the Octagon and keep the talk regarding their lives relevant to mixed martial arts.
I welcome your comments.