UFC 133: Predicting Fight, Submission and Knockout of the Night Bonuses
July 6, 2011
Jon Kopaloff/Getty Images
It looks like it is going to be an extremely entertaining night of fights, as always, in the UFC, when the Davis/Evans event comes rolling around. So, naturally, everyone must make predictions about every little thing to come in the fights.
Why not predicting the fight bonuses?
Here, I present my predictions for Fight, Submission, and Knockout of the Night.
Submission of the Night
Hallman defeats Brian Ebersole via rear-naked choke.
Hallman has a lengthy career and a history of using submissions; 38 of his 50 wins have come via submission. He even has two submission wins over Matt Hughes in a combined time of :38 seconds. It's safe to say that his submission skill is above average.
Then you take a look at Ebersole's career, which is also extensive with a number of submissions involved. However, he has also been on the losing side of nine submissions—three of which were by rear-naked choke. Do you know how many rear-naked choke wins Hallman has compiled in his career?
Fourteen, with a couple of other submission wins by guillotine choke. I find this to be an easy prediction.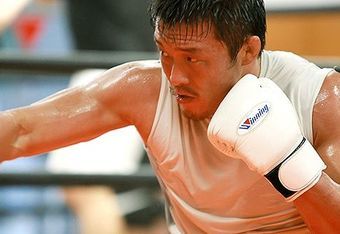 Knockout of the Night
Alessio Sakara defeats Jorge Rivera via (T)KO.
This may sound like a strange pick at first, but I think that there is just no way that this fight will see the judges. Jorge has a history of losses by knockout. Not taking his last fight with Michael Bisping (where he took an illegal knee) before losing via TKO into account, he still has four losses by TKO stoppage in his career.
Alessio Sakara has nine knockouts in his MMA career, with four of his last five wins coming via (T)KO. You can even take a look at his boxing record, with six of eight wins coming by knockout, and see that he has quite a bit of power to finish with those gloves. I don't see this one making it past the second round, and I think it will most likely be brutal.
Fight of the Night
Yoshihiro Akiyama defeats Vitor Belfort via unanimous decision.

This is an upset pick, but I guarantee one thing from it: This will win Fight of the Night. "Sexiyama" has won Fight of the Night in all three of his UFC fights—his fight with Chris Leben was arguably the fight of the year. He always puts on a great show and his chin is stellar. That's why I think he will be able to outlast Vitor Belfort's stellar hands on the way to a decision victory.
Belfort has always had a very up-and-down career, and I think this is just the down-spiral to the end for him. Only one fight in two years, which he lost, will be a very important factor, and I believe Akiyama will walk out of the arena with the victory.
So, those are my picks. Thank you for reading and I do hope that you enjoyed the article. Please feel free to comment and share this with your friends!