Penguins' Recent Contracts Signal Shero's Intentions for Crosby, Staal
July 6, 2011
Justin K. Aller/Getty Images
Aside from the poisonous #JagrWatch that gripped Pittsburgh hockey for two weeks, the Penguins have been relatively quiet during the first five days of free agency.
Call it the calm before the storm.
That storm is set to begin in 2013-14 and likely won't end until 2015-16. Two years from now, franchise centers Sidney Crosby and Jordan Staal become eligible for unrestricted free agency.
The following year, Evgeni Malkin, Brooks Orpik and Kris Letang each become eligible for unrestricted free agency.
The year following that, Marc-Andre Fleury, Paul Martin and Zbynek Michalek will be able to have earned UFA status.
That, quite literally, is the entire core of the team. Three centers. The top-four defensemen. The star goaltender. The captain.
None of those players have a current deal which reaches beyond the 2015-16 season.
While other general managers have made a habit of signing second-tier players to marathon-term contracts, Pittsburgh's Ray Shero has been very measured in the contracts he has handed out, both in terms of length and total payout.
That approach did not begin with this year's free agent market. Since taking over as GM in 2006, Shero has awarded only one contract as long as seven years. That deal went to first-overall pick Marc-Andre Fleury.
In the first year of his new deal, Fleury helped the Penguins win their first Stanley Cup since 1992.
Even franchise centers Crosby and Malkin weren't given the sort of titanic deals that had become common amongst players of their ilk. Vincent Lecavalier (11 years), Alex Ovechkin (13 years) and Ilya Kovalchuk (15 years) have earned lifetime contracts from their respective teams, but the variables which play into an NHL career have proven enough to scare Shero and the Penguins away from offering such deals.
Indeed, when players like Christian Ehrhoff and Ville Leino (six years apiece) have earned longer deals than Crosby and Malkin (five years, $43.5 million apiece), something is amiss.
If that new black cloud hanging above coming round of CBA talks is any indication (many think the ridiculous contracts awarded in this light free agent class will be the catalyst for an owners vs owners lockout in 2012-13), it's the big spenders who are amiss.
In all honesty, how long can hockey support a market which pays a 37-year-old Ed Jovanovski over four million a year until he's 41 following the worst season of his career? If half the owners in the league (and their financially-struggling teams) are any bet, not very long.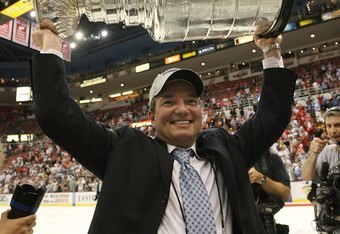 Bruce Bennett/Getty Images
It could come to pass that Ray Shero will fail to lock up his big names. Signing four of the biggest names in hockey to one roster is no small task. If Shero fails to do so, it won't have happened because overblown deals sapped the cap space needed to do so.
The team has made a hard rule of never awarding deals of more than three years to complimentary players. That rule has cost them a few names they'd have rather kept. Max Talbot and Mike Rupp come immediately to mind.
However, it has also kept them in very good position to re-sign most or all of their big guns.
Of the current forward group, only Crosby and Malkin have earned deals of five years. Jordan Staal's current deal was signed for four years. Matt Cooke and Mark Letestu own the only three-year contracts of the team's 13 currently-signed forwards. Over half of Pittsburgh's forwards initially signed for one or two years.
Of the big four (Crosby, Malkin, Staal and Fleury), Crosby and Staal will be the first players with whom the Penguins can begin negotiations, and the only two whose next contracts will be signed under the terms of the current CBA.
Taking advantage of the current cap structure, as it relates to signing 87 and 11, could be key to re-signing other big names under the terms of the new deal.
After next season, James Neal, Chris Kunitz, Arron Asham, Steve Sullivan, Matt Niskanen, Brent Johnson and Eric Tangradi, currently earning a combined $11.821 million, will be set to be re-signed or let go of.
Following the 2012-13 year, Ben Lovejoy, Tyler Kennedy, Matt Cooke, Pascal Dupuis, Craig Adams, Mark Letestu, Crosby and Staal will become eligible for UFA status. They account for a combined $19.825 million currently, or $7.125 million when not counting the Crosby and Staal contracts.
It's impossible to know what the roster will look like when Crosby and Staal are due for their paydays, but it's a fair bet that only a few of those impending deals will have been re-upped for more than one or two years.
Of those pending free agents, only Chris Kunitz, Tyler Kennedy and James Neal seem likely to re-sign at a rate considerably higher than what they are making now. While the roster will have to be filled one way or another (meaning there won't be $19 million sitting around to sign the two centers), the team should be more than capable of clearing the cap space to sign one or both of them without being forced to make a Blackhawks-style salary dump.
Put shortly, Shero can likely once again sign the big centers and build the team outward from there.
It can't be stated enough how important it is that the Penguins made the right deals for Crosby, Staal and Malkin following their entry-level deals, as well as the Fleury contract.
Signing each of the big four to relatively short-term contracts and spreading the expiration of those deals over the course of three seasons might be unheralded now, but if three or four of the big names return (spreading the deals out makes it much more likely Malkin and Fleury can be retained), Shero can be considered nothing less than the best general manager in hockey.
Sitting mostly pat while the rest of the league overpaid for this year's free agents was just the latest episode in a long line of patient dealmaking by the Penguins' GM.