WWE: Why Cody Rhodes Is the Next Mr. Money in the Bank
July 5, 2011
The WWE is just a few weeks away from the Money In The Bank pay-per-view event, and things on television seem to be heating up as superstars are jockeying to get a major league push as Mr. Money in the Bank.
The ladder match is one of the riskiest matches that the WWE has to offer, but the reward in this match is very great because the winner gets a contract that guarantees him a WWE/World title shot at any time. The contract practically guarantees a superstar a world title reign, because every superstar who has cashed in the MITB contract has gone on to become a champion.
With all the talk of future pushes and up-and-coming superstars, the one superstar who seems primed for a world title push is currently on SmackDown: "Dashing" Cody Rhodes.
Cody Rhodes has been on a major roll since last July when he moved over to SmackDown from RAW and became "Dashing." Rhodes used the pretty boy role as his ticket to superstardom,, and he began to impress fans with his in-ring work and great promos.
Rhodes worked well as a under-card heel on SmackDown and was even WWE Tag Team Champion last October. The push was done pretty well, but the genesis of Cody Rhodes took place in January when Rhodes had his nose "broken" against Rey Mysterio.
When Rhodes had his nose broken, Rhodes turned into a dark character who was disgusted with himself and everyone who criticized his hideous looks. Rhodes targeted Rey Mysterio, and the feud was a success in the eyes of fans, critics, and most importantly, his peers. Rhodes displayed that he can be taken seriously as a main-event heel talent and that he can work with anyone that the WWE has to offer.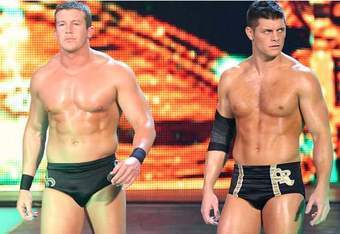 It isn't a matter of if Cody will be world champion, it's more of when will he become a world champion. Cody Rhodes has all the tools to become a world champion, from the look to the in-ring ability to the mic-work. Rhodes is in a primed position for a main-event push in the next few months, so what better way to get a huge push then to win the SmackDown Money In The Bank ladder match and then eventually cash it in and become the World Heavyweight Champion.
Rhodes could do some great things as World Champion, but the guy that I'd love to see him cash it on is Randy Orton. Orton pushed Rhodes to the moon when Legacy was the hot topic on RAW back in 2009. Rhodes learned a lot from Orton and got that main-event rub from "The Viper."
The idea of Rhodes cashing in the MITB contract on Orton would be a seller because that would make Cody's career come into full-circle by defeating his former mentor for the richest prize in the WWE. Rhodes versus Orton would be a feud that fans would be interested in, and it would truly display how far Cody has come inside and outside of the squared circle.
I feel that Rhodes is ready for a main-event push and he can truly be a talent that fans will tune in to see each and every week. SmackDown has plenty of heels on the roster, but Rhodes shines above the rest because he is an up-and-coming talent and is someone that the WWE can market as champion.
Rhodes deserves the chance to become Mr. Money In The Bank, and hopefully the idea of it becomes a fact instead of just remaining an idea.
Now if you have any comment about this article, Cody Rhodes, or the Money In The Bank Pay-per-view, then please leave your comment below in the comment box. Remember the only bad comment is having no comment at all!