Pittsburgh Pirates: Stellar Pitching Leading to Disney-Esque Season
July 5, 2011
Justin K. Aller/Getty Images
After defeating the Houston Astros 5-3 in front of the fourth consecutive sellout at PNC Park, the first such occurrence in the stadiums 11-year history, the Pittsburgh Pirates stand 1.5 games behind the St. Louis Cardinals in the National League Central race as they sit three games above .500 for the first time this season at 44-41.
No…really.
Fact is that not even Disney could manufacture a better Pirates script than the tale being told in downtown Pittsburgh this summer.
Instead of the floundering sinking ship that they have become to be known, the Jolly Roger is raised high as the Pirates are the closest to a division lead this late in a season that they have been since 1997; need I take the time to remind the astute baseball fan of the sub-$10 million payroll team that entered the final series of the season against division leader Houston one game out of first place.
Yet, nearly 14 years to the day of Francisco Cordova and Ricardo Rincon's 10 inning no-hitter against the Astros (July 12, 1997 to be exact), Houston again saw themselves succumb to what has been a brilliant season for the Pirates Pitching staff.
Despite giving up three runs, two of which were unearned, Paul Maholm pitched six innings of solid baseball to raise his record to 5-9, a record that is in no way indicative of how well he has pitched this season.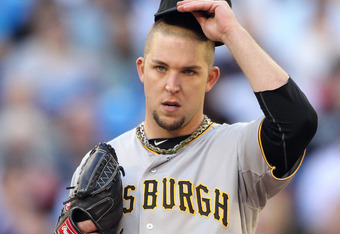 Claus Andersen/Getty Images
The more telling statistic is that he lowered his era to 3.08.
Despite receiving one of the lowest run supports in the National League Maholm and the rest of the Pirates staff has managed to put together the ninth-best era in the majors.
Led by Jeff Karstens, who has filled in at an all-star level for the injured Ohlendorf and currently ranks fifth in the National League with a 2.65 era, Maholm (3.08), Charlie Morton (3.63) and Kevin Correia (3.74) all boast sub-4.00 ERAs with fellow starter James McDonald (4.40) not far behind.
Karstens isn't the only starter on this staff that having a season worth mentioning.
Roy Halladay, Justin Verlander, CC Sabathia, Jair Jurrjens and the Pirates' own Kevin Correia are tied for the Major League lead in wins with 11.
Pretty good company for someone with a career 47-49 record who has only won double-digit games twice in his career. With a win in his next start, Correia would tie his career high for wins a season before the All-Star break.
Correia also has a chance to become the Pirates first 20-game winner since John Smiley went 20-8 in 1991; Doug Drebak finished the 1990 season with a 22-6 record and before him you would have to go back to 1977 to find the Pirates last 20-game winner (John Candaleria).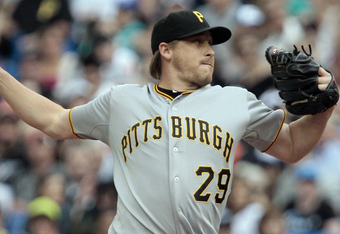 Abelimages/Getty Images
Correia, who has accounted for 25 percent of the Pirates wins this season (the highest percentage in the Majors), is also only the fourth Pirates pitcher since 1990 with at least nine road wins in a season.
Since the beginning of the expansion era (1961) no Pirates pitcher has won that many games on the road before the All-Star break. Correia also notched his 10th win in the Pirates 78th game, the fewest games any Pirate pitcher has needed reach double-digits since Denny Neagle recorded his 10th win in the Pirates 69th game of the 1995 campaign.
While the accolades are ongoing for a staff that has multiple feel-good stories like Karstens, Correia, and Charlie Morton, who has seemingly turned around a very Rick Ankiel-like mental breakdown it has been the bullpen's ability to preserve leads that makes the whole ship continue to sail.
While there are many good things to like about the young talent in the Pirates bullpen, none has been more prominent than the individual proving to be leagues most dominant closer through the first half of the season.
Joel Hanrahan, the Pirates flame-throwing closer, has been near untouchable through the first half of the season.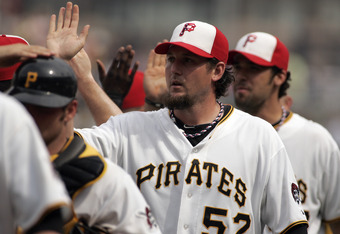 Justin K. Aller/Getty Images
Converting 25 of 25 save opportunities, a record streak for the Pirates franchise, Pittsburgh's lone All-Star representative (as of today) is poised for a run at the National League Cy Young.
Yes…the Cy Young.
While it is rare for a relief pitcher to capture the award, the last such occurrence in 2003 is further validation for the argument.
In the 2003 season Eric Gagne recorded 55 saves in 55 possible chances. He posted an ERA of 1.20, a WHIP of .69, struck out 137 batters, walked only 20 and gave up 11 earned runs in 82.1 innings of work.
Hanrahan, by comparison, has converted 25 of 25 save opportunities, while posting an ERA of 1.37, a WHIP of .94, 33 strikeouts, eight walks and six earned runs in only 39 innings of work.
While trailing dramatically in strikeouts, the rest of Hanrahan's numbers match up favorably to Gagne's Cy Young season, and only figure to get better as the season wears on.
Will he win…no…there are two pitchers in the National League East (Halladay and Jurrjens) having deserving seasons, but does he deserve mention…yes; that is of course assuming he stays perfect on his save opportunities.
While it's easy to get caught up in this summer's Pirate's fantasy world, it's impossible to ignore that Pittsburgh is 40-0 when leading after eight innings.
What is also hard to ignore is that the Pirates are poised to make a run in the National League.
With two more games against Houston, followed by three against the Cubs and three more against Houston (who the Pirates are 6-1 against this season) it is not outlandish to think Pittsburgh could go 7-1, or at worst 6-2, in their next eight games before a six-game home stand that sees three games against the Reds and three against the Cardinals.
In years past, Pittsburgh has had abysmal stretches that would continually end their season before the All-Star break.
This year the opportunity is ripe to make a push for the division lead.
Assuming  the pitching staff can continue to perform above and beyond expectations as the bats awake, they recorded 14 hits off Brett Myers (the most surrendered in 234 career starts for the grizzled veteran) a night after putting up 16 against Washington, there is no telling how far this team can go if all cylinders are clicking.
Tampa Bay is proof that a team with nothing to lose and everything to gain is more dangerous than a team facing lofty expectations as the grueling season enters the later parts of summer.
A cataclysmic shift in Major League Baseball's tectonic plates is poised to happen in Pittsburgh as the Pirates are set out to not just end 18 years of pitiful performance, but show that this young nucleus  is ready to compete in the bright lights with baseball's elite.
The players have proven capable, the fans are rabid with Bucco fever…
RRRRRRRRRRRRRRRRRRRRRRRRRRRRaise the Jolly Roger…the Pirates are coming!!!