Manny Pacquiao Should Take His Own Olympic-Style Drug Test to Disprove Suspicion
July 5, 2011
Ethan Miller/Getty Images
For those of you who don't already know, Manny Pacquiao (53-3-2, 38 KO) has been accused of taking steroids, performance-enhancing drugs and anything illegal to move up in weight and titles in multiple weight classes.
Leading the charge on the cause of suspicion is Floyd Mayweather, Jr. (41-0, 25 KO) and camp. Ever since talks of a possible mega fight between the two started in 2009, accusations of Pacquiao being on steroids have delayed the fight.
Mayweather brought up taking Olympic-style drug testing for their fight together because he suspected Pacquiao to be on performance-enhancing drugs. They were unable to come up with compromise of the test, which is the main reason why so many people believed—or started to believe—Pacquiao was taking illegal substances.
Since then, Mayweather has brought up Olympic-style drug testing in all his fights, claiming it wasn't just Pacquiao specifically but the whole sport that needed to be checked and "cleaned up."
He also recently made a statement that he never said Pacquiao was on steroids or performance-enhancing drugs. While Mayweather may have never said Pacquiao was using steroids verbatim, he constantly alluded to that conclusion, and that's just as bad as saying it.
Now all eyes are on Pacquiao and the possibility he has been taking steroids. People have begun looking for reasons and any indication that he was using steroids. A false report was even created after his fight with Shane Mosley, claiming a former sparring partner injected Pacquiao with steroids.
Though the article was clearly fake, people bought into it and believe it.
So far, Pacquiao constantly reassures everybody he isn't using steroids and brought up the fact he has never failed a drug test in any of his fights. That isn't good enough for people to stop doubting him, however.
There is only one way to stop the suspicion of steroids that surround Manny Pacquiao, and that is to take an Olympic-style drug test.
During negotiation talks with Mayweather, it appears that Pacquiao is open to a cut-off window of 14 days and even unlimited drug testing until the day of the fight. Since neither fighters can come up with a compromise to the fight, nothing is going to happen and it's assumed that either Mayweather is scared or Pacquiao is hiding something.
Pacquiao needs to take the initiative here and include Olympic-style drug testing in one of his upcoming fights that isn't with Floyd Mayweather, Jr. 
One of the complaints going around is that Mayweather has no right to dictate something that isn't protocol for no reason. If Pacquiao were to take his own Olympic-style drug testing and pass, then he would be able to show the whole world and any doubters he isn't taking steroids and that it was Mayweather holding up the fight. 
He would be able to dictate how he wants the drug test to happen, whether it has a certain window until the fight, or if it's unlimited like Mayweather demanded for their fight.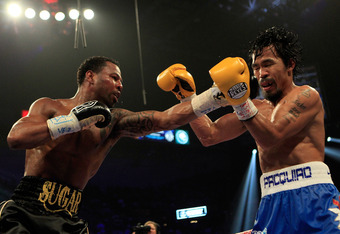 Chris Trotman/Getty Images
Of course, if he passes there will still be those few people who'll accuse Pacquiao no matter what he does. However, it would at least ease the minds of the general public and people who were one the fence of whether Pacquiao is taking steroids. 
If he were to fail his own test, though, this would put him in hot water and only prove everything the Mayweather camp has spewed—as well as proving Mayweather was right all along.
Pacquiao would fall from being an international icon and role model to being a cheater who defiled the sport. 
Since Pacquiao is open to take testing and claims he is steroid free, this is not only the best possible option for them to prove that he is clean, but that he has been the one waiting all along.
Use actions, not words, to show who is right.