10 Mildly Amusing Miscellaneous Musings in the Aftermath of UFC 132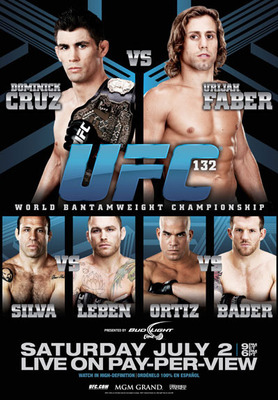 Yet again, boxing's failure is MMA's gain, with the underwhelming David Haye vs. Wladimir Klitschko affair, touted as the biggest boxing bout in a decade, only serving to bolster the brilliance of UFC 132. It was only a matter of weeks ago that UFC 129, the organisation's first ever stadium-held event, completely overshadowed the lacklustre encounter between Manny Pacquiao and Shane Mosley.
As alluded to in my piece regarding MMA being better to the fans than boxing, it is now reaching the point wherein boxing is proving equally as good an advert for MMA as a stellar UFC card. Inadvertently, MMA's pugilistic predecessor is playing right into Dana's hands, and rendering Dana's ill-fated predictions about the demise of boxing ominously prophetic.
As much as Dana professes he would love boxing to thrive, the prevalence of a robotic/uninspiring Klitschko in a largely drab affair must have been covertly welcomed by Messrs White and Fertitta.
Yet again it was Vegas, and not Hamburg, that proved itself the prime real-estate location where bungalows are actually thrown and not just threatened.
Follow me on Twitter: @jonathanshrager
1. Dominick "The Decisionator" Cruz
Urijah sardonically pointed out pre-132 that Dominick Cruz isn't actually the self-proclaimed "Dominator", but rather "The Decisionator". Faber makes a valid point herein, since, as much as we enjoy Cruz's 25 minute Zumba-exhibitions (with his herky-jerky movements and boundless reserves of energy, Cruz must be an instructor at the Las Vegas Zumba convention?), could people eventually grow tired of a champion that repeatedly fails to finish, as with GSP?
Of his ten fights since joining the WEC, seven of his nine wins went to decision, while one of the fights fell victim to a doctor's stoppage when Brian Bowles broke his hand.
Everyone loves a finisher, and isn't the notion of "finishing" an opponent the essence of true combat at the core of MMA, in order to determine a definitive winner? Frequent finishers like Condit and Guillard, who rarely enable the judges to contribute their questionable opinion, deserve to rise to prominence at a faster rate.
It is why Guillard and Jim Miller are much more worthy of a title shot than Clay Guida (incidentally, "to carpenter" is "to make or devise something efficiently and systematically", which pretty much explains Guida's approach to fighting under the auspices of Greg Jackson). On Twitter, it was Condit and Guillard who were pinpointed by Mitrione, a fellow finisher, as impressive performers.
Note how GSP and Guida are both specified as results-over-entertainment fighters, who train under the same tutor as both Condit and Guillard, who are both dynamic entertainers who relish a conclusive (and often concussive) performance.
For me, this underscores that it is in fact the fighter, and not the trainer, who is ultimately responsible for his approach to fighting, and whether he wants to purely prevail, or to perform pleasingly in the process. Hence, the accusation levelled at Jackson of producing tedious fighters is preposterous.
2. Dana's Schadenfreude
There must be some underlying Freudian explanation for Dana's fascination with witnessing friends and training partners face each other in the Octagon. Does he elicit some perverse form of enjoyment through severing ties? This, of course, is pure conjecture, but it's looking increasingly likely that the major proponent of the "close-knit training camp", Jackson's in Albuquerque, will soon become a dated concept.
Greg Jackson has always endeavoured to cultivate a fraternal camaraderie between his students, but this "refusing-to-fight-teammate" policy was recently brought into question when Rashad and Jonny Bones broke the pact and agreed to square off. It now seems that Carlos Condit will be willing to emulate this decision by accepting his opportunity to challenge training-partner GSP for the throne, and there's a distinct possibility that Dana could encourage Joe Silva to match up Guillard and Guida.
Either way, Greg's ideology is inevitably waning under severe pressure from the Baldfather, and it's only a matter of time before the AKA boys, namely Fitch and Kos, are pitted against each other. Indeed, "money (and prestige) talks" in MMA as much as in any other business.
3. Dana Really Does Care
Dana genuinely cares about the image of the sport (macro-level) and its fighters (micro level). Dana is all too conscious of the adverse effects of fighters being knocked unconscious.
Dana is an astute man, and is aware that in the long term a spate of MMA legends that are incoherent because of excessive brain damage will not represent the sport in a positive light in the decades to come. Of course, there is a level of self-interest involved and an element of protecting the brand image in the long term, but I also firmly believe that Dana does not want to progressively witness the physical and mental demise of those that helped to build and propel the sport into the limelight.
Legends such as Chuck Liddell and Wanderlei Silva could still prove to be a massive PPV draw (especially if we were to consider the longstanding grudge matches that could be arranged, e.g. Liddell vs Tito Ortiz, Silva vs Chael Sonnen) but Dana clearly demonstrates here that money is not always the key motivator of his actions. Silva perhaps deserves a swan song in the UFC (as Dana has apparently afforded Mirko Cro Cop), but then again, the tail end of his career is beginning to pan out in a similarly inauspicious fashion to "The Iceman's".
4. If It Aint Broke, Don't Fix It
Maybe the Arizona boys should have taken heed of the Peggy's sagacious words, or maybe they were simply too mesmerised by her sultry tones to even listen to the overarching message.
It's difficult to dismiss the decline in the fortunes of Arizona Combat Sports three most prolific students since they left their initial MMA center and established their own gym.
Upon leaving the camp in March 2010, all three fighters were coming off of big wins, with Ryan Bader recently defeating Keith Jardine, C.B. Dollaway besting Goran Reljic, and Aaron Simpson gritting out Tom Lawlor.
Since Bader conceded his unbeaten record and contender status, dropping two of his last three bouts to Jones and Ortiz, Dolloway has proceeded to lose in resounding fashion against Mark Muñoz, and A-Train relinquished his undefeated record by also losing two straight against Leben and Muñoz.
Whilst undoubtedly travelling the globe in search of multiple training experiences pays dividends for most mixed martial artists, perhaps this cautionary tale adheres to the old adage that you shouldn't necessarily change your base if it is yielding positive results.
5 (Huntington Beach) Bad Boy for Life
In hindsight, can we claim that Tito's injury "excuses" were legitimate all along?
The fact that he hadn't been thoroughly outclassed by his most recent opponents (including a draw against Rashad Evans, a split decision loss to Griffin, and a hard-fought defeat to former TUF student Matt Hamill) during his five-year barren period prior to 132 suggested that Ortiz could still compete admirably with the elite.
One thing is for certain, that there must be positive reinforcement in using the phrase "positive reinforcement" (see video above).
I was delighted to see Tito win. While we may be waving goodbye to an MMA legend in Wandy, this victory has earned the HBBB a contractual reprieve within the UFC. Talk about thriving under pressure.
The father of Ground 'n' Pound (Mark Coleman would be the grandfather of this particular phenomenon), married to a former adult-film star, and having one of the most tempestuous relationships with long-time boss Dana White (which even flared up after pre-fight presser), Tito remains one of the most polarising and polemical personalities within professional sports, either a firm fan favourite or a figure of fun.
However, it appeared that most people within the MMA community (with the exception of maybe Chuck Liddell at cageside) were glad to see Ortiz prevail in this one and salvage his faltering career.
6. At Least Us Brits Have Our Wrestling to Fall Back on
Nice quip Roy...Hardy brought you in for his conditioning
On a personal level, I am becoming increasingly concerned with this recent pattern of my compatriots being completely out-struck during their Octagon duels. Striking is meant to be our forte, our proverbial bread and butter, yet recently it's almost as if American combatants have been out to prove that they are in fact top dogs on the feet.
Carlos Condit brutally KO'd Dan Hardy, Nick Diaz outpunched Paul Daley, Joe Lauzon blazed through Curt Warburton and at 132 Anthony Njokuani picked apart the ironically named Andre Winner (ironic since he has lost his dreaded last three consecutively).
Part of the success of the majority of mixed martial artists comes from the ability to be unpredictable, yet unfortunately when our telegraphed Plan A doesn't work effectively, we are distinctly lacking a Plan B. We can hardly fall back on our virtually non-existent wrestling, and our BJJ remains rudimentary.
In fact, only Michael Bisping has proven himself versatile enough to consistently perform against multi-faceted fighters.
7. Chris Leben: One Tough Jewish Man Ever Since His Bar Mitzvah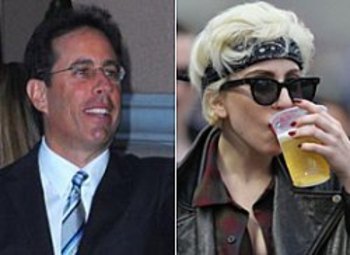 One of the rare occasions on which Seinfeld and Leben are featured in tandem
Could Chris Leben be the toughest Jewish guy of all time (ok, since Seinfeld)? There is no confirmation that Leben is actually Jewish but the surname "Leben" is definitely a Jewish family name.
Tenuous Link...for those Seinfeld nuts out there (I belong to this group), you will recall the name "Vandelay Industries" from the Season 3 Episode 17, a latex manufacturer for which George Costanza pretends to work. Well, Vandelay/Wanderlei are pronounced the same (what? I warned you it was a tenuous).
8. Handsome in a Huff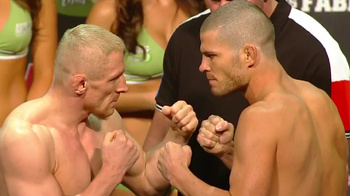 Handsome vs Not-so-handsome
Matt "Handsome" Wiman has raised the bar in terms of demonstrating ostensible disapproval of a judging decision; don't stand around and gesticulate wildly with flailing arms and bemused expressions, but rather undress back down to shorts and then storm out of the Octagon in a huff.
9. Bieber "Octagon" Fever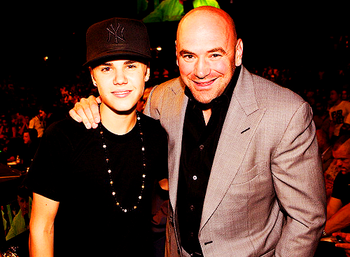 Hey Lorenzo, do you think this kid could make the new 125lb division?
Justin Bieber, whilst a prolific music "artist", cognitively processes data in a scientific fashion. Indeed, he is in sync with both CompuStrike and FightMetric, whose statistics both indicated that Matt Wiman bested Denis Siver on Saturday night.
Dana should have probably informed Bieber that "handsomeness" is not part of the judging criteria.
10. UFC Sponsored by Evian, the Sure Sign of a Hydrated Time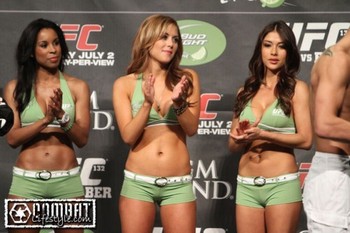 Given that the Octagon girls wore light green to symbolize the lime twist in sponsor Bud Light, does this signify that the ladies will sport transparent attire should the UFC ever be endorsed by a water company?
Just a thought…
Keep Reading