Los Angeles Angels of Anaheim: Can They Make a Run in the Second Half?
July 4, 2011
Marc Serota/Getty Images
The Los Angeles Angeles of Anaheim are in a tie for first in the AL West with the Texas Rangers as the Major League Baseball season approaches the All-Star Break. 
By this time of year, we usually have a nice feel for who has put a run together before the break and may carry that momentum into September and eventually October. Well, right now, my money is on the Angels, who have slowly, but surely, inched and battled their way to the top of the AL West.
The biggest key for the Angels is that they win games against their own division. If the Angels can take two-thirds of games against their divisional rivals, then they will be a shoe-in for the postseason. Four of their next seven games come against division rival Seattle prior to the All-Star break. Once the break is over, the Angels head up to Oakland for four games, and then back down to Anaheim for another three against Texas.
Even though we are only reaching the beginning of July, these next three weeks are going to be the biggest of the season. I think that if they drop too many early and slip out of the top spot in the division, they may not be able to climb back up. With that being said, I do believe they will go on a tear over the next few weeks and put some distance between themselves and the rest of the division.
Angels' ace and All-Star Jered Weaver has been lights out so far this year with 10 wins, a 1.92 ERA (best in the AL and second-best in baseball), and 114 strikeouts. If Weaver can get win north of 20 games (as he is on pace to do), then the Angels will be able to carry their momentum into October.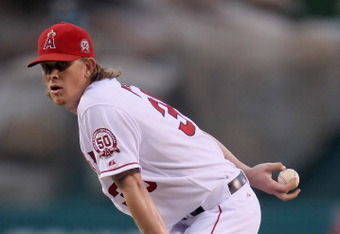 Jeff Gross/Getty Images
Dan Haren has also pitched extremely well this season, though he has been a little more under the radar due to Weaver's dominance. Haren has 8 wins, a 2.85 ERA, and a WHIP of 1.02.
The Angels' other All-Star got his ticket to Phoenix by swinging the bat and playing some nice defense. Howie Kendrick is currently hitting .308 with 8 home runs, 8 steals, and 26 RBI. He has also scored 41 runs.
The Angels, as a team, rank 14th in the league in hitting, thus far batting .256. However, they are seventh in pitching with a team ERA of 3.37 and an opponent average of .246. That is all well and good, but the problem is that all the while, they rank behind Oakland and Seattle in pitching, and behind Texas in hitting.
What can be made of that? My answer to that may not be a good one, but in my opinion it shows that, even when the Angels do not dominate in any single area, they are a very consistent team all-around.
The Angels are 8-2 in their last 10 games and should be getting back outfielder Torii Hunter after he suffered a left hand contusion against the Los Angeles Dodgers. Peter Bourjos and Bobby Abreu have been hot with the bats as of late, and Tyler Chatwood and Ervin Santana have been pitching quite well in the back of the rotation. 
As I said earlier, the Angels are going to have to start their postseason run with victories in their division early after the All-Star break. Head man Mike Scioscia knows what it takes to win, and win late in the season.
Let me know what you think about the Angels' chances of winning the AL West this year.
Follow me on twitter: @vincesapienza