After Re-Signing Whitfield and Khudobin, Providence Bruins Have Better Future
July 2, 2011
Harry How/Getty Images
When the Providence Bruins last conducted business at the Dunkin Donuts Center on April 10, the pregame refrain from the Spoked-P masses was "Re-sign Whitfield!" as team captain Trent Whitfield accepted one team award after another.
Hours later, as the Baby Bs served up a stick salute upon defeating the Manchester Monarchs, 3-2, the chorus rang "Re-sign Anton!" in appreciation of the game's No. 1 star, goaltender Anton Khudobin.
It all made sense at the time. Whitfield had returned from an Achilles ailment on Jan. 7 and buoyed the Bruins to a near-miracle return to playoff contention
Likewise, Khudobin had been a member of the organization for merely six weeks, yet already had a sound 9-4-1 transcript with Providence.
It all continues to make sense.
Peter Chiarelli, general manager of the parent Boston Bruins, fulfilled the parting wishes of his Providence buffs by locking in both men for an additional two years Friday afternoon.
And it will continue to make sense if and only if Whitfield and Khudobin can both fulfill the hype. But by all counts, that shouldn't be a harrowing task.
Nothing but a slew of injuries is likely to warrant either of them a promotion to Boston in the immediate future. Thus, with a multitude of late-season acquisitions from college and major junior figuring to return, it is on Whitfield and Khudobin to team up with new head coach Bruce Cassidy and pilot a carry-over from the 2010-11 homestretch.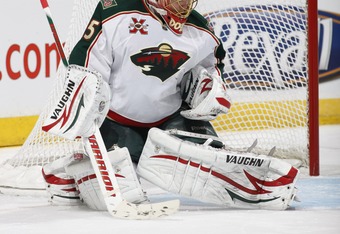 Dale MacMillan/Getty Images
Whitfield proved an offensive, minor-league equivalent of Tim Thomas upon his return from injury. In 45 games, he crammed 18 goals and 18 assists en route to repeating team MVP honors while the P-Bruins posted a 24-19-3 record.
By contrast, they were 14-17-3 in their leader's absence, including a rancid 4-11-2 record at home.
Obtained from the Minnesota Wild organization on March 1 to make everyone forget about Nolan Schaefer, Khudobin consumed 78 percent of the P-Bruins' crease time as the team finished strong at 12-6-1.
By dusk, Providence was only six points shy of a playoff berth, a scenario no one could have realistically placed on their holiday wish list in December.
A healthy Whitfield earlier in the year, and the added dose of leadership that comes with it, might have supplemented the balance in that department. On the other hand, perhaps everyone needed the initial adversity in order for Whitfield to be the spark plug that he was after the New Year.
But Khudobin's instant impact most indubitably had Bruins fans asking "Where was this 18 months ago?"
After all, the core culprit behind this team's failure to qualify for each of the last two Calder Cup brackets was a gross failure to fill big pads when Tuukka Rask earned a permanent slot in Boston at the start of the 2009-10 campaign.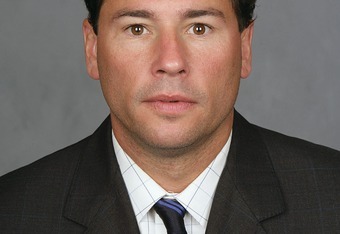 Getty Images/Getty Images
That vital endeavor bottomed out this past season when the veteran Schaefer, a would-be feel-good story as a renowned Providence College alum, went 9-16-1 with a .897 save percentage and 3.10 goals-against average.
A save percentage anywhere south of the .900 line and a GAA of 3.00 or beyond are virtually cardinal violations in this game.
Schaefer maintained the dishonorable double crown and was gone after the final weekend of February.
Professional sophomore Matt Dalton had the same problem with a 3.20 GAA and .894 save percentage in 16 appearances. The best the Bruins could do to him, though, was relegate him to the back-up role.
Conversely, Khudobin made 16 starts himself and finished with a .920 save percentage and 2.40 GAA, easily the best numbers in both categories between seven different Providence stoppers in the last two seasons.
Going forward, it's tempting to hunt for a caveat when you have an arrangement like this. But for the first time since Rask graduated, the P-Bruins have a stopper who has kept his numbers within respectable range.
It's more than just a case of not fixing what isn't broken. It's a refreshing case of the goalie's guild not being broken for a change. Schaefer's ineptitude was an anomaly. If anything, Khudobin stands a decent chance of posting better data in 2011-12.
On the offensive and leadership front, there is no cause for concern that Whitfield's hunger will somehow taper off next season. He knows as well as any member of the Providence faithful that there is something to be built upon.
That is why―along with Khudobin and Cassidy―everyone expressly wanted him to stick around a while longer. And that is why Chiarelli has made that happen.