Nathan's Hot Dog Eating Contest 2011 Results: Will Joey Chestnut Win Again?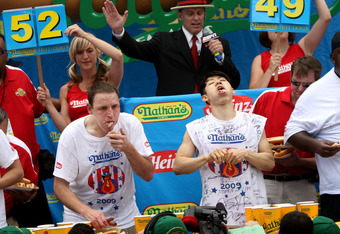 Yana Paskova/Getty Images
It's the middle of the summer, which means sporting events of importance are few and far between. Like a gift from the heavens, the Nathan's Hot Dog Eating Contest is brought to us on the 4th of July.
This competition will likely come down to Joey Chestnut Vs. Takeru Kobayashi. Chestnut is vying for a shot at his fifth consecutive title.
Kobayashi had a contract holdup that kept him from competing last year. His last 4th of July ended with a scuffle with police, when he tried to take the stage.
The last battle between Kobayashi and Chestnut resulted in a world record by Chestnut, who put away an astounding 68 hot dogs. Kobayashi wasn't far behind, with a whopping total of 64 1/2 dogs downed.
Kobayashi's absence led to a lesser competition, as Chestnut was able to attain victory with only 54 hot dogs downed.
Kobayashi was a pioneer in the art of hot dog eating. He paved the way for guys like Chestnut to put away an astonishing amount of hot dogs. Prior to Kobayashi's 50 hot dog performance in 2001, the winner of the competition in 2000 only put away 25 hot dogs.
It was unclear whether or not he would ever have any competition, but Chestnut has served as a valiant eating rival.
In the midst of summer, with the entire sports world watching, Kobayashi will try to take back what he believes to be rightfully his. A year removed from competition, Kobayashi has been waiting far too long for the chance to dethrone Chestnut.
Will this be the year that Kobayashi takes back the throne as the king of hot dog eating? Will Chestnut establish himself as the greatest eater in hot dog history? Perhaps a member of the field will rise up and challenge Kobayashi and Chestnut.
Regardless of who wins, we expect to see a phenomenal battle between hot dog eating royalty. We could be awaiting a record-breaking performance from one of them.
You can catch all of the action on ESPN at 12:00 PM EST on July 4th.
For complete coverage of Nathan's Hot Dog Eating Contest, keep it right here, where we will be updating this Live Blog with all of the latest action.
It was all Joey Chestnut yet again. Listed below are the final results of the competition;
1. Joey Chestnut 62
2. Pat Bertoletti 53
3. Tim Janus 45
*EDITOR'S NOTE: Kobayashi will not be in the competition. Instead he will down hotdogs at a rooftop bar from an alternative location*
Takeru Kobayashi reportedly broke the world record, by downing 69 hot dogs on the roof of a Manhatten bar. While this is a valiant demonstration, Joey Chestnut remains the true winner, as he is the one holding the belt.
Nevertheless, it sets the stage for Chestnut Vs. Kobayashi in 2012. Chestnut is going to be vying for his sixth straight title, a record that Kobayashi currently holds. It has all the makings of a world record-breaking performance from one of these competitive eating giants.
It's all over folks. Joey Chestnut took down 62 hot dogs, giving him five straight titles. He's one title away from tying Kobayashi's dominant run of six straight. Chestnut faced a serious challenger in Pat Bertoletti this year, but in the end it was Chestnut's competition for the taking.
No way Chestnut breaks the record at this point, but it's hard to imagine him forfeiting this lead in the last 30 seconds or so. 60+ would make it the third time he's eaten as many in his career.
It's funny to think that the world record was 25 1/2 hot dogs in 2000. With a little under a couple of minutes left in competition, Chestnut is pulling away. If Bertoletti falls off, be prepared for Chestnut to slow down his pace as well. He's currently at a total greater than his last year's total already.
Joey Chestnut came out of the gate quickly, which has helped him to keep an edge over the competition throughout. It's now that these eaters will see their endurance tested, which is where Chestnut excels. His shoulder is injured from a fishing injury, which could come into play down the stretch. He's four dogs up on Bertolett and showing no sign of slowing down.
We might be looking at a world record here. After three minutes, Bertoletti is pressing Chestnut, which is bringing the best out of Chestnut. People wondered whether or not Kobayashi's absence would have an adverse effect on Chestnut's dogs downed. He's well over pace to take down the 60 1/2 hot dog over that this competition was set at.
Joey Chestnut just ate three hot dogs in 15 seconds. He's currently on world record pace.
In other news, Pat Bertoletti's ketchup covered hot dogs is making for a bothersome sight. He's keeping pace with Chestnut, will be interesting to see if he can keep it up.
Renee is in a poncho. Buzz kill.
Competitors have assumed their positions. 81.3% of Americans say competitive eating isn't a sport. Be prepared to be dazzled, naysayers.
Pat "deep dish' Bertoletti has a lethal combination of the perfect intro song, with Amazing Grace, and a moustache than has to be making his competition quiver.
Everyone is hoping someone can push Joey Chestnut. If there is anyone that could possibly compete with him, it's going to be a guy with a spectacularly distracting handlebar moustache like Bertoletti.
Good to see China get involved in this competition. It's a huge step in expansion for this contest. It's doubtful that they will be coming after the mustard belt today, but the international popularity of this competition is going to take off if this sort of expansion continues.
Ideally, in a decade or so this will become more about representing the contenders' countries, in an Olympic style setting. It puts even more importance on the most important event in competitive eating.
I like the introductions to the field. Not only do we get to hear an irrelevant bio from a non-factor in the competition, we get to hear their hilarious accomplishment. "The potato wedge eating champion of the world" just entered the stage.
Chestnut is probably shaking in his PF Flyers. Also interesting to hear their intro song choices. My favorite is the 18-year-old with Bieber Fever.
Did the crazy guy in the hat just ask the audience if they were ready to "make love to the dragon"? Not sure what that entails, but I don't think I want to be a part of it.
Nick Cannon is the honorary grill master? They couldn't snag anybody better? Would have been much better to try to bring in wife Mariah Carey. ESPN is covering the event. Why not bring in a sports icon or legendary analyst like Chris Berman. Heck, I would even settle on John Madden.
I want to see a man's man on the grill next year. Bear Grillz would suffice, though eating food that isn't moving isn't really his style.
It's always fun to look at the crazy records these eaters hold. Pat "Deep Dish" Bertoletti's eating resume just popped up, and it was hard not to notice the world record 275 jalapenos he ate in 8 minutes.
Another impressive record was the 22 OZ slurpee he sucked down in nine minutes. An epic brain freeze, certainly awaited his finish. As they say no pain, no game.
Well played Nathan's. It took 15 minutes for ESPN to formally address the Kobayashi contract issue. For those who don't follow the competition closely, you may not know that Kobayashi has a contract holdup that prevents him from competing for the second year in a row.
ESPN revealed that the contract no sign was completely Kobayashi's decision. They made it clear that Nathan's had nothing to do with Kobayashi's decision, and they are not banning him from competing, but rather he has held himself from competing.
It's a shame he isn't on sight. His arrest last year made for the most comical scene in the competitions history.
Yana Paskova/Getty Images
Joey Chestnut says he's gunning for the world record. He says that he has a better shot at hitting the record if the competition pushes him, which is indicated by his past performances.
The year he hit the world record of 68 hot dogs, Kobayashi hit 64 1/2 dogs downed. With the absence of Kobayashi, it seems as though Chestnut's odds of beating the record are diminished substantially.
There is always the off chance that a member of the field can emerge, but it's unlikely Chestnut will be pushed. He's a competitor, and a weaker field will likely mean we aren't going to see Chestnut at his best.
I'll bet these girls could make some serious money at the bats. "Bet I can eat 40 hot dogs."
Sonya Thomas took the pink belt by downing 40 of Nathan's Hot Dogs. The women's side has been given mixed reviews, as some people don't want to see women shovel hot dogs into their face at an alarming rate.
I'm all for it. If you can stomach watching the men's side, there's no reason you should be too put off by the women's side. Being able devour hot dogs like that and still keep their weight down is nothing short of incredible.
Renee Herlocker has the sideline reporting on lockdown. Why couldn't ESPN snag some more desirable color commentators to bring us the coverage.
I'm thinking 2012 involves an a more attractive lineup. Suzy Kolber and better, seems to be an appropriate starting point for next year.
It's hard not to be a fan of the over dramatic guy in the hat that kicks off this event. He really sets stage for what is to come.
By announcing the start of the competition like a boxing announcer and screaming in a hilarious hat, it's hard not to get excited for the event.
It almost has the feel of a fight, which is exactly what it is. It could be that sort of adding to the atmosphere that made Kobayashi have the gall to battle law enforcement last year.
Coverage is just minutes away, and if it's even possible, the 2011 Nathan's Hot Dog Eating Contest is going to be even better this year.
Kobayashi may not be getting camera time, but it's hard to mad when Renee Herlocker is involved in ESPN's live coverage of the event.
Herlocker became famous for her work with E! News. It's nice to finally see her do some hardcore reporting work.
Herlocker can take the hot dog eating contest from being must-see TV to legendary status. Perhaps we could be looking at an Erin Andrews-Herlocker tandem reporting segment in 2012.
It's smart of Herlocker to tap into this market. She's going to blow up as a sideline reporter if she can establish herself in the high-pressure and electric environment that the event creates.
Keep it tuned to this live blog for all of your Nathan's coverage.
Yana Paskova/Getty Images
It's officially one hour until until the 2011 Nathan's Hot Dog Eating competition kicks off. you can catch all of the action on ESPN at Noon, EST. In case you missed some of the action, you can catch a re-airing of the event on ESPN2, which starts at 1:00 PM EST.
This is the Super Bowl of hot dog eating, and it's growing in popularity every year. That's the reason ESPN takes an hour slot out of their TV schedule to bring us this magic.
During a time of the year where tennis, golf, cycling and soccer are often times the most interesting sports on TV, this competition is a great change of pace. Noon can't get here fast enough. Let the gluttony begin!
Keep it tuned to this live blog for all of your Nathan's coverage.
Yana Paskova/Getty Images
The Nathan's Hot Dog Eating contest, like most other sporting events, can be bet on. This year's odds, provided by Bodog, feature Joey Chestnut as being a 9 1/2 dog favorite.
Chestnut is facing a much weaker field without Kobayashi in the mix, but bettors who place their money on Chestnut to cover are probably hoping Kobayashi's competition from the rooftop of a bar will push Chestnut to down more dogs.
The over/under is set at 60 1/2 dogs. Chances are, if you like Chestnut's chances at winning by 9 1/2 hot dogs, you have to love his chances at hitting the over.
Chestnut's performance in this competition is largely predicated off of what his opponents do. He set a world record when Kobayashi's 64 1/2 hot dogs pressed him to set a world record, with 68 hot dogs eaten.
Last year, he ate considerably less hot dogs, taking down 54 hot dogs in a Kobayashi-less field. We will see if Kobayashi's indirect involvement in the competition makes for a more driven Chestnut this year.
Yana Paskova/Getty Images
All right everyone, today is the big day. Joey Chestnut is vying to close in on Takeru Kobayashi's six career wins and the field is starving for a competitor who can hold his own against Chestnut.
Chestnut may not be going for a world record, as he probably won't be needing one to attain a victory. Even so, he just may have rooftop competitor and arch-rival, Kobayashi.
While Kobayashi may not be competing directly in the competition, he is flexing his hot dog-eating muscles and trying to prove that he has what it takes to beat Chestnut.
Since Chestnut began his reign of dominance in 2007, he hasn't forfeited the crown. One more win brings him to five victories, which is just one away from Kobayashi.
Yana Paskova/Getty Images
Joey Chestnut is going to cruise into his 5th victory in a row. His most worthy challenger, Takeru Kobayashi, is going to be competing from a rooftop, but will not receive the designation as the Nathan's Hot Dog Eating contest winner, even if he bests Chestnut.
When Kobayashi first entered the competition, he nearly doubled the previous record by downing 50 hot dogs. He proceeded to run away with the next six competitions.
Just when it seemed like nobody would ever compete with Kobayashi, Chestnut burst onto the scene and ousted Kobayashi from the throne.
The two are at their best when they are in a head-to-head battle. This will be the second year we are robbed of watching the two compete at the same venue.
As a result, we are going to see Chestnut coast to victory. Last year, he ate 14 hot dogs less than his previous total of 68. The difference was that last year, he didn't have Kobayashi breathing down his neck.
We will likely see a similar performance this year. The competition may render a competitor from the field who can put down over 50 hot dogs. Even so, there is nobody involved who can push Chestnut like Kobayashi.
These two set the standard for hot dog eating. It's a shame that Chestnut is going to be able to defend his winning streak so easily.
This article is
What is the duplicate article?
Why is this article offensive?
Where is this article plagiarized from?
Why is this article poorly edited?