Sacramento Kings: 7 Moves They Should Make Next After the Draft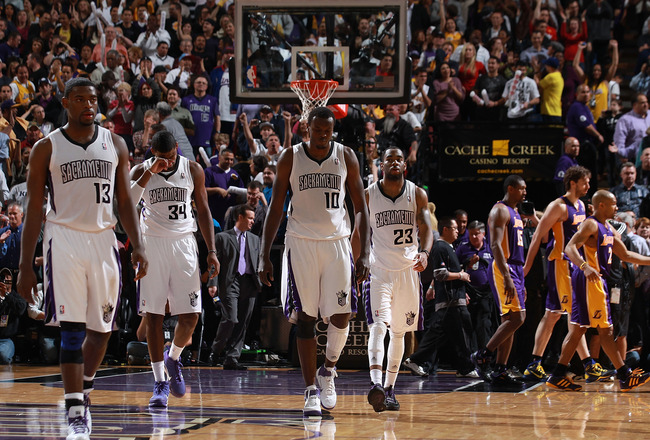 Jed Jacobsohn/Getty Images
For the last several years, the Sacramento Kings have been full of excuses.
It's OK that DeMarcus Cousins acts like a total head case because he's young, and so is the rest of his team.
It's OK that the Maloofs are making zero effort to attract free agents of any caliber to Sacramento, because it's a small market, and there isn't enough money to go around.
We're fine with Tyreke maybe not working as hard as he could because he's the best we've got, the face of our franchise for years to come.
But the time for excuses is over. Successful franchises don't make excuses—they make changes. And although no one would confuse the Kings with a successful franchise, they will never again become one unless they start acting like it, from the front office to the coaching staff to the players.
It is time for the Kings to grow up and take actual, measurable, perceptible steps forward.
But I'm (sort of) optimistic.
The 2012 NBA season could be a key turning point for a franchise that finally lives up to (some) of its potential.
Here are seven ways the Kings can begin to take these steps.
1. Bring in a Veteran Point Guard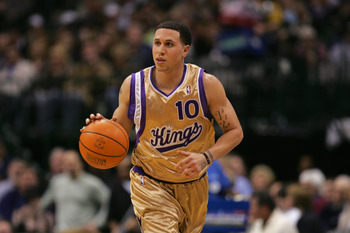 Ronald Martinez/Getty Images
The Kings drafted Jimmer Fredette to be the point guard of the future. But in the present, the position is in shambles.
And having a young team without an established floor leader is almost always a recipe for disaster.
Bringing in an experienced point guard would give Jimmer time to learn the position, and would help the rest of the team more clearly define their roles.
DeMarcus Cousins and Tyreke Evans especially would benefit from the presence of an experienced NBA leader.
Someone, somewhere needs to be brought in to pat the young pups on the back when they deserve it, and scream in their face when they screw up. Obviously, there is no such person on Sacramento's current roster or coaching staff.
A veteran point guard would give Sacramento a nice one-two punch off the bench (assuming they retain Marcus Thornton). It would allow them to bring Jimmer along slowly while still utilizing his scoring abilities, and would let Thornton be the scoring-in-bunches-type of sixth man he seems destined to become.
2. Fire Whoever Is in Charge of Scouting, and Most of the Coaching Staff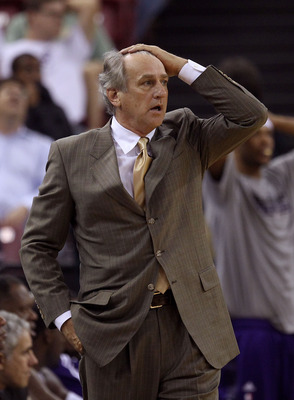 Ezra Shaw/Getty Images
For most of the last few years, I thought the Kings' lack of on-court success was due primarily to their young roster and revolving door of coaching staffs.
For any team in the NBA, not having scouting reports or a clear game plan specific to that night's opponent is inexcusable. For a team as young and inexperienced as the Kings, it is franchise suicide.
There aren't even words to describe the levels of irresponsibility, laziness and amateurism that are demonstrated in such a blatantly obvious lack of preparation by the coaching staff and scouting department.
Having a laid-back "player's coach" is fine if you have a veteran team filled with proven winners. The Kings are neither of these, and it is the responsibility of the coaching staff to do everything they can to provide a young team with every possible advantage. God knows they need it.
Normally I am against en masse firings of coaches, especially on a young team. In this case, I see no other alternative. I don't know that the sword should fall solely on Paul Westphal, but it needs to come down hard and swiftly on many within the organization.
Say what you will about the man, but this never would have happened on Eric Musselman's watch.
3. Get a Role Player or Two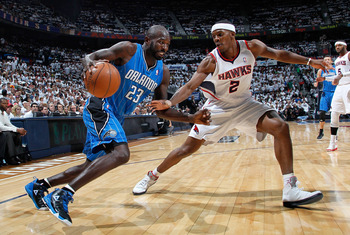 Kevin C. Cox/Getty Images
I should clarify: get a role player or two who know what their roles are.
The Kings have plenty of role players: Francisco Garcia, Jason Thompson, Donte Greene, etc. etc.
The problem is that no one in the organization, including the players themselves, know what their roles are—what they can do especially well to help a team win.
Cisco could be a valuable backup swingman, but thinks of himself as a point guard with an itchy trigger finger.
Jason Thompson could, with a little bit of direction, be an effective forward, but oftentimes finds himself floating around the court seemingly without purpose.
And Greene could turn into anything from a long-range specialist to a legitimate sparkplug, but instead is relegated to the bench, which often results in him pushing when he finally sees a little bit of playing time.
Bringing in role players with clearly delineated skills will help players like Cisco and Thompson define their own roles.
Really, this idea goes hand in hand with slide #4…
4. MAKE SOME DAMN DECISIONS!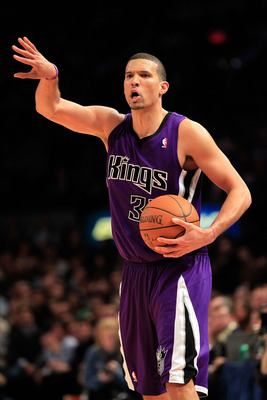 Chris Trotman/Getty Images
I mean like concrete, set-in-stone decisions about what roles players will play on the Kings. You know, the decisions that are the most basic responsibilities of coaches and front offices.
Either you're going to let Cisco play point guard, or you're not (please don't).
Either Donte Greene is a starter, or he's not (he probably isn't, but quit waffling).
Either Tyreke Evans is the team's go-to scorer, or Marcus Thornton is. Trying to have it both ways won't work.
These are obvious, fundamental decisions that successful franchises make during training camp. It has taken the Kings three plus years of deliberation, and a decision still hasn't been reached.
Ridiculous.
5. Get Dalmbert Back in the House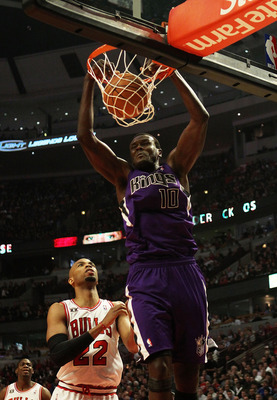 Jonathan Daniel/Getty Images
Note: Just before this article was posted, the Kings traded Omri Casspi to the Cleveland Cavaliers for J.J. Hickson. I'll quickly go on record saying that this was a great trade. They added a tremendous young player with incredible upside, and gave up only a piece that was totally expendable to them.
Well played Kings, well played.
…Or at the very least, get some other legit big man in the house.
The Kings seem to love Dalembert, and would like to re-sign him (albeit at a much lower salary than last season). But if they can't get a deal done with the Big Haitian, they should look strongly at some other veteran options to play alongside DeMarcus Cousins.
Now that Sacramento has "addressed" their two biggest needs at small forward and point guard, adding (or re-adding) a center is the next logical step.
6. Aggressively Market Jimmer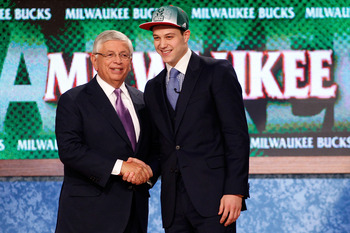 Mike Stobe/Getty Images
I'm sure the Maloofs already have all sorts of half-baked plans for this one...maybe "celibacy night" at Power Balance Pavilion, during which no alcoholic beverages will be served?
Jimmer brings plenty of hype to the table by himself, but with a potential relocation still in the franchise' future, ticket sales and local support are of the utmost importance.
Jimmer will put butts in the seats. There is plenty of anticipation and excitement for his arrival, and the Kings need to capitalize on it.
Sacramento has tried to generate positive publicity by marketing Tyreke Evans and DeMarcus Cousins, but neither of these players are the type of ultra-marketable faces of the franchise that Jimmer could be.
By marketing Jimmer correctly, the Sacramento Kings could help rejuvenate local interest in the team, and make a stronger case for keeping them in the capital city.
7. Get Control of DeMarcus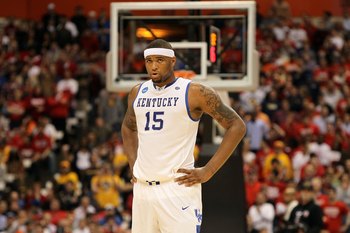 Jim McIsaac/Getty Images
No single player personifies the ways in which the Kings as a franchise need to grow more than DeMarcus Cousins.
Cousins is a great talent, but often plays and conducts himself immaturely.
Sending a serious message to Cousins would send a message to the rest of the team that it is time to get get serious. And really, it doesn't even have to be Cousins that the message is sent to. It could be anyone who doesn't act like a professional. Either way, the message must be sent.
Even if the team doesn't get it, the fans will. And it will be appreciated.
Keep Reading

Sacramento Kings: Like this team?