Wladimir Klitschko: Build Up to Biggest Fight of His Career vs. David Haye
June 30, 2011
Christopher Lee/Getty Images
Wladimir Klitschko has produced an infallible aura throughout the training and media build-up stages before, in what his trainer calls, Klitschko's biggest fight of his 14-year career against David Haye.
Many boxers say that the hard work is put in the gym, and the easiest part of the boxing process is actually stepping into the ring.
Lead by his Hall of Fame trainer Emanuel Steward, Wladimir, the younger of the dominant Klitschko brothers, is no different.
Kazakhstan-born Klitschko is a boxing globetrotter. He is a Ukrainian citizen who has his fights and is based in Germany, while he also spends a lot of his time living in his Los Angeles condo.
But it's his training facility in the Austrian mountains where Klitschko truly plies his trade and puts in the proverbial blood, sweat and tears, earning him his IBF, IBO and WBO heavyweight crowns.
His high-altitude training camp in the depths of a forest in the Austrian Alps has been the key to maintaining his ability to box the same way he has since a young amateur winning Super-Heavyweight Gold at the Atlanta Olympics in 1996.
Steward and Klitschko suit each other down to a tee. Steward is the calm mastermind who rarely seeks media spotlight, while Klitschko is the safety-first slow starter fighter who systematically breaks his opponents down with his world-renowned jab and straight combinations.
There is no doubting that the high-altitude training also matches "Dr. Steelhammer" and his style of fighting the sweet science. Klitschko fights are long, arduous battles of will, so he focuses a lot on cardiovascular training: ensuring that his endurance is at its peak by fight time.
There is method behind the madness: training at such a height allows for your body to adjust to less oxygen and increase the mass of blood cells. When returning down to a low altitude, the higher concentration of blood cells remains, producing a competitive edge.
While Haye's trainer Adam Booth is brash and has encouraged his fighter to engage in a war of words with Klitschko, Steward has influenced the Ukrainian in not biting the bait, and to just concentrate on training.
'The Hayemaker' is without doubt Klitschko's biggest test in his career. But, he has appeared confident throughout the build up to July 2nd's fight at the Imtech Arena in Hamburg, unflappable in his response to Haye's words.
It was actually Steward who appeared to be affected by the Haye camp's trash-talk. Team Haye member Paddy Fitzgerald, who was in the corner of Klitschko's former opponent Lamon Brewster, accused Steward of trying to wrap Klitschko's hands illegally.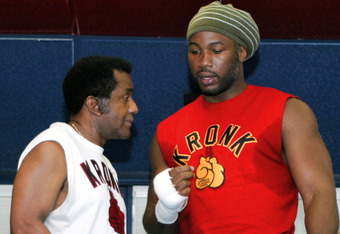 Don Murray/Getty Images
Tampering the hand wraps of fighters is a big taboo in boxing, as it is extremely dangerous. This slight on Steward's professionalism visibly angered him, calling the claim "pure rubbish". And the American trainer has a right to be annoyed.
Miguel Cotto, a superstar Puerto Rican boxer under Steward's tutelage, has had previous issues with illegal hand wraps, after facing Antonio Margarito. Margarito stopped Cotto in their fight, but was later found with illegal hand wraps in his fight against Shane Mosley—and many fans and pundits alike believe he did the same versus Cotto.
Despite Haye's pre-fight campaign against Klitschko and his corner, Steward does respect Haye as a fighter, stating: "he's an exciting fighter and definitely the most dangerous one that Wladimir will have faced."
While there is no doubting that Haye is the toughest fight of Klitschko's illustrious career, Klitschko is by far Haye's biggest ever challenge. Klitschko is looking to earn his 50th knockout.
The fight is supremely important for both fighters, for reasons other than earning the obvious spoils. Haye needs to win to back up his words and save face, but for Klitschko, there are more personal reasons.
Haye has routinely insulted the Klitschko brothers as a pair. A win for Wladimir will also stop the Englishman gunning for his brother Vitali.
Klitschko is also at the ripe-old age at 35. There aren't many years left in this stagnating heavyweight division, momentarily revived by Haye. A loss would leave Klitschko in limbo, with the only interesting non-title fight remaining is one against Nikolai Valuev, who Klitschko has been reluctant to fight before.
Regardless of the result, this should be one hell of a night fit for a weight division that has produced some of the best fights and fighters in the history of boxing.
By Jake Hughes