UFC 132 Preview: Shane Roller vs. 'the Young Assassin' Melvin Guillard
June 30, 2011
One preliminary fight that could steal the show at UFC 132 will pit the striking ability of "The Young Assassin" Melvin Guillard against the wrestling ability of Shane Roller. This match is extremely valuable for both individuals because a win places one of them at the top of the lightweight rankings with a possible positioning for a top contender spot.
Shane Roller possesses the one attribute that has been the Achilles heel of Melvin Guillard which of course is the ability to take the fight to the ground. Roller was a three-time Division 1 All-American wrestler from Oklahoma State University and captained the 2003 NCAA championship team.
Roller has proven his ability to finish fights once he gets his opponent to the ground and will look to do the same to Guillard. Out of Roller's 10 wins, six of them have come via either guillotine or rear-naked chokes.
Though he has won the majority of his fights when they have touched the ground, Roller displayed knockout punching power also. Against Thiago Tavares, Roller threw a straight right hand that ended Tavares' night which earned his third win by knockout in his UFC debut.
Don't expect Roller to stand and trade with Guillard because if we are talking about punching power, make no mistake, Melvin Guillard is the most dangerous striker in the lightweight division. Guillard blends a mixture of power and speed that is unmatched in the division.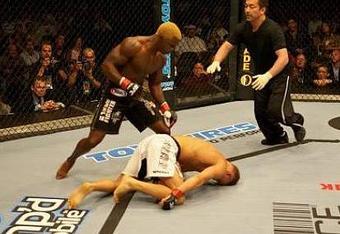 Guillard has proven this by posting 18 wins by form of knockout in 28 wins. This all depends on which record you reference of course as the UFC has him listed at 45-9-3 with one no-contest.
Of his eight professional losses, Guillard has been submitted seven times. This has been seemingly the only weakness that he displays but where there is a weakness, there is a solution.
The solution for Guillard is the fact that he has acknowledged this fact and taken the proper steps to improve upon it. Guillard joined up with Greg Jackson after a submission loss to Nate Diaz and hasn't looked back since.
Guillard has won all four fights since joining with Greg Jackson. Not only has his submission defense improved but his all-around game has too. Guillard has shown greater patience and probably turned in the best performances of his career during his tenure with Jackson.
A win for either fighter puts them in the most congested title picture possibly ever seen. Contenders such as Ben Henderson, Dennis Siver, Jim Miller, Clay Guida and Gray Maynard are all awaiting their chance at lightweight champion Frankie Edgar.
A win for Roller puts him right in the mix with the contenders previously mentioned but a dominant win for Guillard could leap-frog him to the very top of the division.