Philadelphia 76ers: Undrafted Rookie Xavier Silas Invited to Sixers' Camp
June 30, 2011
"Like Father, Like Son."
It may be an overused phrase but not when describing greatness. As the 2011 NBA draft has come and gone, there have been many names that people expected to hear but did not.
One of those names was former Northern Illinois Huskie and Colorado Buffalo, Xavier Silas.
If the last name doesn't ring a bell, it should. Xavier, is the son of two-time ABA All-Star, James Silas. James Silas was the first San Antonio Spur to have his jersey retired.
While Xavier Silas was not drafted, he did receive a great phone call about five minutes after the draft had taken place. A phone call from Silas' agent came in to inform him that the Philadelphia 76ers were interested.
In fact, they were so interested that they extended an invitation to Silas for their camp workouts.
Recently, I was able to have the opportunity to interview Silas via text message, and we spoke about his invite to the camp, being undrafted and his future in the NBA.
After a coaching change at Colorado, Silas made the transfer to Northern Illinois to be re-united with his original coach at Colorado, Ricardo Patton. It was at NIU that Silas became a true scoring machine, averaging nearly 23 points a game during his senior year.  
Although Northern Illinois wasn't the biggest school Silas said that, "If you came to any NIU game, you'd see about three or four scouts there who had taken the trip to Dekalb nearly every game."
Once learning of his invite, Silas was prepared to put in work saying that his goal is "to play as hard as I can, for as long as I can. I will do what I do and do it exceptionally well."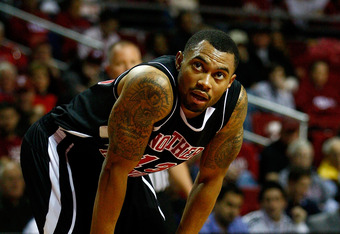 Chris Chambers/Getty Images
Last year, the New York Knicks took Landry Fields in the second round, and he proved to be a steal. If it wasn't for Blake Griffin, Fields may have won Rookie Of the Year.
In the 1999 draft, Manu Ginobli was drafted with pick 57 and has proved to be a serious part of the Spurs championships.
Xavier Silas, hopes to be the next steal that we all remember.
When asked on how he can have a similar impact this year that Fields had last year, Silas stated proudly, "He just played his game, and that's exactly what I will do."
Although the NBA is on the verge of a lockout and Silas is not on a team yet, he is confident he will be. Whether it be the Sixers or another team, one thing is for sure. The 6'5", 200-pound guard is a scoring machine and also can become a fan favorite right away.
"With my fans, I like to interact when I can. I have some really good fans who believe in me and I'd like to give a big shout-out to the X-Men". 
Already appreciating those who got him here, from his dad to his coaches to his fan base. If you don't know much about him you will. Silas says his story is one that those around the league should know, but, "It will all come to light when it is supposed to." 
While you may not have heard of Xavier Silas, basketball is in his blood and soon, he'll find himself playing for one lucky NBA team.
With all the hype surrounding this year's class, don't be surprised if Silas becomes the "steal" of this draft and even puts himself in the Rookie Of the Year discussion. He's got the talent, the fan base and the support.
All he needs now is a team.