Rory McIlroy: Predicting How Many Majors He'll Win in the Next 10 Years
June 29, 2011
Andrew Redington/Getty Images
As we all know, Rory McIlroy provided one of the most dominating performances in golf history at the 2011 U.S. Open.
It was a great performance by a very good young golfer. Since the stunning U.S. Open victory, the 22 year old from Northern Ireland has received almost unbelievable amounts of praise. With that praise comes the inevitable question of, how many majors will Rory win before it is all said and done?
That question is a very tough one to answer. Assuming he stays healthy, Rory seems to have endless potential to win multiple major titles. 
We all know the bench-mark in the sport is 18 major victories. That is the number Jack Nicklaus achieved in his career, and it is the number everyone strives to reach. 
If you ask Tiger Woods, his only goal left is to surpass Jack Nicklaus in major titles. Woods currently sits at 14 major wins, and never have those four wins separating the pair seemed so monumental. 
So if arguably the two greatest players to ever tee it up on tour have 18 and 14 majors a piece, how many more can McIlroy grab over the next ten years?
Counting the two remaining this year, and then adding four in the next ten years, Rory will have 42 more chances to win, assuming he stays healthy.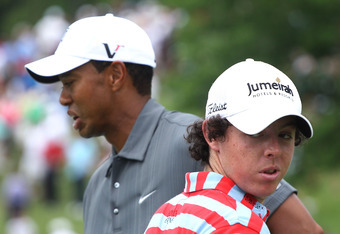 Scott Halleran/Getty Images
The first major of the year always takes place at Augusta National Golf Club. In 2011, Rory showed he could easily win the Masters, and had it not been for a final round collapse, Rory would already be the proud owner of a green jacket. 
Either way, Rory showed he can win at Augusta. Give him ten more chances at winning the Masters, and I figure he can probably win two. 
The next major on the schedule every year is the U.S. Open. This major rotates venues, and I expect the USGA to toughen up the courses considerably after what occurred this year at Congressional. 
Again, Rory showed he can dominate both the field and the course in a U.S. Open. The rotation of venues also does not seem to bother him. It is foreseeable that Rory can win two more U.S. Open trophies in the next ten years.
After the U.S. Open, the next major will take us across the pond for the Open Championship or the British Open, as we American's refer to it. 
Last year in the British, Rory finished third despite shooting a second round 80. A very impressive finish for a blemish that large. 
It helps that Rory is from Northern Ireland so links golf is nothing new to him. In the next ten years, Rory can win four British Open titles easily.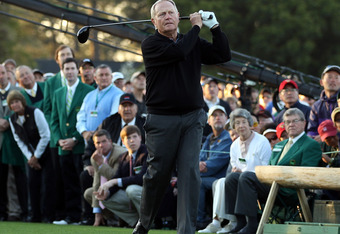 Ross Kinnaird/Getty Images
This brings us to every year's final major, the PGA Championship. This is always the wild card of the majors. The weather usually plays a factor and every couple of years it seems a player comes from nowhere to win. 
Rory may only nab one PGA Championship title over the next ten years. 
So there you have it, my predictions have Rory winning nine major titles over the next ten years. Between now and then, however, a lot can happen. 
If Tiger Woods gets healthy, that number could easily drop. The way Rory always seems to play in majors tells me that he will always be a factor.
And if you put yourself in contention enough, the wins will start flowing like the champagne after his U.S. Open victory.