Detroit Lions: Focusing on the Stats for DE Cliff Avril
June 29, 2011
Jonathan Daniel/Getty Images
It appears that no matter how the CBA shakes out, DE Cliff Avril will become a restricted free agent in 2011. Avril has been given a very expensive tender of a first- and third-round draft pick for any team who signs him to an offer sheet.
Avril is a fan favorite of the Lions pride. You know, he's one of our "pet cats."
Avril was drafted by the Lions in the third round (92nd overall) in 2008. This was considered to be the weakest DE draft class in years. After the 2010 season you would be hard pressed to find another member of the 2008 DE draft class who has been more productive than Avril.
Over three seasons, Avril's performance has improved in many statistical categories. Let's check under the hood, and kick some Avril tires.
It should be noted here that Pro Football Focus stats are being used, and that PFF arbitrarily awards a full sack for every sack that a player participates in. In spite of this inaccuracy, we get more comprehensive stats in other areas from PFF.

Snaps Played and Games Started
In 2008, Avril played 460 snaps in 14 games, starting the final four. In 2009, Avril played 681 snaps in 13 games, starting 11. In 2010, Avril played 651 snaps in 13 games, starting all 13.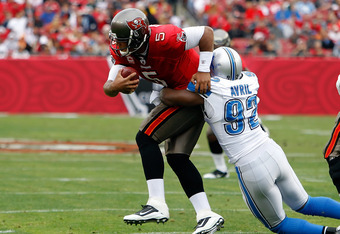 J. Meric/Getty Images


QB Sacks, Hits, and Pressures
Avril, from his LDE position has the primary responsibility of rushing the QB in Detroit's 4-3 defense. Here's how his three season stats look:
2008: Five QB sacks, seven QB hits and nine QB pressures.
2009: Six QB sacks, five QB hits and 16 QB pressures.
2010: Nine QB sacks, two QB hits and 43 QB pressures.
Those 2010 QB rushing stats really stick out, don't they? Had Avril simply grown into his role? Or, was it the Ndamukong Suh "effect?"
I was curious about this, so I decided to look for a pattern in his performance on a game-by-game basis to see what teams found success in defending Avril. I looked at the NFC North teams over six games. This would be the best barometer.
Of the NFC North teams that Avril has faced, Green Bay's OT Chad Clifton came the closest to shutting Avril down over three seasons. Clifton allowed only one sack and nine pressures to Avril in six games.
Against the Bears patchwork tackles, Avril recorded five sacks, two hits and 17 pressures.
Against the Vikings, Avril recorded three sacks, one hit and five pressures against OT Phil Loadholt, et al. Avril missed both games against the Vikings in 2009 with injuries.
Houston, Carolina, New Orleans, and St. Louis were the only teams who shut Avril out in the only games played against him over his career.

Run Defense
PFF records solo tackles, assists, missed tackles, and stops. Stops? Well, PFF defines stops as plays that resulted in offensive failures (including sacks). This is OK, I guess, but I prefer the more traditional TFL stat (tackles for a loss) than the more esoteric "stops" statistic.
Furthermore, the missed tackle stat depends upon a player being in position to make a play. This is OK by me, but just barely. The reason for my jaundiced opinion is the widespread perception that Avril overran running plays repeatedly, and failed to "seal" the edge. This, of course, took Avril out of position to make a play.
First, I'll give you Avril's PFF run defense stats, and then I will go back to the 2010 film for an eyeball test.
2008: 13 solo tackles, three assists, three missed tackles and 12 stops.
2009: 26 solo tackles, four assists, one missed tackle and 20 stops.
2010: 13 solo tackles, nine assists, one missed tackle and 15 stops.
Let's see if those perceptions that Avril overran plays are accurate. It's time for the eyeball test.
There were no YouTube play-by-plays for Week 1 at Chicago, or Week 12 against New England. Once again, I had to beg a Pro Scout friend for his take on Avril's play against the run in those two games.
I'll have to return the favor by grading several Texas and Florida high school game films this autumn. I keep the sound turned up just to hear them good ol' boys announce the play-by-play.  Hilarious!
Anyway, it was easy to see how the perception that Avril overruns plays was formulated in the minds of fans. In Week 1 at Chicago, RB Matt Forte was used effectively in draw plays that bounced to the right edge. In the Week 6 loss to the Giants, Ahmad Bradshaw had his way with Avril on some designed draw plays. Four plays where Avril was punked for long gains.
Other than the first Bears game and the Giants game, Avril overran only three running plays that my friend and I noticed. I think that he could do a better job of diagnosing the run. The big surprise was how few times opponents ran at Avril.
Very curious indeed. If Avril was out of position so much, why wouldn't that weakness be exploited? The stats and eyeballs agree—opponents seldom ran at Avril.
After watching the videos I did see one glaring flaw in Avril's game—pursuit. Avril seemed to lose interest in this aspect of team defense when the play went elsewhere.
Avril could also do a better job of diagnosing screen passes, but this should improve with experience.
The other thing that really stood out was the absolute stoning that Avril took from Green Bay's RT, Chad Clifton. When Lawrence Jackson and Turk McBride spelled Avril, Clifton was rock steady against them too.
I would imagine that if we ask Avril who gives him the toughest time, his answer would be Clifton.

Cliff's Notes No. 1
Avril simply has to find a way to beat Clifton. Own Clifton.

Pass Coverage
This statistical category is usually a flat line around zero for DEs. Avril flatlined in 2008 and 2009. In 2010, Avril dropped into a short zone twice when the Lions sent an LB and/or safety on a blitz.
Avril Island? No harm, no foul.
Avril also deflected two passes at the line of scrimmage.
Defensive ends dropping into coverage seems trivial until you look at the creative ways that Chicago uses Julius Peppers, or the Giants use Justin Tuck. The Vikings' Jared Allen is another stealthy pass defender.

Penalties
This is not nearly as big a problem for Avril as it was for a certain Lions DT who shall remain nameless. Avril collected six flags in 2010. One of those was offsetting, and three others were of the aggressive variety that we really can't bitch about.
DT Corey Williams had two loads of yellow laundry to wash. Oops! I said that he'd remain nameless. My bad?
Cliff's Notes No. 2
Avril, if you are gonna brush the QB's helmet for a personal foul, why not take his head off?

Conclusions
Avril is entering only his fourth season and is maturing into a very good DE. If he can avoid serious injury, Avril will be extremely solid for many years to come.
With the ascendance of Lawrence Jackson and Turk McBride as starting quality DEs in their own right, Avril will see some platooning that will keep him fresh late in games.
Avril will fine tune his game from experience. His "reads" will be quicker on draw, and screen plays.
Defensive line coach Chris Kocurek will work on improving Avril's pursuit. Avril's motor will be getting a KVB tune up, and he will give a better effort until the whistle blows.
All things considered, Avril is a young player whose best is yet to come.
Mike Sudds is a syndicated Featured Columnist for Bleacher Report. Mike is also an analyst and correspondent for DraftTek.com.