2011 South Carolina Gamecocks Baseball: "Win Anyway"
June 29, 2011
Ronald Martinez/Getty Images
Have you noticed the recurring theme?
Pointing fingers, making excuses, deflecting criticism, it's all very much en vogue.
Call it the "LeBron Generation." From the basketball player whom Scottie Pippen anointed "better than Jordan," to Los Angeles Dodgers owner Frank McCourt, to our elected officials in Washington, everyone seems to have mastered the art of blaming their shortcomings on circumstance.
Evidently Ray Tanner's South Carolina Gamecocks didn't get the memo.
USC could have folded when two-thirds of their outfield went down within a week of each other this spring.
Left fielder Adam Matthews (a 23rd-round selection of the Baltimore Orioles) was lost on April 16 to what was described only as a "very serious hamstring injury."
At the time of the injury, he was not expected to return this season.
On April 23, All-American center fielder Jackie Bradley Jr. (the 40th overall selection of the Boston Red Sox) tore tendons in his left wrist after landing awkwardly while diving for a fly ball.
The injury required surgery. Bradley's season appeared to be finished.
"Win anyway," demanded Tanner.
After losing to the sub-.500 Georgia Bulldogs in the SEC tournament, South Carolina—still without Bradley and Matthews—could have simply resigned to the notion that this just wasn't their year.
"Battle," insisted Tanner. 
The Gamecocks could have thrown in the towel when Texas A&M jumped out to a four-run lead in their CWS opener.
Or, when Virginia loaded the bases vs. closer Matt Price in the 10th inning… or the 12th inning… or the 13th inning of Friday's CWS semi-final. Or, when Florida loaded the bases with no outs vs. Price on Tuesday.
Instead, they "battled"—and won anyway.
So, when first baseman Christian Walker fractured his left wrist in his final at-bat during the Gamecocks' win over Virginia Friday night, it should come as no surprise that "no one expected (him) to sit."
Such was the explanation from Walker regarding his presence in the lineup on Wednesday.
Of course it was.
Jackie Bradley Jr. returned to the lineup in time for South Carolina's Omaha opener vs. the Aggies.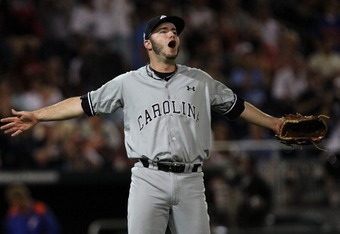 Ronald Martinez/Getty Images
Adam Matthews scored the winning run vs. Virginia on Friday.
Walker roped a double down the right field line in his first at-bat vs. the Gators on Monday.
Price and the Gamecocks escaped every single jam along the way, always coming up with the big pitch and the big play in the big moment.
South Carolina didn't win their second consecutive national championship on Tuesday night because they were the most talented team in the country. They won because they refused to lose.
They won because they rejected any and all excuses. They won because they believed in the concept of team, and the old-school mantra of fighting for a championship.
In doing so, they have provided each of us with a battle cry worth rallying around.
"Win anyway."