Christian Ehrhoff's Rights Dealt to the New York Islanders by Vancouver Canucks
June 29, 2011
Elsa/Getty Images
It appears Christian Ehrhoff's tenure as a Vancouver Canuck has come to an end as the Canucks announced on Tuesday that he has been dealt to the New York Islanders for a fourth-round pick in 2012.
CBC's Elliotte Friedman reported that last summer tried hard to sign free agent defencemen Paul Martin and Zybynek Michalek on July 1, but obviously failed as both players signed with the Pittsburgh Penguins.
By acquiring Ehrhoff, the Islanders have the opportunity to exclusively negotiate with Ehrhoff until noon on July 1, the time the free agent market opens.
Canucks general manager Mike Gillis reportedly offered a contract similar to the one just signed by fellow unrestricted free agent defenceman Kevin Bieksa—five years with an average annual value of $4.6 million.
The Canucks and Ehrhoff were obviously not close, and they weren't going to bridge the gap in the next three days nor were the Canucks going to unload other players to accommodate his demands.
With the trade, the Canucks receive something rather than losing Ehrhoff for nothing on July 1.
Ehrhoff did supply the Canucks with 50 points last season, but it will not be difficult to replace.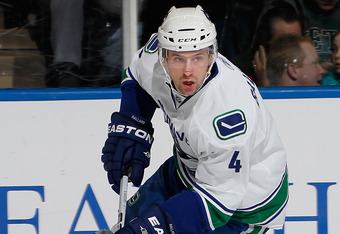 Paul Bereswill/Getty Images
Keith Ballard, who was grossly under-utilized in his first season as a Canuck, can be expected to supply more than two goals and seven points he did this season.
Ballard broke into the NHL in the 2005-06 season with the Phoenix Coyotes managed to put up eight goals and 39 points in 82 games while logging an average of 19:58 of ice time per game.
There is also Chris Tanev who is projected to make the opening day roster after a splendid performance in the regular season and then in the Stanley Cup Finals.
On Tanner Glass's infamous whiff in Game 5 of the Stanley Cup Finals, Tanev showed his on-ice awareness and ability to find the open man with the pass.
Alex Edler in his first full season in 2007-08 managed to put up a respectable 20 points.
It would not be unreasonable to expect 35-40 points from Ballard and 15-20 points from Tanev.
No Ehrhoff, no problem. Maybe the Canucks wouldn't need to score that extra goal to make up for his defensive gaffe?