Top 5 Beards on the PGA TOUR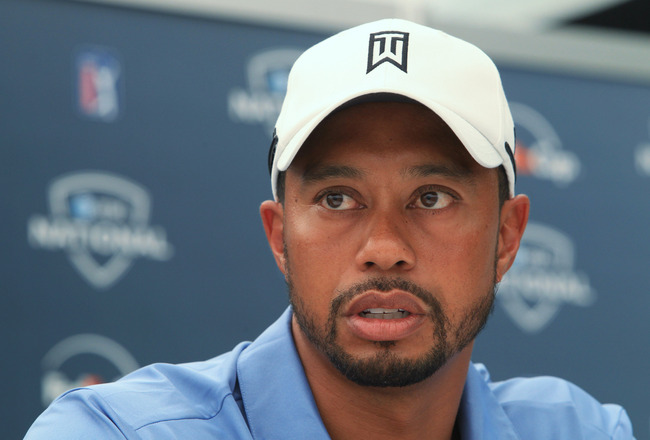 Just missed playing at the U.S. Open and just missed the top 5.
Hunter Martin/Getty Images
Like Jason Aldean's lyrics to his song My Kinda Party, the PGA TOUR follows the motto:
Worked all week.
Cleaned up, clean cut and clean shaved.


And so, when there is a sighting of facial hair, it is usually met with a golf clap of appreciation. The USGA has cut back the gnarly rough to what we have come to tag graduated rough. Facial hair has gone the same direction. There is an occasional five o'clock shadow, especially for the players with early tee times. But this is further evidence that Tiger Woods is itchy to play some golf.
Baby faced players like Rickie Fowler and Rory Mcllroy may even lack the need to scrape their visages with the razor every day. And thus, we begin the great debate of the best beards on the PGA TOUR.
.
No. 5 Graeme McDowell
The Northern Ireland scruff. Very stylish with a hint of his swashbuckling game.
Scott Halleran/Getty Images
Graeme McDowell
Graeme McDowell never misses a jab at a fellow playing companion or a putt. His style on the course is matched by his beard which lacks fullness, but perpetuates his unkempt image.
It comes with playing to his Northern Ireland roots. And it has fullness which makes him look dashing, whether it be to the first tee, or the pub to grab a pint of Guinness.
No. 4 Hunter Mahan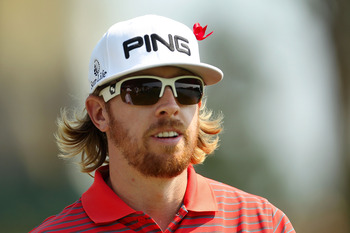 Texs sized fuzz, Mahan pulls off the look as a maverick on the PGA TOUR.
Mike Ehrmann/Getty Images
Hunter Mahan
Hunter Mahan has an image to uphold. He has a pedal to the medal kind of golf game, a wife who is a Dallas Cowboy's cheerleader and a beard that is decidedly Texas. The Ryder Cupper has a great beard which is consistent with his hair cut and meshes well with his eye wear. This look says focused, dialed in and cool.
No. 3 Sergio Garcia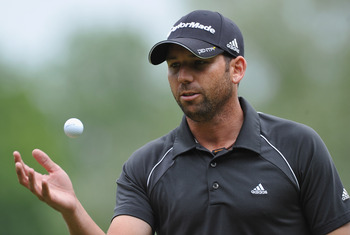 Sometimes Sergio's game and his beard are out of control. Not in 2011.
Stuart Franklin/Getty Images
Sergio Garcia
Sergio rarely pushes past the three-day stubble, but the Spainard maintains a consistent tight lie on his face which is a statement. And his off-the-rail golf game usually matches his facial hair. This year, he has kept both in check. But wait until the Brtish Open for final analysis.
No. 2 David Feherty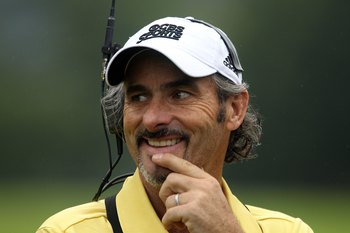 Off color and on the mark, Feherty's beard is a blend of color and personality.
Scott Halleran/Getty Images
David Feherty (non-playing award)
Not everyone can pull off the five-day hangover look quite like Feherty. This beard is a cross between the graduated rough at a U.S. Open and the gnarly spinach we sometimes see green-side.
But the decidedly funny Feherty pulls it off just fine. With his wit and sardonic remarks, the beards color adds to the off-color remarks that usually flow past his lips before he can stuff them back.
No. 1 Lucas Glover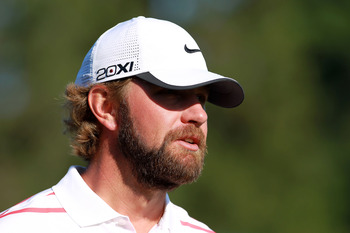 Glover's beard is an even lie and even money to be the best on TOUR.
Scott Halleran/Getty Images
Lucas Glover
You can take the boy out of Greenville, South Carolina, but you can't take Greenville out of the boy. This look would work well hunting pheasant or birdies. Glover has a go-for-it attitude on the course and the fullness makes his young gun persona his 15th club.
Keep Reading