Georgia Bulldogs Football: Could the Dawgs Destroy the Boise State Broncos?
June 28, 2011
Kevin C. Cox/Getty Images
Any team can break down on any given day. Early in the season teams are all the more likely to experience lapses and lose games that talent and coaching would imply they are capable of winning.
The general consensus heading into the 2011 College Football season is that the Boise State Broncos are a top-five team. When they open the season, many expect them to roll over the Georgia Bulldogs while a few expect a competitive game and perhaps a Georgia victory. However, nobody is expecting a dominant, convincing win for the Bulldogs. 
It could happen. After all, any team can collapse, and the Boise State Broncos are far from a perfect team.
The Broncos will be breaking in two new starters on the offensive line to replace Will Lawrence, a two-year starter at guard, and Matt Slater, who started portions of his junior and all of his senior season at tackle.  The Broncos will be losing running backs Jeremy Avery and Jarvis Hodge, who combined for 950 yards of offense and 15 touchdowns in 2010. 
Wide receivers Titus Young and Austin Pettis, meanwhile, have taken their combined 142 catches, 2,262 yards of offense and 20 touchdowns to the NFL. 
On the defensive end, the Broncos have lost every Boise fanatic's dream: a walk-on turned all-conference performer with a weird last name in defensive end Ryan Winterswyk. Also, four-year contributor at cornerback Brandyn Thompson (13 career interceptions) and two-time All-WAC safety Jeron Johnson are both gone.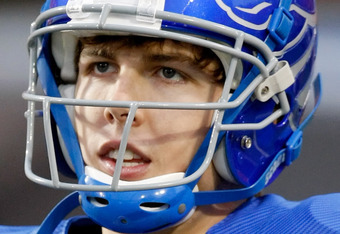 Ethan Miller/Getty Images
When it is all said and done, Boise State will have nine new starters in the lineup for its opening game.
Of course, last year's squad had a few problems as well. While the Broncos typically had enough talent to overcome their conference foes, the Broncos lost the turnover battle in six of their games. A team filled with new starters isn't typically prone to show improvement in that area.
I'll feel much better about Georgia's chances if the Bulldogs win the turnover battle.
Furthermore, Boise State's feared defensive line had a few moments of lapse in 2010—namely the Utah State game. The Broncos surrendered 250 yards to the Aggies on 51 carries, whereas i n Utah State's other 11 games the Aggies averaged 161 yards per game and 3.71 yards per carry.
Boise State allowed 55 percent more yards rushing 32 percent more yards per carry than what the Utah State typically gained. For comparison's sake, the Aggies ran the ball 38 times for only 80 yards against Oklahoma. 
In other words, the Broncos' defensive line can be beat. 
In any event, what Georgia fan wouldn't love to see Caleb King, Boo Malcome and Isaiah Crowell rack up 250 yards rushing?
Boise State's feared defense also collapsed against Nevada, surrendering 28 first downs and 528 yards of offense as the Wolfpack ate up more than 35 minutes of game clock. Nevada's attack was balanced and it continually kept the Broncos off-guard.
With a leader like Aaron Murray coming into his own, I think that Mike Bobo will have confidence in pulling out a wide array of plays to keep Boise reeling.
I would also be remiss to not mention the special teams meltdowns Boise State suffered against Nevada in 2010. Kyle Brotzman has graduated and will be replaced by Jimmy Pavel, a junior who backed up Brotzman last year, which I take to mean he was not as good as Brotzman.  Georgia fans will be hoping that he is just as miscue-prone as Brotzman was, and based on his missing of his lone field goal attempt in 2010 (a 30-yarder against Louisiana Tech), we may not be too far off.
In 2010 Boise State has showed vulnerability in every phase of the game—not consistently, but on occasion. I think Georgia has the talent to capitalize on such collapses and will come into the game with the edge to convert such missteps into a steamroll of momentum. 
Furthermore, with a number of talented players to replace, Boise State seems especially prone to upset early in the season.
Could the Georgia Bulldogs not only beat the Boise State Broncos, but also do so in a convincing manner?  What kind of margin are you expecting? 
While the general consensus may not be a big win for the Dawgs, do you think it's possible?