UFC 132 Fight Card: Carlos Condit's 5 Most Impressive Wins
Carlos "The Natural Born Killer" Condit is one of the UFC's most promising young stars in the welterweight division.
Despite being just 27 years old, Condit already has 31 professional fights under his belt, and boasts a quality record of 26-5.
Condit will take on fellow rising star Dong Hyun Kim at UFC 132, in a bout that many feel will be an unofficial No. 1 contender fight to see who has the next shot at the welterweight title.
That shot would be a ways off, as the most recent Strikeforce welterweight champion, Nick Diaz, will start his second stint in the UFC to challenge GSP for 170-pound supremacy at UFC 137 on October 29.
Nevertheless, Condit, a former WEC welterweight champion, is not a long ways off from proving he is among the cream of the crop.
Let's take a look inside and see which victories have really defined Condit as a fighter.
5. UFC 120 vs. Dan Hardy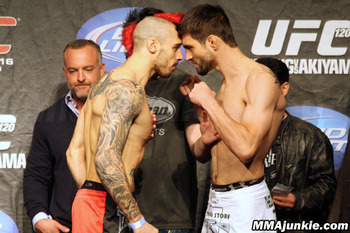 Dan Hardy entered the UFC with a 20-6(1) record and rattled off four straight victories before getting thoroughly dominated by Georges "Rush" St-Pierre when the welterweight title was on the line.
Hardy looked to bounce back by knocking out another fighter who loved to stand and bang: none other than Carlos Condit.
However, Condit proved he was the superior fighter, knocking out "The Outlaw" late in the first round of their 2010 encounter.
Condit is the only fighter who has defeated Hardy via knockout, showing how impressive his chin and punching power truly are.
Hardy has called Condit out for a rematch on various occasions, but since their UFC careers are heading in completely opposite directions, that idea remains highly unlikely.
4. Rumble on the Rock 9 vs. Frank Trigg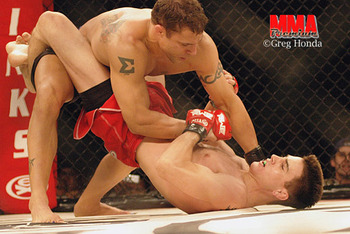 Condit was a big underdog to Frank Trigg heading into the semifinals of the 2006 Rumble on the Rock welterweight tournament.
After a convincing victory over Ronald Jhun in the quarterfinals, many fans and analysts alike had tons of confidence that Trigg would defeat Condit.
The Natural Born Killer was only 21 years old at the time, so questions regarding his abilities were fairly expected.
Their fight began as most anticipated, with Trigg getting a takedown almost immediately.
However, Trigg's jiu-jitsu game was very raw back then, as he was primarily a big, strong wrestler.
Therefore, he had little respect for Condit's submission game off his back, and ended up walking right into a triangle armbar.
Trigg's held on as long as he could, but eventually decided to tap before Condit could dislocate his elbow.
This is when people truly began to realize that Condit was a real threat at 170 pounds.
3. WEC 35 vs. Hiromitsu Miura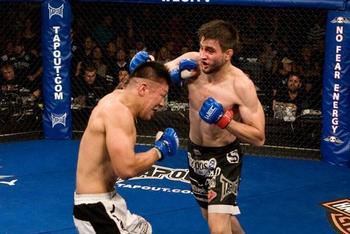 This was Condit's third and final defense of his WEC welterweight title. Miura, another highly respected striker, was expected to give Condit all he could handle in this one.
That's exactly what happened, as the fans seated in the Hard Rock Hotel and Casino enjoyed an all out war as the main event.
The fight was not without controversy, though, as the fighter were stood up on two occasions when Miura was on top of Condit.
Many felt that while Miura was not all that active on top, the stand-ups were premature.
While some even questioned the fourth-round TKO stoppage, Condit visibly hurt Miura very badly, as the challenger on the ground several minutes after the fight ended.
This bout showed that Condit could not only dish out punishment but he could take it as well, in this Fight of the Night effort.
For anyone who doubts Miura's striking ability, he became a professional boxer in Japan less than a year after fighting Condit. He currently sports a 6-0 record, with his most recent win coming against Todd Manuel in March of this year.
2. UFC Fight Night 19 vs. Jake Ellenberger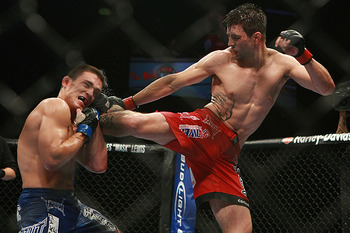 Jake "The Juggernaut" Ellenberger, a fighter with a high wrestling pedigree, showed off his powerful punches in the first round of his meeting with Condit.
Ellenberger visibly rocked Condit with big punches in the first round and neutralized The Natural Born Killer's jiu-jitsu with his excellent top control.
However, Condit refused to be rattled or stray from his game plan, and ended up winning a very close split decision with quality jiu-jitsu transitions and effective strikes from top.
Ellenberger is unarguably another tough contender at 170 pounds, so a second encounter between these two could prove to be quite interesting in the future.
1. UFC 115 vs. Rory MacDonald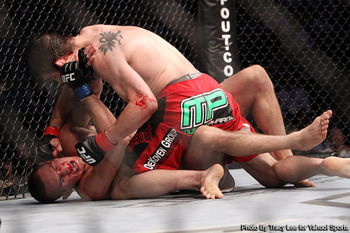 Rory MacDonald is the definition of an MMA prodigy, making his professional debut at 15 years of age!
MacDonald took on Condit in June of last year, in a fight to see which young fighter was ready to take their game to the next level.
Condit was getting beat definitively for the first time in years and had no answers for MacDonald's takedowns, top control and innovate striking through the first two rounds.
Just as it looked like MacDonald was going to cruise to an impressive unanimous decision victory, Condit came out swinging for the fences in the third and final round.
Condit finally managed to get the better of MacDonald with striking exchanges on the feet, and completely dominated the Canadian prospect with punches and elbows once he got on top of him with about a minute remaining.
A bloody and beaten MacDonald saw the fight get stopped with a mere seven seconds remaining, giving Condit the TKO victory.
It was later revealed that MacDonald would have won the split decision if the fight had gone the distance.
While it is rare to see a fight stopped with such little time left, it was hard to argue given how vicious Condit's relentless ground-and-pound was.
This was Condit's second Fight of the Night honor and is his biggest win to date, since it truly showcased how much grit, determination and talent The Natural Born Killer truly possesses.
Keep Reading