International Cricket: ICC's CEC Caves in to BCCI Pressure on DRS
June 28, 2011
Scott Heavey/Getty Images
The BCCI may have won, but cricket is the loser.
The ICC Chief Executives' Committee (CEC) gave its approval to a watered down version of the Decision Review System (DRS). The system will now include just the Hot-Spot (infra-red cameras) and audio-tracking.
The ball-tracking technology (Hawkeye or VirtualEye) is not mandatory. It will be used only if parties in a bilateral series agree.
This is pretty much in accordance with the BCCI's stand on the system. It will be interesting to see the effect of this ruling on the number of  correct decisions in the coming months. The resolution effectively takes out the leg-before referrals.
The use of DRS in the World Cup made a case for increasing the number of referrals in an inning to three. However, the diluted version rightly deserves only one.
The ICC intends to continue further research into the ball-tracking technology.
Other approved changes include use of two balls in ODIs—one at either end. This will keep "cherries" hard and fresh and will cut complaints about replaced leather's quality.
The batting and bowling power-plays can now be taken from overs 16-40. This is intended to retain interest in the middle overs where play tends to slow down.
Abolition of runners in international cricket is welcome. You don't expect Rafael Nadal to have another player do his sprinting in a major if he's injured, do you? Why this archaic rule for cricketers?
They are professionals and are expected to be fighting fit when they take the field.If they are unfit or are hurt during a game, they either forfeit the right to be on the field or continue through injury.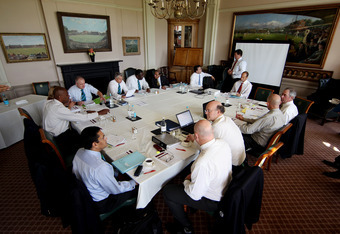 Scott Heavey/Getty Images
The CEC approved the recommendation that captains be suspended for slowing the over-rates twice in a 12-month period.
Ireland, however, have received no succour from ICC executives. The CEC have recommended a qualification process for the 2015 World Cup but have refrained from specifying the number of teams.
Haroon Lorgat.,Sharad Pawar, Clive Lloyd, Mansur Ahmed, Subhan Ahmed, Michael Brown, David Collier, John Cribbin, Warren Deutrom, Francois Erasmus, Dr Ernest Hilaire, Gerald Majola, Wilfred Mukondiwa ,Nishantha Ranatunga, N Srinivasan and Dr Justin Vaughan were the representatives in attendance at the CEC.
Approval of the DRS means that the upcoming Indian tour of England will see the system ending weeks of heart-burn and debate.
In related news, the inventor of the HotSpot technology, Warren Brennan, says that it costs $10,000 per day and not $50,000 as stated earlier by BCCI secretary, Niranjan Shah.
Read previous related article here.
Also read: http://bleacherreport.com/articles/738619-cricket-ten-reasons-why-the-bcci-disses-drs-humour
---
Last week I stated that this woman was the ugliest woman I had ever seen. I have since been visited by her sister and now wish to withdraw that statement.
 Mark Twain