Boston Red Sox: 5 Potential Solutions for Right Field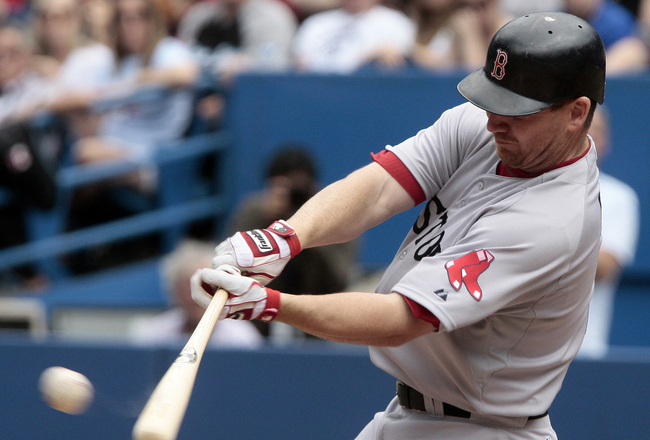 Abelimages/Getty Images
The Boston Red Sox, at 45-32, may have the third best record in all of baseball, but that doesn't mean they don't still have their share of problems.
Carl Crawford and Jed Lowrie, two of the team's best hitters, are still on the disabled list. John Lackey has been a disaster as the No. 4 starter and there's a revolving door at the No. 5 spot. Bobby Jenks, signed to be a premier set-up man, is still working his way back to mediocrity.
However, all of these problems pale in comparison to what's going in right field. J.D. Drew, even when he's healthy, has been about the offensive equivalent of Pokey Reese this season. The Red Sox can't keep trotting him out if he's going to be an automatic out.
With that in mind, here's a look at five potential solutions for this year and beyond.
J.D. Drew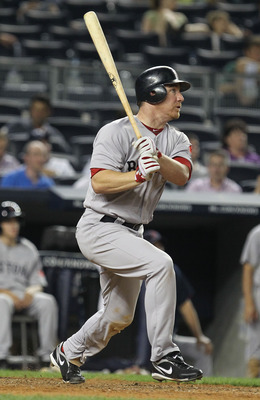 Al Bello/Getty Images
The Red Sox would love it if Drew lived up to his $16 million salary and started hitting like he's a professional baseball player.
Unfortunately, it's three months into the season and Drew, 35, is still stuck in a nasty funk.
He's hitting just .232/.330/.326 (career .279/.385/.492) and has nearly twice as many strikeouts (47) as walks (27). His power seems to be nonexistent after hitting 76 home runs in his first four seasons in Boston, and half the time it seems like he forgets he even brought a bat to the plate. Drew even managed to hit .241 in the month of June with an uncharacteristically high .316 BABIP.
As is his custom, Drew has also missed a handful of games due to a myriad of injuries. The Red Sox knew Drew would miss about 30 games each season when they signed him, but at least before he was productive in the games he did play in.
Drew is naturally a streaky player and there's still a chance he heats up. However, until that happens, the Red Sox have no choice but to go with a platoon or find an upgrade.
Josh Reddick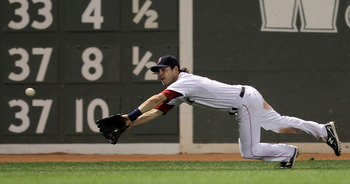 Jim Rogash/Getty Images
Reddick has impressed scouts and coaches alike since being called up by the Red Sox to fill in for the injured Carl Crawford.
The 24-year-old is hitting .414 in 12 games with five extra-base hits already (or more than half as many as Drew). He's also shown an impressive amount of patience at the plate, drawing four walks against four strikeouts.
In previous auditions, the free-swinging Reddick barely lasted long enough at the plate to say hi to the catcher. From 2009-2010 Reddick struck out 32 times and only walked three times.
If he's truly turned the corner as a hitter, the Red Sox may be very tempted to slide him into right field full-time once Crawford returns. Defense is a concern and he still has a long way to go as a hitter, but his bat right now is good enough to carry him in the big leagues and would represent a major improvement over Drew.
Ryan Kalish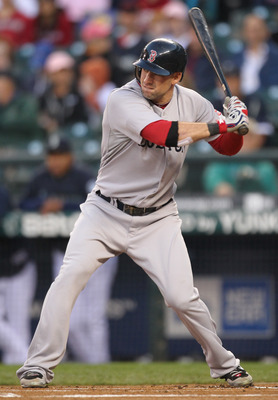 Otto Greule Jr/Getty Images
Kalish was deemed Boston's right fielder of the future after only a few games at the big league level in place of the injured Jacoby Ellsbury.
In 2010, he hit .252 in 53 games with 16 extra-base hits and 10 steals. He looked like a true five-tool player and more than held his own in the majors.
This season has not been as kind to the 23-year-old top prospect. He tore his labrum in his left shoulder while trying to make a diving catch early in the season, and he's been stuck on the disabled list ever since. He'll be in the Pawtucket lineup fairly soon, but the Red Sox would be foolish to rush him to the majors again before he's ready.
The plan for Kalish seems to be a wait-and-see approach. He'll likely finish out the season in Pawtucket and receive a late-season call up to Boston as a depth addition if he's healthy. Then next year he'll be given every chance to win the right field job out of Spring Training.
Then again, the Red Sox could also use Kalish as a trade chip to get other players.
Carlos Beltran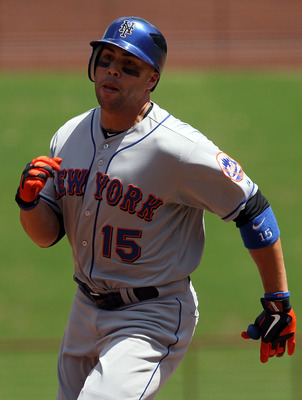 Ronald Martinez/Getty Images
The Red Sox seriously considered acquiring Beltran in the offseason, but ultimately decided to hold on to their prospects and sign Carl Crawford instead.
But even with Crawford in the fold, it's feasible that the Red Sox could still make a run for Beltran.
The New York Mets outfielder is enjoying a nice bounce back season with a .278/.372/.480 line (career .282/.360/.493) and 10 home runs already. More importantly, he's stayed healthy for the first time in three seasons.
It's unknown whether the Mets really want to trade Beltran—especially since they still have a faint shot at the playoffs—but it's hard to see them re-signing the 34-year-old outfielder at the end of his seven-year, $119 million deal. A trade would allow the Mets to retool around younger players and not risk losing Beltran for nothing.
The advantage with Beltran is that he's a switch-hitter (Drew, Reddick and Kalish are all left-handed) and a veteran. He won't be intimidated by playing in a pennant race and has experience against American League pitching.
The disadvantage with Beltran is that it'll cost a lot to get him. Several teams would love to add Beltran and the Red Sox don't exactly have a deep farm system after the Adrian Gonzalez trade. Is mortgaging the future worth a chance at the title?
Josh Willingham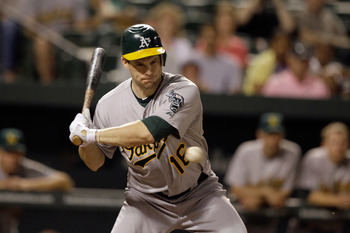 Rob Carr/Getty Images
Willingham, 32, is another player the Red Sox have been after for a long time. The price has never been quite right for GM Theo Epstein, but with few other alternatives on the trade market it might be time to bite.
Willingham, like anyone else who's ever played in Oakland, has struggled offensively with just a .231/.307/.410 line. Yet he still leads the team in home runs with 10 and is a smart hitter with plus power and average speed.
Willingham will also be a free agent at the end of this season and at $6 million would come at a much cheaper price than Beltran ($18.5 million). He'd also be a welcome addition to the lefty-heavy lineup in Boston because he hits from the right side.
The question, as always, is price. The A's don't have much of a reason to hold on to Willingham, but that doesn't mean they'll just give him away. It may take a couple of prospects (Lars Anderson, Kyle Weiland?) to get a deal done.
Other Options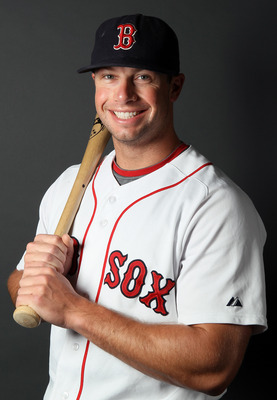 Elsa/Getty Images
Daniel Nava: Nava played well last season in the absence of Jacoby Ellsbury and is a switch-hitter with good contact ability. However, at 27 he's a little old to be a prospect and never showed much power or speed at the major league level.
Darnell McDonald: McDonald, 31, is Boston's fourth or fifth outfielder and perfect in a utility role because he's solid defensively and has plus speed. However, it's hard to justify giving him more playing time as long as he's batting just .103 with a .337 OPS.
Che-Hsuan Lin: Lin is a well-regarded prospect in the Red Sox system currently playing for Triple-A Pawtucket. He has plus-plus speed and is a terrific defender with a rocket for an arm, however his bat isn't good enough for the majors. He's another utility player.
Keep Reading

Boston Red Sox: Like this team?