Blazers' Addition of Raymond Felton Finally Adds Consistency at Point Guard
June 27, 2011
Doug Pensinger/Getty Images
As I was watching the NBA draft last week, I was anticipating a move by the Blazers to acquire a point guard or a big man—either one or both, I didn't care.
Then I saw the announcement that the Blazers had acquired former North Carolina point guard Raymond Felton in a three-team deal that sent the aging Andre Miller, who was the starter for the past two seasons, back to the Denver Nuggets. I subsequently did my best Jersey Shore impression, as I fist-pumped like no other.
The trade made me ecstatic to say the least, as the deal finally added consistency at point guard, something that the Blazers organization has lacked in it's 41-year history.
Since the Blazers expanded to the NBA in 1970, there have only been two point guards that have played there at least five seasons—former All-Star Terry Porter (10) and Damon Stoudamire (7.5).
Not to mention, since the Blazers made it to the 1992 NBA Finals, they have started 23 different point guards, ranging anywhere from Rod Strickland to Sebastian Telfair to Sergio Rodriguez.
There have also been seven different point guards to start a game since current head coach Nate McMillan took over the team seven years ago (Steve Blake, Telfair, Jarrett Jack, Juan Dixon, Rodriguez, Jerryd Bayless and Miller).
So, to say the least, the team has been rather inconsistent when it comes to the position.
And now, with the addition of Raymond Felton from Denver, this finally gives the Blazers something that they have struggled to find—accordance.
Felton was an excellent point guard while attending college at Tobacco Road—excellent enough to be awarded with a lottery selection. The guard was taken with the fifth overall pick by the Bobcats in the 2005 NBA Draft, the team's second year in the league.
He attempted to learn the ropes during his rookie season, while playing at a fairly high level. Starting 54 games for Charlotte, Felton averaged decent numbers, averaging 11.9 points and 5.6 assists in roughly 30 minutes per contest.
His numbers would slightly increase over the next few seasons, eventually settling down to about 14 points and seven assists from 2006-09. But his averages dropped down during the 2009-10 season as Felton struggled to find his identity.
The point guard had arguably the worst season of his career that year, averaging just 12.1 points and 5.6 assists per contest. That would lead to his dismissal by the team, as they would not re-sign him during free agency.
The Knicks would take a chance on him, signing him to a two-year deal worth approximately $15.8 million. He would have the best season of his career, as he averaged 17.1 points and nine assists in 54 games before being dealt to Denver as part of the Carmelo Anthony blockbuster trade.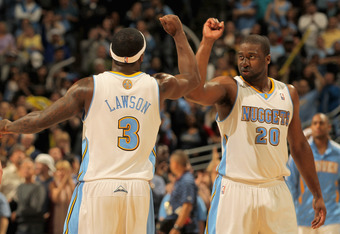 Doug Pensinger/Getty Images
However, he would be relegated to the bench with the Nuggets, as head coach George Karl was already content with starting Ty Lawson. It was obvious around the league that Felton was not comfortable being a backup especially since he did so well playing at Madison Square Garden.
His unhappiness led to the deal that brought him to the Portland Trail Blazers.
Although he has not played a single game for the Blazers, I firmly believe that he will be the best point guard since Terry Porter was roaming the hardwood in the late-'80s and early-'90s.
Felton, who celebrated his birthday on the 26th, is currently in the prime of his career and the expectations are high especially since he is now considered a seasoned veteran. He is also over eight years younger than Andre Miller, who was supplanted by Felton.
With a much better supporting cast than he had in Charlotte, Felton will now form a potent combination with LaMarcus Aldridge, the team's current power forward. There is also the oft-injured Brandon Roy, who should be close to 100 percent at the start of the season.
Wesley Matthews, Nicolas Batum and Gerald Wallace, his former teammate in Charlotte, will also be on the court at some points, along with defensive stud Marcus Camby and young guns Elliot Williams and Luke Babbitt.
Felton seems to have an endless amount of weapons in Portland, as his teammates range anywhere from consistent low-post players to threatening shooters. He should be feeling like a little kid at Christmas as he will have a lot of toys to play with this season (and hopefully longer since this upcoming season is the last on his two-year deal).
Felton has the aptitude to become one of the best point guards in the league if he sets his mind to it. He is a great player when it comes to offense and isn't half-bad on defense either.
He predominantly is at his best when it comes to pick-and-roll situations. Using that, he is able to get a good look at the basket, as that's how he takes most of his shots; he is also able to spot up or use isolation plays to get shots, too.
Felton is a quick player, as he is able to turn corners tightly and quickly, which gives him a multitude of passing lanes to find an open man. He is also at his best when it comes to transition as he is one of the league's best when it comes to bounce passes, especially full court attempts.
He is also one of the best in the NBA when it comes to finding an open area, receiving the outlet pass and eventually getting the ball up the floor at an accelerated rate, way before the eight-second violation.
There are not many players in the league that can match Felton's agility and court vision. He seems to have trouble holding onto the ball sometimes, but he has improved that aspect of his game in recent years.
Defensively, Felton can also be considered to be very proficient on that side of the ball. He can be thought to be a ball hawk, which means that he is skillful at pressuring his man into making bad decisions.
Many opposing players presume that he is an annoyance on defense, as he is able to force a decent amount of turnovers.
He is also one of the NBA's best when it comes to jumping into passing lanes, attempting to disrupt the timing and getting a steal or tipping a pass.
Felton has the capabilities to become a great point guard in this league, as there are many positives in his game. As stated earlier, he has one of the best supporting casts in the game, which means that his numbers could vastly improve. Typically, better teammates make a person a better player and that's what he is hoping. And that's what I think will happen.
I will go ahead and make a bold prediction right now—if Felton signs an extension in Portland, he will make an All-Star team during his tenure. I wouldn't be surprised if us fans see him average 20-plus points and 10-plus assists in an 82-game season.
His potential is sky-high and with him entering the prime of his career, I don't think Felton will let us Blazers fans down.
The addition of Felton finally gives the Blazers consistency at the point guard position and this could also mean that they will start seriously contending for an NBA championship. Hopefully, this means that the first-round exits will come to an end and they will start delving deeper into the postseason.
Felton is just the starting point, as the Blazers should be adding a few more quality players to the roster before the start of the season.