UFC Live 4: Charlie Brenneman Dominates Rick 'The Horror' Story
June 27, 2011
UFC Live 4 on Versus featured the co-main event of Pennsylvania's own Charlie "The Spaniard" Brenneman against Rick "The Horror" Story.
Brenneman entered the arena to a screaming ovation. Chants of "Spaniard" reverberated through the Consol Center as if Brenneman was Maximus from the movie Gladiator.
Opposing Brenneman in this clash is the welterweight phenom, Rick Story.
Riding a wave of momentum unlike any other within the UFC welterweight division, "The Horror's" impressive victory over Thiago Alves at UFC 130 earned the Washington native a spot in the night's co-main event.
Not only facing a solid opponent in Brenneman, Story also had to compete against the obviously biased Pennsylvania crowd who were faithfully in "The Spaniard's" corner.
As the first round began, both MMA practitioners worked their stand-up skills from the outside. An eerily similar fight strategy employed by both fighters, take-downs and dirty boxing prevailed in this matchup.
As the first round continued, Story began to stalk Brenneman, throwing explosive punches and leaving himself open for a take-down.
Taking advantage of the wide strikes, Brenneman secured a take-down on "The Horror," establishing cage dominance and earning points within the judges' eyes at the conclusion of Round 1.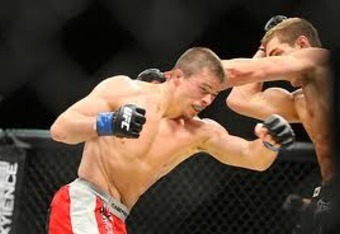 With neither fighter possessing an elevated jiu-jitsu game, this lack of ground work was more of a softening up experience with tight head punches and body shots.
Continuing to utilize his excellent wrestling background, Brenneman executed superior take-downs on the established grappler.
Surprisingly, Story could not prevent the take downs of Brenneman. Even though "The Spaniard" did not damage Story on the ground or threaten with a submission, he clearly dominated the first two rounds.
Story's offense needs to develop into an all-around fight game. Limited in his Brazilian jiu-jitsu skills, Story could not sweep Brenneman when laying flat on his back.
However, with that said, Story did threaten with a reverse triangle choke late in Round 3, transitioning into the mount on top of Brenneman with only one minute remaining.
However, Story's limited jiu-jitsu allowed "The Spaniard" to escape from any threat and reverse "The Horror's" position.
A tremendous effort by Charlie Brenneman, "The Spaniard" fought a sound fight and was deserving of the victory.
On the flip side, Rick Story needs to balance out his fight game. A two-dimensional fighter, Story relies on his strength and power to deliver explosive punches and work his dirty boxing skills.
Additionally, Story's wrestling, up until this matchup with Brenneman, secured many victories for the rising star.
Tightening up his punches, delivering an array of leg kicks, and working on his jiu-jitsu talent will have Rick Story back into title talk very soon.
A matchup against Rich Attonito or Jake Ellenberger would be the next logical progression for Story.
As for Brenneman, this victory is the biggest win of his young career. Continued evolution of his overall skill-set will provide "The Spaniard" with continued opportunities within the UFC welterweight division.
Keep an eye on both of these rising stars.
I welcome your comments.
Todd Seyler
"Like" me on Facebook
Follow me on Twitter @toddseyler