Liverpool FC Transfer Rumors: Charlie Adam In, Raul Meireles Out for Reds
June 26, 2011
Shaun Botterill/Getty Images
Since the turn of 2011, Liverpool have made no secrets in their pursuit of Blackpool captain Charlie Adam, who signed for the Seasiders for a mere £500,000 from Rangers but has seen his price tag rise tremendously following his performances in the Premier League last season.
Manager Kenny Dalglish and Damien Comolli made it clear there would be movement in and out of the club this summer. While there have been some youngsters released from their contracts, it is the movements in that have been on the radar most.
With expected signings of a left back and wingers on the agenda, Sunderland's central midfielder Jordan Henderson was first to enter the club.
Countless wide men and fullbacks have been linked to come, yet the priority seems to be towards the signing of Adam. As another central midfielder looks to join the ranks, whispers have been circulating that Portuguese Raul Meireles is the man to make way.
The irony of these two players is how they had differing seasons which reflected their club side's performances.
Adam undoubtedly orchestrated Blackpool's first-half charge in the Premier League last season with scintillating displays of end-to-end football, combined with his precision passes.
By contrast, Meireles was failing to adapt to English football following his move from Portugal. It didn't help he was playing amongst a team low on confidence and short on quality under then manager Roy Hodgson.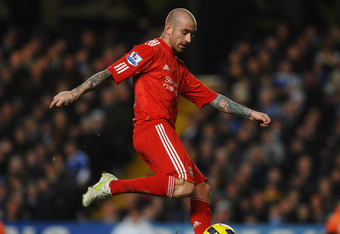 Laurence Griffiths/Getty Images
The turn of the year provided stark contrast to both players' form, as well as their respective sides.
Following the dismissal of Hodgson, Liverpool appointed Kenny Dalglish as temporary manager until the end of the season. A move that not only helped Liverpool but rejuvenated Meireles who began to find his form and the back of the net.
Key performances from all over the midfield made him a favourite for Liverpool fans.
Adam, on the other hand, failed to continue his rich vein of form. When his move to Anfield never materialised and his transfer request was dismissed, the wheels began to fall off. His passing wasn't at its early season peak, and mistakes at the back proved costly as Blackpool suffered the ultimate price: relegation.
While it seems that Liverpool want Adam, and as much as Blackpool would like to keep him they seem resigned to losing him, neither side are able to put a price on the Scotsman. Liverpool were thought to have lodged an initial £4 million bid when the transfer window opened in January only to be rebuffed quite profoundly by manager Ian Holloway.
This rose to £10 million before a last ditch £12 million was said to be offered on transfer deadline day but was again waived away.
Five months and relegation later, Liverpool are reported to have returned with an £8 million bid. With no further progress, it seems the bid has not been accepted. Yet amidst the recent bid, suggestions have been made that Meireles could in fact be out of Liverpool, to make way for Adam.
The Reds have not been shy in their attempts to recruit more players ahead of next season, but with the central midfielders at their disposal—Meireles, Jay Spearing, Lucas Leiva, the newly signed Jordan Henderson, not to mention the return of captain Steven Gerrard—the question arises whether there is a need for Adam.
Liverpool fans experienced this sense of back and forth under former manager Rafael Benitez, who infamously sold fan-favourite Xabi Alonso in an attempt to sign Gareth Barry, only for the deal to fall through but still lose Alonso.
And so Alonso's replacement, Alberto Aqualani, returns to Merseyside after loan side Juventus refused to pay for his services; another central midfielder into the hub. Ironically, it is Juventus who have been linked as the likely destination for Meireles, following the newly appointed manager Antonio Conte.
Despite his performances in the second half of last season, Meireles could be vulnerable to the transfer policy apparent at Liverpool now; signing young but proven talent with potential of a sell on value.
It seems being British may well be an inclining factor as well as a lack of injuries. Meireles did miss matches last season due to injury, and at the age of 28, there is no guarantee whether he could return the investment made on his £11 million purchase from FC Porto last summer.
One would feel the acquisition of Adam would be the last of central midfielders to enter the club, with full backs and wingers surely the priority from thereon in.
Liverpool fans may not be content with news that Meireles may not be at Anfield next season, yet they will realise that key decisions must be made by Dalglish and the Fenway Sports Group if they are to return to the pinnacle of European football and challenge for domestic honours.