Edmonton Oilers: It Is Time to End the Rebuild
June 27, 2011
Bruce Bennett/Getty Images
When the Edmonton Oilers drafted Sam Gagner sixth overall in 2007 my little sister was in grade seven. Now, four years later, she is a year away from being done with high school.
In that time she has learned how to drive a car, how to drive a boat, how to dismantle an engine; she's memorized every American President since 1919 and can name every Russian leader since Vladimir Lenin. Her hair color has changed four different times and she recently became a Bruins fan. She has attended three different schools in two different cities in those four years.
In short, she is completely unrecognizable from the little girl of four years ago.
In those same four years the Edmonton Oilers have done exactly two noteworthy things- sign Dustin Penner to an offer sheet and finish in last place. The names on the back of the jerseys might have changed, but the results have stayed the same- five years out of the playoffs.
Oilers management has only officially acknowledged that they've been in a rebuild for two seasons now, but the reality is that the "rebuild" has just completed it's fifth season.
Since losing to the Carolina Hurricanes in Game 7 in 2006, this team has drafted the following players in the following draft positions: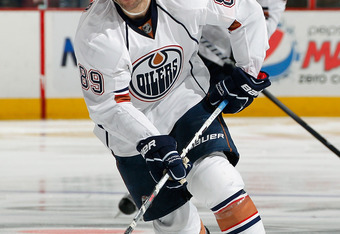 Paul Bereswill/Getty Images
Sam Gagner, 6th overall 2007
Jordan Eberle, 22nd overall 2008
Magnus Paajarvi, 10th overall 2009
Taylor Hall, 1st overall 2010
Ryan Nugent-Hopkins, 1st overall 2011
That is four top ten picks in five seasons and a steal at 22 who, in a re-draft, goes in the top ten. Magnus Paajarvi was considered a top five talent by many scouting agencies and the Oilers were lucky he fell to them at number ten. Sam Gagner is currently the second best player from his draft year.
So that's essentially five top ten picks in five years, including a pair of first overalls.
Whether Steve Tambellini acknowledges it or not, if that doesn't constitute a rebuild I don't know what does. Between Gagner, Eberle, Paajarvi, Hall and now Nugent-Hopkins, the Oilers are in a position to have as much elite talent as any one team can realistically afford under the salary cap in a few years. A lottery pick next year is not required.
It is time to stop falling in love with draft picks and time to start looking elsewhere to get established players that can help the team begin to compete now. Finalizing the deal for Ryan Smyth was a good start, but it is not enough.
Barring any other trades, Steve Tambellini will have 20 million to play with this summer. He needs to begin utilizing his team's greatest asset- cap space. I am expecting Tambellini to be very active this summer.
Tambellini's mission should be very simple; sign actual NHL players to short term contracts until the Landers, Hamiltons and Marincins of the world have had sufficient seasoning in the AHL and are ready to take over. Call it the Detroit model if you wish. I prefer to call it competent management.
I'm not talking about offering a monster contract to Brad Richards, I'm talking about guys like Scottie Upshall, Vern Fiddler, Adam Hall, Mike Grier and Jan Hejda. Players who don't have the market might to dictate their destination and price and who will be willing to sign in Edmonton for the right amount of money.
After five long years I can finally see light at the end of the tunnel. The Oilers time doesn't have to come in 2014 or 2015. We don't have to be a punchline in Jay Mohr's monologue any longer. Not if the powers that be choose to make it so.
If Steve Tambellini wills it, the Oilers time can come sooner than anyone thinks.