2011 NHL Draft Results: A Look at Each of the Detroit Red Wings' Picks
June 26, 2011
Bruce Bennett/Getty Images
With the 2011 NHL entry draft now over, I believe it is time to take a look at the staple of prospects the Detroit Red Wings have been able to add to their great future. 
With players like Brendan Smith, Tomas Tatar, Teemu Pulkkinen, Calle Jarnkrok and Gustav Nyquist already Detroit property, the Wings already had some great prospects before this draft and they now have even more talent to add to that.
Second Round, 35th Overall
Tomas Jurco- RW, Saint John (QMJHL). 6'2", 193 LBS
Strengths: A very slick stick handler in the mold of Pavel Datsyuk, Jurco was part of the Memorial Cup champion Saint John Sea Dogs and performed very well in the playoffs. Jurco also possesses some much needed size and a great shot.
Weaknesses: Still not great defensively, but would be fine on a line with any of the Wings defensive minded centres. Accused of not always playing a full 60 minutes and coasting in some games. The Wings are the ideal franchise to help him with his inconsistencies.
Second Round, 48th Overall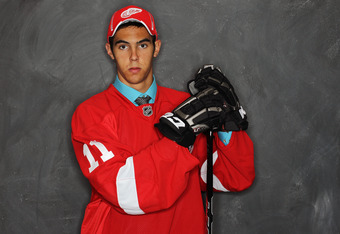 Nick Laham/Getty Images
Xavier Ouellet- D, Montreal (QMJHL). 6'0", 174 LBS
Strengths: A very good offensive defenseman, Ouellet really came into his own this past season. He can play at both ends of the rink, but won't wow you with his skill. He will be the main guy on an extremely weak Montreal Juniors team next season.
Weaknesses: Doesn't get involved in the physical aspect of the game and needs to put more weight on his frame. He is also weak on the puck, something that should improve as he develops. 
Second Round, 55th Overall
Ryan Sproul- D, Sault Ste. Marie (OHL) 6'4", 185 LBS
Strengths: Sproul had a surprise coming out party this season after barely making the Hounds roster due to injuries. His booming shot helped him score 14 goals from the blue line and he has great offensive upside. His size is also a huge attribute.
Weaknesses: Not a very fast skater or mobile, his decision making with the puck and physicality also need a lot of work. He is a long term project that could pan out very well for the Wings.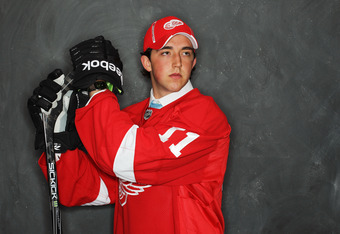 Nick Laham/Getty Images
Third Round, 85th Overall
Alan Quine- C, Peterborough (OHL) 6'0", 181 LBS
Strengths: Quine is a good skater with great hockey smarts. He is a two-way centre and will fit right in on the Wings roster. Plays on the same team as first-round pick Matt Puempel, a player many people believed the Wings were targeting.
Weaknesses: Another player with a weak frame, Quine also shies away from physical contact. He also needs to improve on the draw if he wants to remain at centre.
Fourth Round, 115th Overall
Marek Tvrdon- LW, Vancouver (WHL) 6'2", 212 LBS
Strengths: In what could be the steal of the draft, the Wings selected Tvrdon with their fourth round selection. Tvrdon is a top two round talent who fell because he only played 12 games this year due to a knee injury. He has soft hands and a great scoring touch.
Weaknesses: Obviously the knee injury is somewhat of a concern and is defensive play/awareness has been questioned.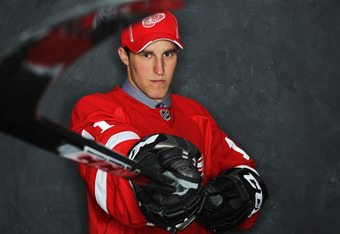 Nick Laham/Getty Images
Fifth Round, 145th Overall
Philippe Hudon- C, Choate-Rosemary (U.S. Prep) 6'0", 197 LBS
Strengths: Relatively unknown before the draft because of his decision to fore go the QMJHL and head to college after he graduates high school, Hudon played hockey in the United States prep league. He has shown that he is a responsible two way player.
Weaknesses: Hasn't had to play against any tough competition at all and is still relatively unknown. His first year at Cornell will be huge for his development.
Fifth Round, 146th Overall
Mattias Backman- D, Linkoping HC (SEL) 6'2", 170 LBS
Strengths: Played the majority of the year in the Under-20 SuperElit league, Backman is a mobile defenseman who will get regular playing time in the SEL next season. He can move the puck well and flourishes at both ends of the rink.
Weaknesses: Again, not much is known about Backman, as he played very few games in the spotlight of the Swedish Elite League, mostly playing in the Under-20 league in Sweden.
Sixth Round, 175th Overall
Richard Nedomiel- D, Swift Current (WHL) 6'4", 202 LBS
Strengths: A beast of a defenseman who more then lives up to his size, Nedomiel is one of the most physical players in the draft. He was not even welcome to play in his own country unless he changed his style, but he came to Canada instead. A very good defensive player. 
Weaknesses: Needs to improve on his foot speed if he wants to make it to the NHL. Won't provide much offence from the back end.
Seventh Round, 205th Overall
Alexei Marchenko- D, CSKA Moscow (KHL) 6'2", 183 LBS
Strengths: A good skater with great mobility, Marchenko was passed over in the 2010 NHL entry draft. He put up good offensive numbers in the Russian junior league and should play full time in the KHL next season.
Weaknesses: Not very strong on the puck and needs to improve on his defensive positioning.