WWE's Best Retired Superstar to Have Never Held a World Title (CvC 2.0)
June 25, 2011
So many legends come to mind who never captured the so coveted top prize in the WWE. We are watching SmackDown today on how Christian is craving that world title after waiting 17 years for an opportunity. While over on Raw, R-Truth is in his first hunt for a shot at the WWE title and he started with the company 12 years ago. It's obvious in a sport where the outcomes may be predetermined, it still means something to hold that top spot, but the real truth is some superstars never needed it to be considered one of the greatest of all time. Hot Rod Rowdy Roddy Piper is the best example of a champion without a belt.
The legends of the Rock-n-Wrestling era made an amazing impact on me in my childhood and helped me become the wrestling fan that I am today, and while Hulk Hogan was the poster child of the 80s, any great hero is only as good as his nemesis, and that perfect bad guy was Roddy Piper. Whether it was in the ring, in cartoons or being the heel who helped usher in that era of wrestling taking on Cindy Lauper and Lou Albano, he helped open it up to the whole world.
Roddy Piper in his WWE career only held two belts, the Intercontinental Championship which he had for a mere 77 days and was co-holder of the Tag Team Championship which he held on to for only eight days. Piper was not a man of championships; he was a man of the microphone. He was the man who made the talk show segment popular in WWE and blazed a path for all those that came after. Pipers Pit and his legendary interviews with Jimmy Snuka, Andre The Giant and every other superstar of the 80s helped fuel every great feud of that era.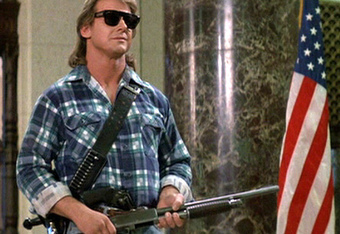 Piper was integral to everything that made the WWE what it is today; he was in the main event of MTV's The War to Settle the Score in 1985—the first time the WWE appeared on MTV. He was in the main event of Wrestlemania 1, where he partnered with Paul Orndorff against Mr. T and Hulk Hogan. This led to a rematch between Piper where he and pop culture icon Mr. T had a legitimate boxing match at Wrestlemania 2. He was the first to have a Hair vs. Hair match at a WrestleMania where at WrestleMania 2, he went against Adrian Adonis; everything Piper has done has in some way changed the world of WWE.
While Hogan was winning championships and making brief appearances in Rocky III in 1982, Roddy went and made Body Slam in 1986 one of the first pro-wrestling films. Hogan was starting his series of family-friendly movies, making No Holds Barred years later in 1989. Piper had already made the great action/sci-fi movie They Live in 1988. This movie has one of the greatest fight scenes of any movie of all time—so much so that it inspired a version of it on the animated show South Park.
Roddy Piper was not a Ricky Steamboat winning the IC title and having his legend be held up with iconic matches against the likes of Flair or Macho Man. He was not a Hillbilly Jim who had the love of the children in the WWE at the time and played off a gimmick to make him a lovable character. Roddy Piper was a heel, and even though he was as despicable as he was to the level that the "eye poke" is considered one of his moves the fans loved him.
To this day, as proven just recently on an episode of Monday Night Raw, Piper can hit the ring, cut an amazing promo and even take on a young superstar like The Miz and hold his own. He said it perfectly when he replied to The Miz stating that people compared Miz to Piper; Miz isn't like Piper, he's a wanna be. Miz isn't the only superstar who looks to Piper as a mentor in the ring and on the mic. 
Roddy Piper was one of the first heel thinkers of the ring; he introduced the world to pay-per-view and special events like Saturday Night Main Event. He showed that superstars could make decent movies and still be controversial. He had some of the greatest fights in and out of the squared circle, and he did all this without ever holding that precious gold title. He didn't need that belt to make him one of, if not, the greatest heel legend of all time. All he needed was a microphone, a sleeper hold and so much charisma and attitude that you couldn't help but drown in it; all that and maybe a coconut too.
His mouth, smile and character made him a champion.