UFC on Versus 4: 6 Reasons Why the Event Is Still Worth Watching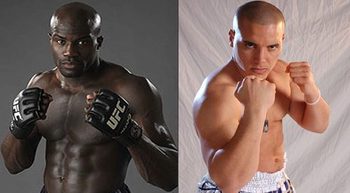 UFC on Versus 4 or UFC Live: Kongo vs. Barry is set to take place and, of course, what many are talking about is the last minute fight that got scrapped: Nate "The Great" Marquardt and Rick "The Horror" Story.
However, aside from the loss of the main event, the rest of the card will likely still be exciting and provide more fireworks than any card in recent memory or any card in the near future.
The undercard has been perfected by the UFC because, unlike boxing, the undercard is packed with interesting and exciting matchups that will make the fans feel like they got their money's and time's worth (even though this particular card is free on both Versus and Facebook).
This particular undercard is set to be one of the most exciting in 2011 and, because of this, is more than enough of a reason to watch the event despite the sudden release of Nate Marquardt.
Why? Read and find out!
Nik Lentz vs. Charles Oliveira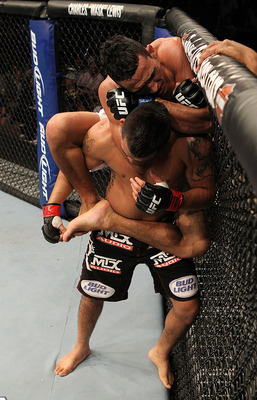 Charles Oliveira is one of the most promising fighters in the UFC lightweight division and is a skilled Brazilian Jiu-Jitsu practitioner to boot.
He has demonstrated very slick, exciting submissions in his UFC victories; seeing him fight is always interesting because you know he will always try to finish the fight.
His opponent, Nik Lentz, has been universally panned by MMA fans as a boring "fight-not-to-lose" fighter but recently turned things around with his exciting third-round submission victory over Waylon Lowe back in March.
Lentz's grinder style might be problematic for Oliveira, but at the very least it can be said that Lentz will be constantly busy defending submission attempts from his Brazilian adversary.
This fight may well be a grappling clinic and is therefore one of the reasons why this undercard could shine above all others.
Joe Lauzon vs. Curt Warburton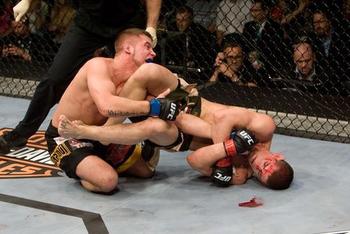 Even though lightweight standout Joe Lauzon has been inconsistent recently—he's coming off a loss and is 2-2 in his last four—his recent fights have been entertaining affairs; in his last six fights he has earned three fight-of-the-night and two submission-of-the-night honors.
Lauzon's fight could be a mismatch since his opponent is only 7'2" and—being a Brit—has a suspect ground game or at least a suspect ground game relative to that of Lauzon who has 15 of 19 wins by submission.
Thus, this fight will likely not be boring; either Lauzon will submit his foe or Warburton will use crisp stand-up skills to pepper and eventually overwhelm Lauzon.
Joe Stevenson vs. Javier Vazquez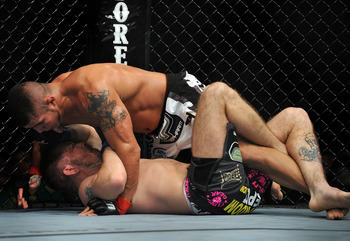 Jon Kopaloff/Getty Images
Joe "Daddy" Stevenson was once lauded as the next lightweight champion but has since hit a slump in his career; he is 3-4 in his last seven and is on a three-fight losing streak.
At UFC on Versus 4, Stevenson will attempt to resurrect his career by moving down to the featherweight division. Stevenson—despite his recent losses—is always worth watching; he has won the fight-of-the-night honor on three separate occasions and always comes to fight. This attitude will be exacerbated by the fact that he will be fighting for his UFC life come Sunday night.
His opponent, Javier Vasquez, is a game competitor and a submission ace. Of his 15 victories, 11 have been by submission.
The never-say-die styles of the two men (and of all featherweights it seems) will make this fight a memorable one.
Tyson Griffin vs. Manvel Gamburyan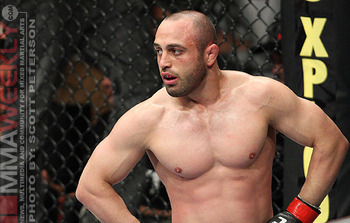 Tyson Griffin was one of the staples of the lightweight division—his fight against Manvel (a.k.a Manny) Gamburyan is taking place at featherweight, a weight that Griffin hasn't fought at since 2005.
Griffin is another oft exciting fighter who's on the UFC on Versus 4 card; he has been awarded with the fight-of-the-night accolade five times in his UFC career.
Griffin usually seeks to push the action unless he is stymied and smothered by an opponent with superior wrestling such as in his fight with Nik Lentz. However, Gamburyan usually doesn't employ such tactics.
Look for Griffin to return to form in this fight since he has no choice—he has lost three straight and knows what one more loss will send him to the unemployment line.
Matt Mitrione vs. Christian Morecraft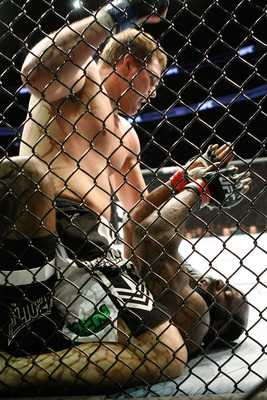 Richard Wolowicz/Getty Images
Heavyweights Matt Mitrione and Christian Morecraft show up to fight, period. Between both men, there is only one fight that has gone the distance (Matt Mitrione's decision win over the nearly impossible to finish Joey Beltran). All other victories were achieved by the end of the second round.
These heavyweights will fight and fight hard come Sunday night. If this fight goes to decision, it'll be a thrilling one.
John Howard vs. Matt Brown
John "Doomsday" Howard is an exciting Muay Thai stylist who is down on his luck, but not more so than his opponent, "The Immortal" Matt Brown who has lost his last three fights and is 11-10 overall.
While both fighters are coming off losses, the fight will deliver because each fighter knows a loss would seal their fate in the organization—and because the fight is, in all probability, a mismatch.
Howard is 14-6 with wins over Tamdan McCrory, Chris Wilson and Dennis Hallman. His losses in the UFC have only come to higher level competitors.
Brown, on the other hand, can't brag about too much. He is only one fight over .500 and his biggest win is arguably over Pete Sell.
Brown holds no advantage over Howard in any area of the fight. This fight is the most likely to be a thrilling one-sided beatdown.
Keep Reading