Manny Pacquiao: Will He Beat Floyd Mayweather Jr. on Pay-Per-View Buys?
June 25, 2011
Ethan Miller/Getty Images
Manny Pacquiao and Floyd Mayweather Jr. have set the stage for a lesser-hyped pay-per-view (PPV) fight right after Pacquiao's bout with Mexican counter puncher Juan Manuel Marquez on November 12.
Pacquiao and Mayweather, who are both posturing for the biggest and richest fight in boxing history, which will most likely happen next year, will try to prove to everyone who is the real pay-per-view king.
Mayweather will find out how much he will generate in PPV sales probably in a week after his date with Victor Ortiz on September 17.
Then he will have to wait till November and probably pray that his number is much more than what Pacquiao will generate against Marquez.
Depending on how soon HBO or Showtime can tally the numbers, the public will most probably know the official PPV numbers before the end of the year. It may be recalled that Top Rank's Bob Arum has complained about the delay in the release of the final figures for the recently held Pacquiao-Mosley fight.
Is Arum holding the result in abeyance for a reason known only to him? Rumors are swirling around he is not happy with 1.3 million considering the much-publicized CBS-Showtime media reach.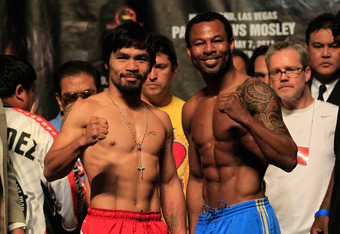 Chris Trotman/Getty Images
Arum was expecting a 1.4 million in PPV buys for the Pacquiao vs. Mosley fight but according to reports, the number is closer to 1.3 million.  For the Pacquiao-Marquez fight, Arum expect a PPV count of 1.6 million.
Pacquiao's highest take is 1.3 million, or thereabout, as the official figure has not yet been released by Top Rank.
With Mosley as a common opponent, Mayweather and Pacquiao have generated almost the same PPV numbers.
Mayweather's fight against Shane Mosley last May 2010 generated around 1.4 million buys, which is about 1 million less than his all-time high with Oscar de la Hoya, which generated over 2.4 million buys.
Mayweather's comeback fight from an early retirement against counter-puncher Juan Manuel Marquez generated a little over 1 million buys.
It is possible Pacquiao will hit Arum's target for his November date with Marquez considering the counter-puncher's hordes of Mexican fans who are expected to root for their idol.
At the same time, Team Pacquiao together with Marquez's entourage are embarking on a worldwide press and promotional tour which will bring them to Singapore, Dubai, Mexico and the USA to drum up the PPV event.
However, Mayweather could outpoint Pacquiao in the PPV game despite the massive promotional campaign by Top Rank. His own 24/7 HBO series is expected to help him in hyping the September event while he and Ortiz go on tour in key US cities to sell the fight.  
Will Mayweather knocks Pacquiao out in the PPV fight?