Chelsea 2011/12 Season Preview: Andre Villas-Boas and His Preparation
June 25, 2011
Jamie McDonald/Getty Images
There is a reason that Andre Villas-Boas has become the youngest manager to ever win a European title at just 33 years old.
More important than the luck of being in the right place at the right time, more on that later, is his canny ability to know when an opportunity is too good to turn down. Which is why the Portuguese finds himself back at Stamford Bridge just four years, after departing as an assistant to José Mourinho.
This time Villas-Boas is the main man. Previously as an opposition scout, he was known solely as Andre Villas. "Boas" is added to his title, one of the many names he has inherited from his family that is related to Portugal's King Carlo I.
More importantly his job title is "manager," something that his predecessor, Carlo Ancelotti, was not privileged to have, only being the first team coach. This suggests that owner Roman Abramovich has given him a greater amount of authority on matters outside the training ground.
Never good enough to become a professional player, Villas-Boas turned his attention to coaching the game and began by picking the brains of Sir Bobby Robson in 1994. The Englishman was manager of Villas-Boas's beloved Porto and was making an error emitting his favorite player Domingo Paciencia from the first team. 
Coincidentally, Paciencia was his opposite number in May in the Europa League final against Braga.
Robson was so impressed by Villas-Boas's reasons for reintroducing Paciencia that he advised the teenager to begin studying for a career in coaching. He was entrusted by Mourinho upon his arrival at Chelsea in 2004, to conjure up highly detailed scouting reports on the opposition and did the same job at Inter Milan.
In 2009, just months in to the season, Villas-Boas suddenly left the Nerazzurri, identifying an opportunity to join Portuguese minnows Académica. He led the Estudantes to a miraculous escape from relegation and the next opportunity arrived as Porto came calling.
He impressively regained Porto the title along with three other trophies, even surpassing the great Mourinho's achievements with Dragões, becoming only the second manager in history to lead a club to an unbeaten season in Portugal.
Despite being something of a hero in his hometown, Villas-Boas sensed he could further himself even more when Chelsea identified him as the man to bring trophies back to West London.
Similar to what faced him upon inheriting the Porto vacancy, Villas-Boas must stamp his authority on the dressing room. He immediately removed player power when he arrived at Porto. Importantly emphasizing team unity. 
Bruno Alves was sold to Zenit Saint Petersburg for €22million and Raul Meireles joined Liverpool for €13 million. Clearly Villas-Boas was not afraid of losing several highly established stars of the team and had the desire to do it his way even if it was a risk.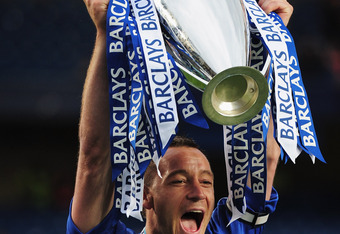 Shaun Botterill/Getty Images
Therefore, it should be assumed that it will be no different at Chelsea and experienced players such as Didier Drogba and Nicolas Anelka could be sold.
The principal that Villas-Boas has always adhered to, is discovering ability and capacity within the squad he works with and helping to fulfill this. Of his coaching principles, he states that he has "a technical staff that focuses a lot on unlocking potential." 
One can therefore expect him to resist player purchases unless absolutely necessary by calling upon experienced players to adapt to his style or youth players to emerge.
Evidence of this philosophy was seen by using Porto's young stars James Rodríguez and Walter as impact substitutions with Fernando and Nicolás Otamendi being integrated as starters. Similar responsibilities could be afforded to the likes of Daniel Sturridge, John McEachran and David Luíz despite all being rough diamonds. 
Chelsea need more ingenuity to supply an array of attacking talent capable of scoring many goals. Only Yossi Benayoun and the teenager Josh McEachran seem to possess the guile to unlock the opposition should, as is often the case, they implement a deep back line.
Porto contained a midfield with two passing midfielders, João Moutinho and one of Fredy Guarín or Fernando Belluschi, that sat in front of a tall, powerful holding midfielder in Brazilian Fernando. Immediately, it would seem that Mikel John Obi could operate the Fernando role.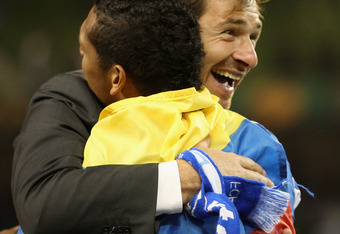 Scott Heavey/Getty Images
Frank Lampard and Michael Essien who were mainstays in the center midfield for the Blues last season had disappointing years due to either injuries or loss of form. So a priority should be to sign a central midfielder of Cesc Fabregas's ilk to stitch defense in to attack.
The attacking three in Villas-Boas' 4-3-3 had two fast, powerful wide players in Silvestre Varela and Hulk who were capable of running at pace at the opposition. Florent Malouda would seem to be the only player in the squad capable of doing this if Yury Zhirkov and Salomon Kalou continue to disappoint. Daniel Sturridge will probably not be entrusted with a starting role so a wide attackers capable of beating a full back one-on-one will inevitably find their way on to Chelsea's radar.
The wider attackers under Villas-Boas tend to operate solely in the attacking third and are afforded the luxury of discarding their defensive duties. Therefore, the full backs will be required to have exceptional stamina and pace to be able to support the attack and continuously work back defensively when possession is surrendered.
Ashley Cole fits perfectly in to this system but it will be interesting to see if Branislav Ivanovic is maintained at right back as, although his defensive capabilities are superb, his attacking talent and pace are often questionable. If José Bosingwa could improve his defending he could yet have a Chelsea future.
One of the other cornerstones to Andre Villas-Boas's tactics is the ball-playing center back and David Luíz is the perfect player to build around if he can iron out his defensive flaws then he will surely be a large part of starting each Chelsea attack this season.
Outside of tactics Villas-Boas is famous for his shock tactics that gave ultimate motivation for his Porto side to win back the title from Benfica. Upon commencing preseason training in 2010, the Portuguese compiled a video of the Águias celebrating their impressive title. It was immediately apparent that last year should not be forgotten and should be a motivation throughout the new campaign.
A similar tactic based on Manchester United should be expected, as they are the benchmark Chelsea aspire to surpass once again as both clubs have raised the bar simultaneously since Abramovich arrived at Chelsea.
Lastly, the Chelsea players can expect an intensity like nothing before during each and every day at the Cobham training ground. No time is wasted by Villas-Boas and fundamentals are perfected, free-kicks and corners, meaning one should expect an end to cheap goals conceded like the Bosingwa own goal at Wolves last season.
To put all of the above in to place, Villas-Boas will aim to put the best staff around him with Jose Mario Rocha as fitness coach and Daniel Sousa as opposition scout strongly tipped to follow their former Porto boss.
Chelsea can expect an obsession for detail and an expectation for ultimate work rate from Villas-Boas that will contribute to the attractive football that should finally appease Abramovich's desire for entertaining football, adulation from the neutrals and silverware to cement a new legacy.