CvC 2.0: CMLL or AAA, Which Is the Best Mexican Pro Wrestling Promotion?
June 28, 2011
Blue Division
Jon Sainz vs C-Cool
Best Major Mexican Promotion
There are many wrestling promotions in Mexico, but only two can be considered major promotions: Asistencia, Asesoria y Administracion (AAA—Asistance, Advice and Administration) and Consejo Mundial de Lucha Libre (CMLL—World Lucha Libre (Wrestling) Council).
I'm going to compare the two in various aspects to decide which one is the better promotion.
Name & Logo
AAA's full name sounds like a law firm both in Spanish and in English. Triple A is also a kind of battery and the acronym for the American Automobile Association, which can be a little confusing.
On the other hand, CMLL is unique in its acronym and it's full name is reminiscent of the World Boxing Council (WBC—which in Spanish translates as: Consejo Mundial de Boxeo).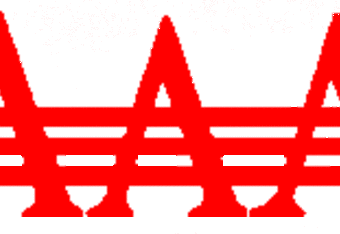 The logos are also quite different. AAA's logo has a simple design with three lines crossing through three upside down V's, giving the impression of three A's.
CMLL's logo is more complex. It has a world map in the background with the letters "CMLL" over it and "Consejo Mundial de Lucha Libre" written in a circle around the image.
This one goes to CMLL without a doubt.
History
Founded on September 21, 1933, under the name "Empresa Mexicana de Lucha Libre," the CMLL is the oldest promotion in the world that is still in business. 
In recent history, two promotions have flourished from CMLL promoters, bookers and talent. The first one was the Universal Wrestling Association (UWA), which was a tremendous force for 15 years, opposing the (until then) lone promotion CMLL, but it went out of business in the early 1990s.
The other one broke off in 1992 and took the name Asistencia Asesoria y Administracion. CMLL bookers Antonio Peña and Konnan broke off from the company and took some young talent with them. They founded AAA on May 15, 1992.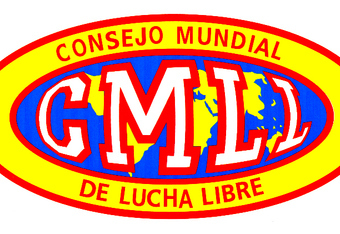 CMLL gets this one for its long history and for being the pioneers. 
Legends
As an older promotion, CMLL is bound to have more legends than AAA, but both promotions have some legends. Here are the best known from both companies.
CMLL: Salvador Lutteroth (founder), El Santo, Gory Guerrero and Perro Aguayo.
AAA: Antonio Peña (founder), Konnan, Pepe Casas and Octagon.
Third one in a row for CMLL, again because of its long history.
Current Wrestlers
Among the best well known current wrestlers from each promotion, we can find the following:
Averno, Negro Casas, Hector Garza, Ultimo Guerrero, Jushin Liger and others in CMLL.
El hijo del Perro Aguayo, Konnan, Jeff Jarret, L.A. Parka, Psicosis, Octagon, Super Crazy and others in AAA.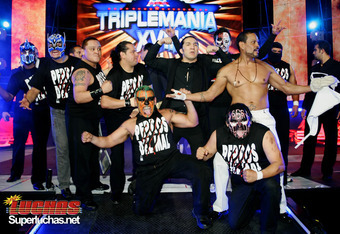 Both promotions have a lot of young talent and some recognizable stars, so this one is a tie.
Alumni
This one is going to be very interesting as both promotions have been used as jumping grounds to bigger promotions, mainly in the US. 
Some you know by the same name they used in Mexico, others have changed their name (in which case I will put the name they are currently using in parentheses after the name they used in Mexico).
Here are some of the best known alumni from each promotion:
CMLL: El Hijo del Santo, Mistico (Sin Cara), Dos Caras Jr. (Alberto del Rio), Yoshihiro Tajiri, Psicosis, La Parka, Alexander Koslov (Peter Orlov, currently in FCW), Ultimo Dragon, Kenzo Suzuki and others.
AAA: Rey Mysterio Jr., Eddie Guerrero, Juventud Guerrera, X-Pac, Love Machine (Art Barr), Dos Caras Jr. (Alberto del Rio), El Hijo del Santo and others.
As you can see, this is Mexico's version of the Monday Night Wars, with talent going from one promotion to the other.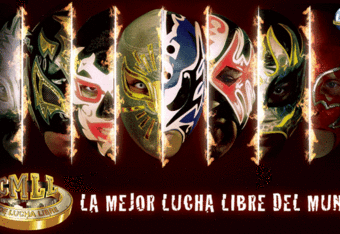 I'm going to give this one to AAA because it's a relatively young promotion, and yet has developed a lot of successful wrestlers who have had great careers. 
It's true that CMLL has done the same, but they've been an established company for way longer than AAA.
Championships
Both promotions have a lot of different championships. AAA has a total of nine (they had 18 at one point) and CMLL has a total of 28.
Since explaining it would be a bit confusing and would take a lot of time, here is the list of championships and current champions for each promotion:
AAA gets this one on the basis of simplicity. While CMLL has more championships (some of which have a lot of history), AAA has fewer championships, but they are very well defined.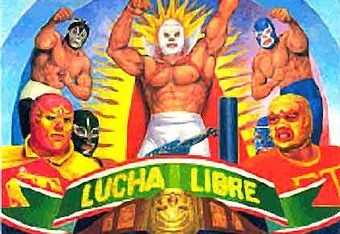 Tournaments
Both promotions have tournaments apart from the championships. These tournaments are usually for low- and mid-carders.
AAA:
Rey de Reyes: (literally, King of Kings) A tournament like WWE's King of the Ring.
Alas de Oro: (Wings of Gold) Usually features young high flyers.
Copa Antonio Peña: (Antonio Peña Cup) Mid-carders to main-eventers, the tournament has had various styles, but is usually a Gauntlet Match with around 13 participants.
Lucha Libre Premier: A wrestling league would be the best comparison.
CMLL:
Torneo Gran Alternativa: (Great Alternative Tournament) Elimination tournament for Tag Teams. Those Tag Teams are formed by a newcomer and an established star.
Campeonato Universal: (Universal Champion) A tournament involving all champions to determine the best of the best. 
Reyes del Aire: (Kings of the Air) A tournament for High Flyers.
Pequeños Reyes del Aire: (Little Kings of the Air) Same as the previous one, but for Mini-Estrellas.
Copa Jr.: (Junior Cup) Second-generation (or more) superstars; real or kayfabe are the only ones allowed to enter this tournament.
I'm giving this category a draw. Both promotions have interesting concepts as tournaments (some are even exactly the same), neither has too many tournaments and both promotions focus mainly on low- and mid-carders giving them some air time and a push if they end up winning the tournament in question. 
The WWE could copy some of their ideas.
Conclusion
Due to its longer history, CMLL wins this battle; but both promotions are pretty much equal in quality and either one of them is worth watching. 
If you've never seen any of them, I would recommend you check either (or both) of them out. Lucha Libre style is different from the things we're used to seeing in the WWE or TNA, but it's entertaining nonetheless.