Alabama Football: What a 'Bama Writer Has to Do to Get Ready for the 2011 Season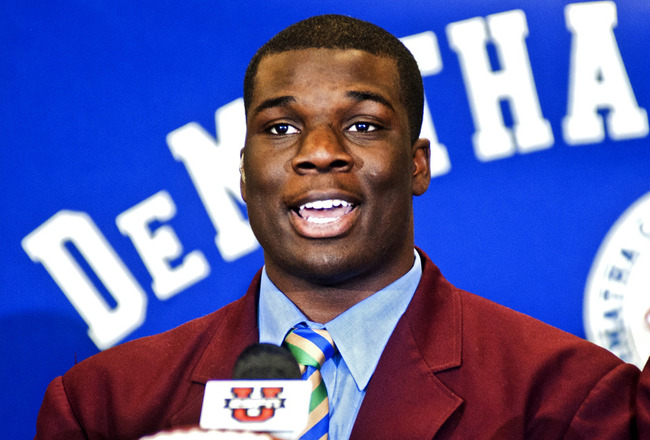 The name is Kouandijo and it's pronounced Qwan dro.

Another football season is quickly approaching and while the players are in summer drills and 7-on-7 training, it's time for the writers to get to work and start putting in the time necessary to be successful as well.
Being a great writer and getting to work the press box isn't for the slackers; here's a list of my summer drills to assure myself a good season in 2011.
Kouandijo, Kouandijo, Kouandijo... Write this at least 25 times each day so I won't have trouble once the season starts.
Phillip Sims is the quarterback battling A.J. McCarron, and Blake Sims is the guy who was a high school quarterback who can play everything except a down lineman.
Go ahead and pack an ethernet cable in my travel case for the press box so when my laptop stops getting the wireless signal, I can just plug in this year.
Start planning now for new excuses for the Alabama State Troopers that patrol the roads between my house at Panama City Beach, Florida, and Tuscaloosa. I think they've heard all the tried and true ones I always had ready before.
Kiss up to Doug Walker, head of media relations at the University of Alabama so that you're not seated next to that same reporter I was so ofter last year. After three halftime chili dogs, the locker room smells better.
You have to know your opponents, so keep reminding myself that Kent State players are the "Golden Flash" and not the "Golden Flashers"; they get upset when you make that mistake.
Is it Keiwone Malone or Kenny Bell? They're both number seven.
And while I'm at it, add North Texas to that list. They're the Eagles, Mean Green is just sort of nickname. They're from Denton, Texas, and even though you've never heard of them much, they're one of the largest universities in Texas. I just hope nobody asked me what Denton is near.
Keep a picture of Keiowone Malone handy so that I can tell the difference between him and Kenny Bell. It's not enough that they're both about 6-feet and 170 pounds, but they wear the same freaking number and are both receivers!
Keiwone keeps reminding me that if I'm in doubt, he's the best looking one, but neither really float my boat, not that there's anything wrong with that.
And that's another name I'll have to start spelling 25 times a week to get right.... Keiwone, Keiwone, Keione.... Oh well, maybe they won't play him that much this year, and I'll get lucky.
This article is
What is the duplicate article?
Why is this article offensive?
Where is this article plagiarized from?
Why is this article poorly edited?

Alabama Crimson Tide Football: Like this team?