Niklas Kronwall's Bone Crushing Hits, with a Brad Stuart Appearance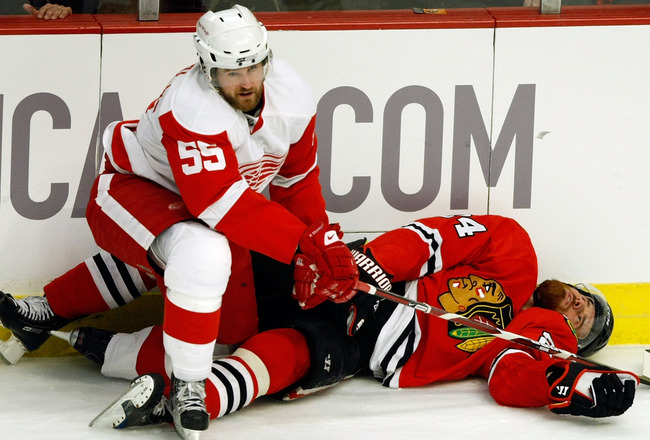 Jim Prisching/Getty Images
It's a term that has become common phrase in Detroit and is getting more popular among the NHL: "Kronwalled."
Niklas Kronwall has made a name for himself by leaving more than one player of the opposing team wondering what their name is, especially in the playoffs.
Some think of Kronwall as a modern day Scott Stevens, and while he may not be as good as Stevens, Kronwall is still a very skilled defender that can leave more than one player on the opposing team hurting.
And if you're wondering why Stuart is featured here twice, just watch the clips.
With that, let's look at Kronwall's Bone Crushing Hits.
10. Anthony Stewart
If you've never heard of Anthony Stewart, don't feel bad—neither has Anthony Stewart.
9. Teemu Selanne
This makes the list simply because Kronwall was hardly even moving when he leveled Teemu.
Selanne later complained about this hit and Kronwall's "dirty" play.
I mean, come on Teemu, I know he's a Swede and you're from Finland, but you're employed by the Ducks. You guys might as well sign Matt Cooke and make your intentions blatantly obvious.
8. Stuart Hits Artem Anisimov
7. Ryan Malone
At least every time he looks in the mirror he'll remember to keep his head up next time.
6. Alexander Radulov
At least we know why Radulov wants to stay in the KHL.
5. Stuart Hits R.J. Umberger
Forget the quiet room, Umberger needs the quiet city.
4. Radek Bonk
One word: "BOOM!"
Mad props to Bonk. It's not too often you see a guy get up after getting hit full speed by a bus.
Hope somebody got the license plate.
On another note, does anybody find Bonk's name a bit coincidental?
3. Dany Heatley
Dany Heatley isn't used to being hit with that much force until he's had several drinks.
OK, I'm going to hell for saying that...
R.I.P. Dan Snyder
2. Ryan Clowe
I don't know which is better, the hit itself, or the fact that, after Kronwall leveled Dany Heatley a few games earlier, Clowe said he wanted a piece of Kronwall.
I think he got it.
The next game, Clowe was scratched due to "Flu-like symptoms."
Get well soon Ryan.
1. Martin Havlat
No description necessary.
However, for your viewing pleasure, watch Havlat's eyes during the replays.
This hit quickly generated a new name for Marty "HavSplat."
Keep Reading

Detroit Red Wings: Like this team?