Strikeforce Overeem vs. Werdum: Heavyweight Grand Prix Brackets of Tomorrow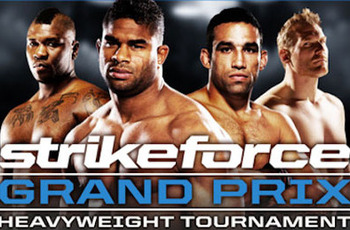 Fight fans are a day away from being treated to Strikeforce's second installment of their Heavyweight Grand Prix at the American Airlines Center in Dallas.
After first round match-ups between Fedor Emelianenko vs. Antonio "Big Foot" Silva and Andre Arlovski vs. Sergei Kharitonov back in February, Saturday night's heavyweight tournament competitors will want to mimic fellow opening round victors straight into the semifinals.
The rest of this tournament will ultimately produce not only a heavyweight champion, but a divisional pound-for-pound fighter gearing for a shot at the UFC's heavyweight best.
With numerous implications for future bouts, how will the Heavyweight Grand Prix brackets break down once all the leathers has been thrown, all the blood and sweat has been absorbed into the canvas and the winners' arms have been raised into the air?
What was once considered the weaker half of the bracket, it's now being looked upon by fans and pundits as the half that will produce the tournament's undisputed No. 1 challenger, Josh Barnett.
The other side of the tournament has already been impacted, putting aside speculation and outlining one half of the semifinals after Silva shocked the world by evacuating one of the early favorites from the tournament.
Now Fedor is out of the picture, many find it hard to believe in a finals without Overeem, who recently participated in K-1's 2010 Grand Prix and won the whole thing.
As a result, Silva and Kharitonov will be sidelined until an unknown date later this year, eagerly preparing for their eventual clashes with tomorrow night's winners to become the deserving challenger to the belt and have the bragging accolades that await the overall winner of the tournament.
Obviously both the Brazilian and Russian will be watching Josh Barnett vs. Brett Rogers and Alistair Overeem vs. Fabricio Werdum with vested interest, waiting for the cards to fall as they will.
To Strikeforce's (pre-Zuffa) credit, their Heavyweight Grand Prix has become the most talent-rich tournament since Pride's Open Weight tournament back in 2006.
So consider this a prediction of sorts, let's glance into the future and see how the brackets will look, not only on Sunday morning, but how they will play out for the rest of the tournament.
Remember this is just one genius man's humble opinion, who was blindsided when his beloved Fedor got stomped out of the tournament at the hands of Silva in the very first round.
So consider yourselves warned….
Semifinals: Josh Barnett vs. Sergei Kharitonov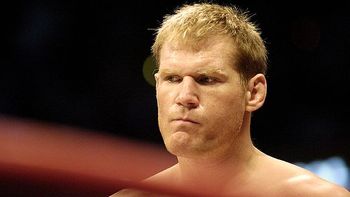 Barnett has been an easy target for scrutiny in the last couple of years, and rightfully so, testing positive for performance-enhancing drugs on three separate occasions.
But, whether he is your cup of tea or not, doesn't change the fact that he is a talented, well-rounded fighter who has been in the trenches with marquee heavyweights, many of whom he has defeated.
After outclassing Brett Rogers, Barnett will be up against a harder hitting, more technical version of Gilbert Yvel.
Everybody saw what happened when Barnett got in top position against Yvel during Affliction: Day of Reckoning back in 2009; he stayed on top and rained down punishment on a striker lost in the forest with no bread crumb trail back home to his feet.
In order to utilize his superior wrestling and ground game, Barnett will have to survive Sergei's crisp, powerful boxing, a dangerous task with huge dividends coming in the later parts of the fight.
The Russian's cardio is nothing short of average, which Barnett will likely take huge advantage of with take downs and ground and pound as the fight progresses.
Barnett's journey through this tournament will be against strikers, who get progressively more dangerous than his previous opponent, but never well-rounded enough to match Barnett's superior ground game.
Rogers, Sergei or Overeem all pose the same innate threat: blasting Barnett's beardy baby face into next week.
Semifinals: Antonio "Big Foot" Silva vs. Alistair Overeem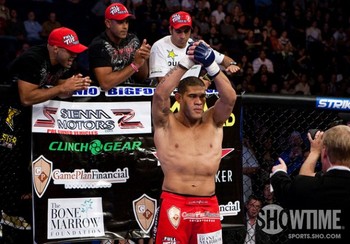 Silva is the only opponent in the tournament that can come close to matching Overeem's power. The clinch is where this power advantage will be felt by Overeem's foes.
Naturally, students of Muay Thai-infused kickboxing have a great understanding of how to weld close controlling maneuvers like the plum from the clinch. In addition, you add Overeem's striking power and accuracy, there's nobody he can't knock out or stop when standing.
Furthermore, to add to Silva's frustration, a guy as muscular as Overeem shouldn't have his speed. Typically fighters with the Dutchman's figure either have serious deficiencies in cardio and/or speed.
Cardio is much more of a concern for Overeem—who has only tasted what it's like to go three full rounds twice in his entire career—than speed. His enormous frame will no doubt be taxing, starving for oxygen, if pushed to the final rounds.
Luckily for Overeem, there's an obvious reason why he has been able to avoid testing his cardio in the final rounds of fights: he overwhelms nearly all his opponents with power and strikes or he gets defeated. The latter hasn't happened since 2007, ironically enough, losing by knockout to Kharitonov.
In order to minimize all chances of repeating his 2007 blunder, Overeem will have to stay out of Silva's range and reach, clinch only when Silva's tired and stay off his back. As long as Overeem maintains his composure and fights smart, he'll outclass the slower Silva to retain his title.
Finals: Alistair Overeem vs. Josh Barnett
Okay, I don't want to completely jump the gun on a fight that won't come to fruition until the end of this year or the beginning of next. It's too early to break this fight down; let's see how Saturday night plays out first.
Let's give the suspense more time to fester. You got my final's match-up, what else do you want from me?
2011: The Year of The Reem.
Keep Reading