WWE Capitol Punishment Predictions: Who Will Stand Tall at the Nation's Capital?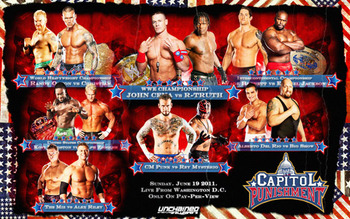 After a month-long absence, I am back on Bleacher Report, at least for now. And I have decided to return with one of my favorite things to write about, and that's PPV predictions. Capitol Punishment is this Sunday in our nation's capital, and we have a pretty solid card.
Seven matches have been announced for the PPV, and it a very good balance between championship matches and just plain old grudge matches. And for the first time since perhaps Judgment Day 2009, every match on the card is a singles match without any stipulation added to it.
Many of these matches look great on paper, and who comes out on top this Sunday may affect the direction the WWE goes in as the future of WWE is arguably on this card.
Who will win in Washington, D.C.? Who will come out on top in their respective feuds? Who will walk away with gold around their waist?
Well, here are my thoughts on who will win this Sunday.
Kofi Kingston vs Dolph Ziggler, United States Championship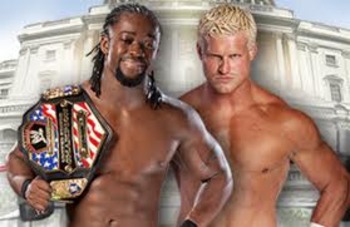 The United States title is on the line as Kofi Kingston defends against Dolph Ziggler, who is sure to have Vickie Guerrero in his corner.
These two had an intense rivalry on Smackdown over the Intercontinental Championship, and the matches they provided were pretty good, ranging from Night of Champions to the Triple Threat Ladder Match at TLC last year.
Ziggler earned his opportunity by beating Kofi in a non-title match, and Stone Cold officially granted it at Capitol Punishment on Monday.
These two have good chemistry and are amazing wrestlers, so this is prime candidate for opener of the night.
Many feel Ziggler will win, but seeing the problems Ziggler had with Vickie on Raw when Stone Cold duped them both, I gotta go with Kingston to retain which will increase the tension between Ziggler and Vickie.
Prediction: Kofi Kingston
Wade Barrett vs Ezekiel Jackson, Intercontinental Championship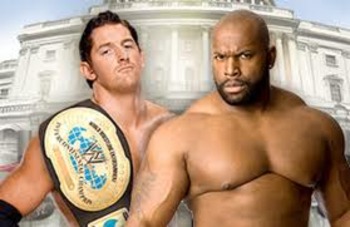 The implosion of the Corre comes full circle when Wade Barrett defends his Intercontinental Title against the personification of domination, Ezekiel Jackson.
Once a group of equals, Ezekiel was brutally kicked out of the Corre once he began showing signs of displeasure in the Corre, as well as being viewed as top member by others.
Jackson's last two opportunities ended in DQ and countout thanks to other members of the Corre, but thanks to Barrett's selfish ego, the Corre is now no more, and no one will come to save him Sunday.
Ezekiel Jackson is being pushed to the moon right as a monster babyface, but Barrett may need this win to keep some credibility.
I expect a decent match from these two, and I fully believe that come Sunday, Ezekiel will walk out as the new Intercontinental Champion. Maybe then, Barrett can move on to better things now that he's on his own.
Prediction: Ezekiel Jackson
Alberto Del Rio vs Big Show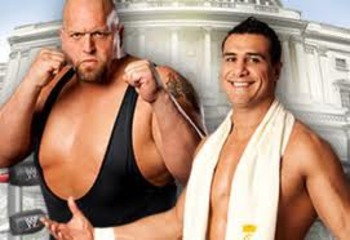 The Mexican Aristocrat must face the wrath of a Giant as Alberto Del goes one-on-one with a vengeance-seeking Big Show
This all started when Big Show and Kane lost the Tag Titles to Nexus about a month ago. Del Rio mocked and slapped Show, who chased after Del Rio in anger, which led to Ricardo Rodriguez running over Big Show.
Alberto has stated many times it was an accident, but has shown no remorse as he has mocked Big Show at every turn.
The giant returned this last Monday, and while Del Rio got away, Ricardo was absolutely destroyed, and Austin made this match between these two official for Sunday.
At first, I wasn't looking forward to this match, but after Smackdown, I am really intrigued. Del Rio has reawakened the angry giant within Big Show, shown by his destruction of the ringside area, and it's anyone guess what will happen with these two Sunday.
Tough call here, but I got to go with Del Rio going over, if WWE is serious about him main-eventing.
Prediction: Alberto Del Rio
CM Punk vs Rey Mysterio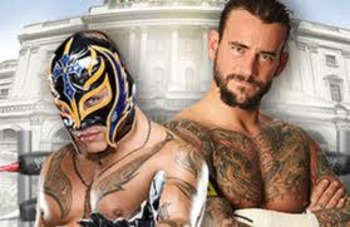 A rivalry is rekindled as the leader of the New Nexus, CM Punk, goes one-on-one with the Master of the 619, Rey Mysterio.
These two men are no strangers to each other, as they were embroiled in a very personal rivalry last year, which culminated with Mysterio shaving Punk's head bald in front of the world.
The feud has been reignited recently, and both men have been able to gain respective victories over one another on past Raws.
This is their rubber match, and with a Nexus attack on Mysterio, as well as Punk's win over Cena, the leader of Nexus has all the momentum.
This match-up has all the makings of what could be a classic. While repeating feuds can get stale, I have no problem with this one as long as it ends here, and it's a great match, which it is sure to be.
It's a hard one to call as both men could easily win. In the end, with what transpired on Raw, I see CM Punk taking the win and breaking his PPV losing streak.
Prediction: CM Punk
The Miz vs Alex Riley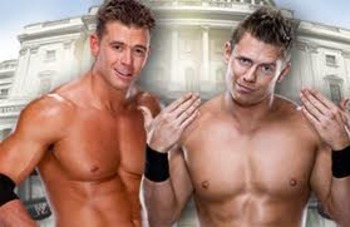 It's mentor vs. apprentice as the self-proclaimed Awesome One, The Miz, takes on his former protege' Alex Riley.
For nearly one year, Riley had been Miz's lackey, helping him win matches and keep his WWE Title around his waist. But after three consecutive mistakes in title matches, Miz berated his apprentice and fired him on the spot.
Fed up with the insults and lack of appreciation, Riley fired back and destroyed Miz. Riley got the better of Miz the next week as well, and even humiliated Miz by helping Piper beat his former mentor. The two look to settle their score once and for at Capitol Punishment.
This is the match that everyone is looking forward to the most. It is a must-win situation for both men involved. A win over Miz could propel Riley to the next level, whil the Miz needs a win on PPV to retain credibility and retain main-event status.
It is a very tough call with this one as well, but in the end, I see Miz getting the better of Riley when it counts, but this won't be over by a long shot.
Prediction: The Miz
Randy Orton vs Christian, World Heavyweight Championship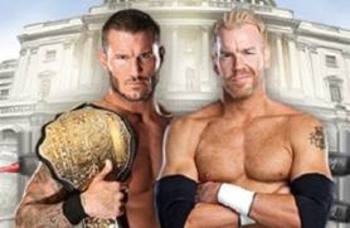 It's all about being the better man as Christian looks to regain the World Heavyweight Title from the Viper, Randy Orton in Orton/Christian III.
This story began when Orton beat Christian to become World Champion just five days after Christian won it for the first time. Christian lost his rematch at Over the Limit, and soon enough, his inability to beat Orton finally made him snap and clock Orton in the skull with the belt.
Christian turned his back on the fans, and plans for revenge has made Orton grant Christian's request for one more match for the title.
And while Orton may have a concussion, Orton has shown that he is still the sadistic Viper we know, and Sunday, he will do all he can to destroy Christian.
This is the match I am looking forward to the most. Their last two matches have been show-stealers, and I expect this one to be the same.
Orton may have a concussion, but if Orton is cleared to compete for at least this match, then we are in for a classic,
It's definitely the toughest match to call, as both men could win for various reasons, but I gotta go with Christian finally regaining the title, allowing the IWC to rejoice.
Prediction: Christian
John Cena vs R-Truth, WWE Championship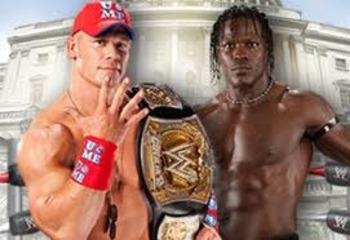 Who will the truth set free at Capitol Punishment as the deranged and delusional R-Truth looks to take the WWE Title from The Champ, John Cena.
When R-Truth lost his WWE Title shot for Extreme Rules, he snapped. He became a deranged, dangerous, and delusional individual who mocks 'Lil' Jimmy' and thinks there is a conspiracy against him.
He has taken out Morrison and has beaten Mysterio, all the while pining for his first opportunity at the WWE Championship.
After gaining a countout victory over Cena, Truth will finally get that opportunity, and as he proved last night on Monday Night Raw, he will do anything to win that title, and is a very dangerous threat.
R-Truth has been one of the most entertaining heels in recent memory, and his transformation from jobber to top heel has been amazing.
Thanks to what he did last week to Cena, Truth has established himself as a legitimate threat to Cena's title, and now has a small chance to walk away with the title and shock us all.
But still, even with Truth's momentum, I cannot see Cena losing the title this Sunday on PPV. Just not happening.
Prediction: John Cena
Keep Reading