Friday Night Fall Out: The Most Detailed SmackDown Results on the Internet
June 17, 2011
I am sitting in front of the television waiting for SmackDown to hit the screens in England, preparing to write my first live article for the Bleacher Report.
This is the go-home show before the pay-per-view so I expect an episode without too much storyline development and several good-quality wrestling matches.
We may also be treated to a last-minute announcement from Teddy Long that gives Daniel Bryan and Cody Rhodes a chance to tear the house down in Washington D.C.
Tonight will also be the episode where we find out whether Randy Orton will be in any condition to defend the World Heavyweight Championship this Sunday, and if not, what the WWE will decide to book instead.
Orton was rumored to have a legitimate concussion, and some fans have speculated that Sheamus, not yet booked for "Capitol Punishment," will have some part to play.
The show is about to start now, and SmackDown is broadcast tonight from Rhode Island, so these questions will hopefully unravel over the course of the evening.
We start with the same video package that we have seen again and again over the past few weeks detailing Christian's heel turn and his pending match with Orton.
Only this one is dubbed with Christian's promo from last week and contains various different shots of "Captain Charisma" with the "Chris Jericho smirk" on his face.
Tony Chimel announces the World Heavyweight Champion to start off the show, and it does not look like Orton has a concussion.
Orton takes his time before smiling and doing his pose on the turnbuckle to a huge pop from the crowd.
Orton says that apparently he is concussed but doesn't care about it, and for some reason, he wants a match with Christian tonight.
Is he so impatient that he cannot wait until Sunday to beat the "living hell out of Christian?"
And here comes the most incompetent General Manager since Tiffany, no doubt to hit us with some blatantly obvious decision.
Teddy says that while Orton is medically cleared, he has not received a confirmation of that clearance.
Then how does he know that Orton is allowed to compete in the first place?
The bottom line is that Randy Orton will not be wrestling tonight.
Christian's music hits, and he cuts his best heel promo yet in which he says that he gave Randy an excuse (the concussion) to use when he drops the title this Sunday.
I do wish he would stop doing the gimmick where he asks the crowd their thoughts in order to mock Teddy Long though. 
I love Christian as a heel, but this long-standing joke has become stale.
Sheamus comes out to join Christian on the ramp and apparently agrees with me on Teddy Long's "incompetence."
Sheamus says that he beat Orton last week, and that he deserves the opportunity more than Christian who has lost 50 title matches in a row. At the last count, it was two!
Christian does his best John Cena impersonation by calling Sheamus "strawberry shortcake," and the two face off heatedly.
But Sheamus does have a point, and Teddy has a decision to make. And for the first time in living memory, he makes a ruling that will actually create some interest in the main event.
Sheamus versus Christian is booked for the main event, and if the "Celtic Warrior" wins, then the World Heavyweight Championship bout this Sunday will become a triple-threat match.
Orton will have a ringside seat, but he cannot interfere or there will be "serious consequences" according to everyone's least favorite "playa."
Before we go to commercial, we get a graphic of the repeat six-man tag team match from Monday Night Raw, that consists of Ezekiel Jackson, Sin Cara and Daniel Bryan against Wade Barrett, Cody Rhodes and Ted DiBiase.
Hopefully, they will be given more time this time around to strut their stuff in the ring.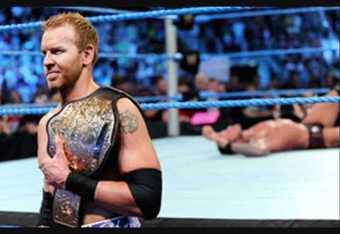 I have to say that I cannot see Sheamus losing in the main event as it would be yet another pay-per-view gone by without a serious role for the two-time WWE Champion.
I also see the potential for a Sheamus face turn somewhere down the line as Michael Cole was vehement in his support of Christian and was very vocal about his dislike for Sheamus' potential inclusion.
So the six-man tag match is about to commence, and the faces enter first with Michael Cole describing them as "two nerds and a big guy."
Great insight from the self-proclaimed "Voice of the WWE!"
DiBiase is the only man not given his own entrance, and instead, tags along with his former partner. This just shows how far he has come down in the WWE's estimation.
This is a decent match with Sin Cara playing the face in peril for the majority of the clash, and there is clear chemistry between Rhodes and Cara and I would love to see a feud between the two somewhere down the line.
Hot tag made to Bryan who bizarrely scores the three count off a drop kick in the corner that looked like DiBiase forgot to kick out.
Face team scores the victory out of nowhere, but the match ended before it really got going.
Sin Cara has still not lost a match in the WWE. 
Backstage interview with Sheamus where he cuts a generic promo about how he is going to become the World Heavyweight Champion with Matt Striker.
Another commercial break and when we return Mohammed Hassan's music hits and out comes Jinder Mahal accompanied by Khali to face Vladimir Kozlov.
Kozlov is debuting new blue ring gear and is set to be Mahal's toughest test thus far in his WWE career.
Booker T has somehow got it into his head that Jinder Mahal is facing Vladimir "Koz," a name that I have never heard used to describe the "Moscow Mauler."
But you can forgive Booker when you consider that this is the first time in months that he has been on TV!
Short match that Mahal wins thanks to interference from Khali who "knocks out" the Russian with a slap to the head.
Mahal's winning streak continues, and the announcers once again put over his mystique, and the hypnotic power that he seems to have over Khali.
It is clear at this stage that the WWE have big plans for the FCW youth product, and I can see his winning streak continuing this Sunday with Kane a potential opponent.
Big Show comes to the ring after another commercial break, and he will be interviewed in the ring by Josh Mathews.
Why is he still wearing that yellow glove?
Show says that he is making an appearance tonight because he heard a rumor that Del Rio is here tonight.
We see another video package of Big Show's car-related accident and the "World's Largest Athlete" does a lot of walking around the ring before Teddy comes out and tells Show that he is not to lay a finger on Del Rio.
Apparently criminal charges have been brought on the Big Show after his vicious assault on Ricardo Rodriguez this past Monday which is ironic considering he was not charged for running over Big Show.
Biggest pop of the night so far comes when Teddy announces that if anything like that happens tonight then he will lose his job.
The most respected GM in history then announces Show's opponent for the night, Mark Henry.
Expect a fast-paced match full of chain wrestling and high spots!
Show hits Henry with a cheap shot before the match starts and then proceeds to beat down the "World's Strongest Man" in the same way that he did to Rodriguez.
This must mean that Teddy Long loses his job! But clearly the WWE think that we fans have extremely short-term memories.
They were probably banking on the fact that no one listens to Long anyway! 
The match ends by knockout, and Henry is stretchered out with the announcers selling the seriousness of the situation.
This makes no sense unless Big Show is turning heel and does not do anything for Mark Henry's new status as a monster heel.
Christian backstage with Matt Striker and he does not have much to say besides more negativity aimed at Teddy Long.
Six Diva tag team match next with AJ, Kaitlyn and Natalya teaming up to face Alicia Fox, Tamina and Rosa Mendes.
Another short match won by Tamina with a Samoan drop and another blot on Natalya's career as a coach of young Divas.
We cut to another backstage segment with NXT Season Four Winner, Johnny Curtis, which gets no reaction from the live crowd.
Curtis takes another page out of Zack Ryder's playbook by describing himself as an "Ace in the Hole" using visual aids.
I wonder if Vince McMahon actually has any plans for this man or whether they are trying to put over the fact that NXT still matters.
After coming back from the commercial break, the Usos are in the ring, and they are set to face the team of Justin Gabriel and Heath Slater.
It is difficult to tell who the heels and the faces are in this match as neither team gets much crowd reaction.
But, they are four talented athletes, and it is the first tag team match between two genuine teams in a very long time on SmackDown.
Hopefully, this is a sign of the WWE turning the corner with the emphasis they place on the tag team division.
This was by far the best match of the night so far, and it is so refreshing to see old-school tag team wrestling.
The Usos clearly know how to work the crowd, and they quickly establish themselves as the fan favorites with some serious intensity and a series of exciting moves.
Jimmy Uso caught Slater with a powerslam in mid air and tagged in Jey who hit a thunderous hip attack on Gabriel for two.
A nice-looking assisted Samoan drop sees another near fall, but the Usos are still rolling.
Super kick to Slater and a big body splash to Gabriel scores the victory, and the announcers hint that at the pay-per-view, the Nexus will have to defend their titles against the Usos.
Video package that shows all the heinous crimes R-Truth has committed in the past few weeks and hypes his match with Cena.
Alberto Del Rio is here tonight, and he announces himself in his usual fashion.
Interesting promo from Del Rio where he speaks of rumors that he is negotiating a return to SmackDown because he is afraid of the Big Show. The Mexican aristocrat denies this and mentions something about "destiny" and the fact that what went down with Show was an accident.
We then see yet more footage from Raw, this time of Big Show's assault on Ricardo.
Del Rio claims that Rodriguez was his best friend and likens him to a "loyal dog." He talks of Ricardo's family and says that he will dedicate his victory at the PPV to his best friend.
The Big Show's music hits and here come the Giant!
Del Rio is hot-tailing it out of the arena as the Big Show looks disturbed and violent. He destroys the announce table for no apparent reason and proceeds to start dismantling the ringside area.
We go to commercial break with the two rivals eyeballing each other from across the arena.
I can understand the logic behind this story as Del Rio has reawakened the vicious side of Big Show which has been hidden while he was promoting his corny movie.
This could eventually lead to a Big Show heel turn and this definitely means that we will see an edgier version of Big Show's face character.
Now it is time for the main event of the evening between Christian and Sheamus, and if Christian should lose, Sheamus will be added to the World title match this Sunday.
Randy Orton comes out to take his place at ringside, and he was clearly not watching the show backstage as he does not seem to know what happened to the announce table.
This is a good wrestling match between two good workers but shockingly ends when Christian seemingly knocks Sheamus out using the turnbuckle.
Christian scores the victory which goes against my predictions for the night, and after the match, Orton misses with the World Heavyweight Championship belt causing the No. 1 Contender to flee the ring.
They stare into each other's eyes, and then, Orton notices an unconscious Sheamus, and he decides to punt the Celtic Warrior in the skull.
This was a completely uncalled for attack and would seem to complete Sheamus' transition from heel to face.
It has been clear for some time now that the WWE have been attempting to build Randy Orton as the new Stone Cold—the new anti-hero.
They both have finishing moves that can materialise from nowhere and that the crowd pop wildly for.
Austin's trademark was showing heel characteristics in his role as a face which was typical of the Attitude-Era.
Ever since Orton's face turn, he has continued to show a sadistic side and mean streak that has included punting Nexus members in the head.
However, this character does not work as well in the tamer, more family-friendly PG-era, and I will be interested to see the crowd's reaction for Sheamus the next time he appears on TV.
All in all, a generic go-home show which did not really do much in terms of furthering any of the storylines, but an extra dynamic was added to the Big Show-Del Rio feud as well as the World Championship feud.
I still think that Orton will drop the title this Sunday setting up a Sheamus-Christian feud for the belt while Orton feuds with Rhodes.
Feel free to post comments detailing your thoughts on the show and if you hated this attempt at a recap, please give me feedback and I will stick to writing opinion-based articles!