Strikeforce: Overeem vs. Werdum Results and Cageside Coverage from Dallas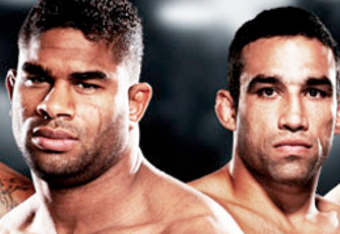 Join Bleacher Report cageside for live Strikeforce: Overeem vs. Werdum results, analysis and commentary.
There is a strong chorus of voices out there that will tell you Strikeforce: Overeem vs. Werdum features the two hottest heavyweights that mixed martial arts has to offer at the moment.
Given the injury to UFC heavyweight champion Cain Velasquez and the demise of Brock Lesnar, that chorus can make a pretty persuasive argument for Strikeforce heavyweight champion Alistair "Demolition Man" Overeem and Fabricio "Vai Cavalo" Werdum.
Granted, the UFC's new top contender at 265 pounds, Junior "Cigano" dos Santos, slammed his name into the discussion with his decisive win over Shane Carwin at UFC 131, but you get the point.
Overeem and Werdum are both scorching at the moment.
That fact has given the second installment of the Strikeforce Heavyweight Grand Prix quarterfinal bouts a considerable buzz.
The Demolition Man has, well, demolished his last three opponents and hasn't lost since suffering a 2007 knockout at the hands of Sergei "The Russian Mercenary" Kharitonov (who lurks on the other side of the bracket).
Meanwhile, his Brazilian counterpart is "The Man Who Beat Fedor" and who, one fight before that, also defeated the behemoth awaiting the Overeem vs. Werdum winner in the semifinals (Antonio "Bigfoot" Silva).
Not to mention the victory Werdum already boasts over Overeem from 2006.
And that's just the main event.
The card also features Josh "The Baby Faced Assassin" vs. Brett "The Grim" Rogers in the other heavyweight quarterfinal bout, K.J. "King" Noons in a lightweight match with Jorge "Gamebred" Masvidal and everyone's favorite anarchist, Jeff "The Snowman" Monson making his return to the bright lights of a big event.
So join Bleacher Report at cageside in the heart of the Lone Star State and get up-to-the-minute results for each fight listed below:
Main Card Bouts on Showtime
Alistair Overeem vs. Fabricio Werdum—Overeem defeats Werdum by unanimous decision (29-28, 30-27, 30-27).
Josh Barnett vs. Brett Rogers—Barnett defeats Rogers by submission (arm-triangle choke) at 1:17 of the second round.
K.J. Noons vs. Jorge Masvidal—Masvidal defeats Noons by unanimous decision (30-27, 30-27, 30-27).
Daniel Cormier vs. Jeff Monson—Cormier defeats Monson by unanimous decision (30-27, 30-27, 30-27).
Valentijn Overeem vs. Chad Griggs—Griggs defeats Overeem by TKO (strikes) at 2:03 of the first round.
Preliminary Card Bouts on HDNet
Gesias Cavalcante vs. Justin Wilcox—Cavalcante and Wilcox fight to a no decision (accidental eye poke) at 0:31 of the second round.
Conor Heun vs. Magno Almeida—Heun defeats Almeida by unanimous decision (29-28, 29-28, 29-28).
Nah-Shon Burrell vs. Joe Ray—Burrell defeats Ray by unanimous decision (29-28, 29-28, 29-28).
Brian Melancon vs. Isaac Vallie-Flagg—Vallie-Flagg defeats Melancon by split decision (28-29, 29-28, 29-28).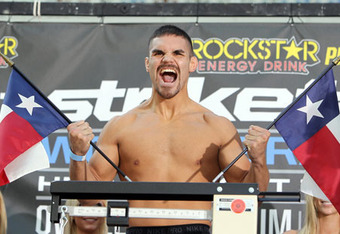 Strikeforce: Overeem vs. Werdum Results—Todd Moore Defeats Mike Bronzoulis
The third and final round of surreality begins with Mike Bronzoulis fighting with the desperation of a man who thinks he might be behind on the scorecards. Wise move.
To complicate matters for Todd Moore, it appears as if he's given all he can and his gas tank is on empty. The Greek is winging away while Moore can simply defend and then squeeze out a few for-show jabs that aren't bothering Bronzoulis whatsoever.
Moore's left eye is also slowly turning into a mess; no blood, but it's discolored and looks to be swelling a tad. All of this is great news for the Greek, but the bad news isn't far off as Todd grabs a hold of him and kills the exchange.
He manages to drag Bronzoulis to the ground where he stays just active enough to avoid a restart by the ref and just strong enough to keep the Greek from retaking his feet until there's less than a minute on the clock.
That spate of offense from Moore is probably enough to stave off any 10-8 talk, which means he might've just saved the decision. The final horn ends Bronzoulis' first 10-9 round on my scoresheet, but I don't think that's gonna be enough.
Todd Moore defeats Mike Bronzoulis by unanimous decision (29-28, 29-28, 29-28).
Strikeforce: Overeem vs. Werdum Results—Mike Bronzoulis vs. Todd Moore , Rd. 2
The American Airlines Center is so quiet, you might literally be able to hear a pin drop. Well, not a pin, but definitely someone's keys. It's not just that the building is virtually empty, it's that nobody left seems to particularly care about what's going on in the cage.
They just don't want to leave while they are still throwing punches.
Anyway, Moore comes out and continues to pepper his opponent with strikes before dropping levels and trying for a takedown. Bronzoulis defends and stalks his prey down, eating more leg kicks and straight punches for his trouble.
The Greek looks to have more power, but it's not mattering at this juncture because he's absorbing five to 10 strikes for each one he lands. Even when you're the bigger power puncher, that's a recipe for disaster.
Bronzoulis musters about 90 seconds of aggression that, if he could maintain for an entire round, would probably net him the bout. But he cannot as Moore reasserts control of the tussle...sort of.
The Greek appears to pull Todd to the ground with him, but the end results is Moore on top in Bronzoulis' guard so that's not really helping Mike's case as the horn ends what was probably another 10-9 round for Moore.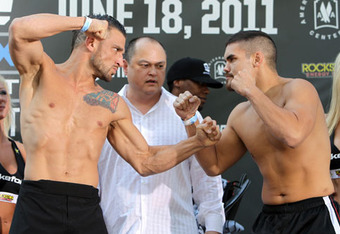 Strikeforce: Overeem vs. Werdum Results—Mike Bronzoulis vs. Todd Moore , Rd. 1
In one of the stranger things I've seen at a big-time MMA event, Strikeforce held Mike "The Greek" Bronzoulis against Todd Moore off the preliminary and main card. Instead, these two are bout to go at it AFTER the main event, which is kind of surreal since the building is almost empty now.
I'm talking, friends, family and media only. Very odd.
Granted, it creates one silver lining to the lackluster bout between Alistair Overeem and Fabricio Werdum. If that had been a true burner, the anticlimactic feel to this bout would've been suffocating. As it is, it feels like one more chance to get a fantastic fight.
So far, however, neither fighter is cooperating as both are feeling each other out with strikes from a safe distance.
Moore is the first to the punch, landing a nice right hand that has Bronzoulis shaking his head and gesturing for Moore to come at him—a sure sign that the punch hurt him. A couple of leg kicks land from Moore as he narrowly avoids a big haymaker from his opponent.
The Greek is just ducking his head and whaling away at his opponent, which might work if he lands any of those power bombs, but is leaving him open for lots of counterstrikes and more than a few knees.
Moore lands with more leg kicks as well as straight lefts and rights as he takes the first round, 10-9.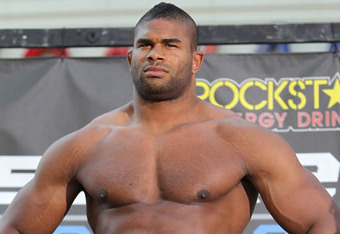 Strikeforce: Overeem vs. Werdum Results—Alistair Overeem Defeats Fabricio Werdum
Fabricio Werdum comes out to start the third stanza hell bent for leather, but Alistair Overeem has finally wised up to the left-right jab that's been landing so frequently. He ducks out of the way and blocks most of the rest of the barrage before firing back with those howitzers he calls arms.
Vai Cavalo lies back down in the face of the onslaught and Overeem takes the bait. With basically an entire round left, that's not a good idea. So he climbs back to his feet and begins to taunt the prone Werdum again.
More punches land from the Demolition Man and convinces Werdum to dissolve back to the ground. Again, Overeem joins him and proceeds to lie on top of the Brazilian, much to the crowd's chagrin.
A deafening chant of "stand them up" breaks out, but the ref ignores it as Werdum starts inching his legs up Overeem's back. The problem for Vai Cavalo is that Overeem is simply TOO FREAKIN' BIG for any of these shenanigans.
The Dutch Strikeforce Heavyweight Champion has a massive and obvious strength advantage over his opponent. Werdum spices the end up a bit by catching Alistair in a desperate knee bar, but Overeem's corner quickly signals to its fighter that there are only five seconds left so he's in no danger.
Sure enough, the final horn sounds before the Reem looks to be in serious pain.
Alistair Overeem defeats Fabricio Werdum by unanimous decision (29-28, 30-27, 30-27).
Not really the crowning achievement the crowd and Strikeforce wanted, but a resounding victory for Alistair Overeem nonetheless.
It does bear mentioning, however, that the Demolition Man was gasping for breath during the post-fight interview. Something to keep in mind considering that wasn't the most taxing fight from the outside looking in.
Strikeforce: Overeem vs. Werdum Results—Alistair Overeem vs. Fabricio Werdum, Rd. 2
Alistair still seems to be smiling to himself as the second round unfolds, but that left-right combination from Werdum is landing almost at will. Bas Rutten screams for Overeem to avoid those strikes, but Overeem eats a few more and even looks a little wobbled momentarily.
For the first time, he's on the ground and not in a position to spring right back to his feet. The instant passes and Overeem is back on his feet where he lands a couple of his patented power shots that visibly jar Fabricio.
The Reem smells blood in the water as Vai Cavalo wilts to the ground and, with El Guapo yelling at him not to do so, the Dutchman puts himself into Werdum's guard. After a few seconds, Alistair heeds Rutten's exhortations and pulls out of the dangerous guard.
The referee is now telling Werdum to stand up and, since is this is the billionth time he's had to make the request, he's beginning to lose patience. Another strike by Overeem gives Fabricio an excuse to go back to the ground and Alistair unwisely joins him.
With so little time left in the round, there's probably no danger. Especially since both men just lie there as the American Airlines Arena rewards them with a cascade of boos.
Another of the ugliest 10-9 rounds you'll ever see goes to Alistair Overeem.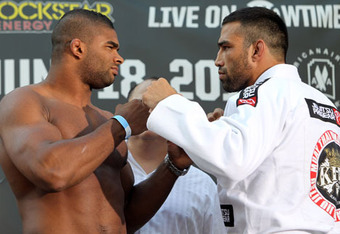 Strikeforce: Overeem vs. Werdum Results—Alistair Overeem vs. Fabricio Werdum, Rd. 1
And away we go.
The last quarterfinal bout is underway and the winner of this one figures to be the prohibitive favorite going forward into the semifinals of the Strikeforce Heavyweight Grand Prix.
The men meet in the center of the cage and Werdum is the first to strike, throwing a high kick that Overeem easily ducks under. The Demolition Man seems to be finding his range and Vai Cavalo isn't in a hurry to let him do so, shooting in for takedown after takedown.
The Reem easily stuffs the shots and smirks as the crowd mercilessly boos Werdum. To his credit, Fabricio picks himself off the ground and comes forward behind some strikes. To his discredit, the strikes are nowhere NEAR landing or even touching the Dutchman.
Alistair is making a great show of making Werdum look harmless, but the big fella isn't showing much offense yet.
As I type that, he lands a stinging blow to the Brazilian's midsection, throws Fabricio to the ground and then raises both arms skyward to indicate he's not impressed. Perhaps the left-right combination that Werdum lands will change the Reem's tune.
Or not.
Overeem is still just standing in front of Werdum and basically proving that he's in no danger. He finally lands a blow of consequence and puts Vai Cavalo on the floor, but he again refuses to follow him.
This time, it's Fabricio's turn to gesture as he beckons for Alistair to join him on the ground. Overeem isn't biting.
Werdum lands another left-right jab combo, but he pays for it as the Demolition Man lands a few more firebombs before the horn ends a 10-9 round for the Reem.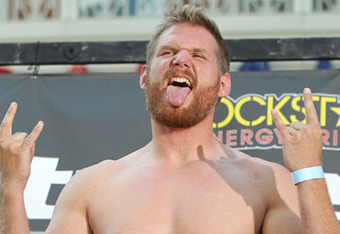 Strikeforce: Overeem vs. Werdum Results—Josh Barnett Defeats Brett Rogers
Whoa, Rogers comes out of his corner making the most of the brief standup, landing a nice right-left combination that snaps Barnett's head back and puts him in reverse. Momentarily.
After the initial shock, the Baby Faced Assassin lands a salvo of his own before a clinch ensues and Josh uses underhooks to author a beautiful throw that sends both men to the canvas. Barnett ends up on top (no surprise) and, this time, the dominant position yields a stoppage that many though would come in the first round.
Barnett transitions to full mount, slaps on the arm triangle and is busy improving an already fatal position as the Grim is forced to tap.
Impressive showing by Josh Barnett if only because he fought intelligently and dominated Brett Rogers exactly where he should have.
Josh Barnett defeats Brett Rogers by submission (arm triangle choke) at 1:17 of the second round.
The Baby Faced Assassin plays to the crowd by referencing the Dallas Mavericks and then goes on a rambling diatribe about winning the grand prix one fight at a time. Never—NEVER—have I seen a Gus Johnson interview with less Gus Johnson in it.
Say what you want about the guy, Josh Barnett has fun in there and that makes him a joy to watch.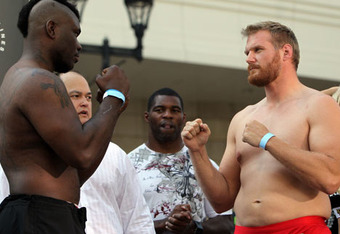 Strikeforce: Overeem vs. Werdum Results—Josh Barnett vs. Brett Rogers, Rd. 1
Time for the second-to-last quarterfinal bout of the Strikeforce Heavyweight Grand Prix as Josh "The Baby Faced Assassin" Barnett takes on Brett "The Grim" Rogers.
Barnett immediately shoots for a takedown off an ill-advised Rogers leg kick and eventually lands a crushing slam that had the Grim groping for the top of the cage. That's about the worst possible start for Rogers short of a flash knockout; not only is he on the ground with almost a full four minutes remaining, but he was also sent there with crushing force.
The Baby Faced Assassin, who is rocking a full beard so he's not too baby-faced, is all over Rogers on the ground. He momentarily isolates the Grim's arm before a seamless transition to full mount leaves the inexperience ground fighter Rogers in all kinds of hurt.
The Grim tries to use the cage to buck Barnett off him, but the accomplished grappler isn't having it as he uses his hooks to maintain position. Josh tenderizes his opponent with a few short punches and elbows, briefly loses the mount and just as quickly returns to it.
Barnett hasn't doled out much damage, but that's about as dominant a round as you'll see...minus any real offense of which to speak. Clear if unsatisfying 10-9 round for Barnett.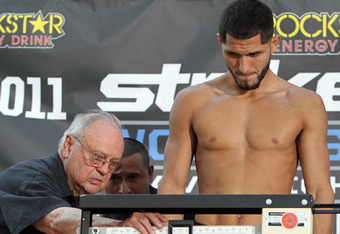 Strikeforce: Overeem vs. Werdum Results—Jorge Masvidal Defeats K.J. Noons
K.J. Noons is gonna need a stoppage to pull this fight out of the fire, but he's certainly equipped for the trick. Especially if Jorge Masvidal decides to play it safe and coast to a decision victory, which he seems to be doing in the early going.
After about a minute, Gamebred throws his first sincere strikes of the round, but is still spending far too much time covering up and on the defensive. Meanwhile, Noons continues to press forward despite an increasingly gory visage—he's been bloody since the first round, but there now seems to be some pretty ugly swelling over his right eye as well. At least it sure looks like it from my cageside angle.
Jorge latches onto K.J. with about 100 seconds left in the third and manages to wrestle his prey to the ground where he proceeds to lie on him as the seconds bleed off the clock. K.J. tries to get back up, but Masvidal still has a hold of one leg so the Hawaiian (fighting out of San Diego) can't quite complete the escape.
That's where the fight ends as Jorge Masvidal finally makes good on one of my predictions, even if he didn't take that last round (which I gave to him, 10-9).
Jorge Masvidal defeats K.J. Noons by unanimous decision (30-27, 30-27, 30-27).
Strikeforce: Overeem vs. Werdum Results—K.J. Noons vs. Jorge Masvidal, Rd. 2
Noons comes out for the second with a stripe of blood basically splitting his profile in equal parts, which makes for an interesting visual. Fortunately for K.J., the blood seems to be staying out of his eyes for the moment.
Nevertheless, Gamebred feels momentum shifting to his corner and begins to posture a bit, hanging his hands low as Noons comes flailing in at him. A leg kick stumbles King Karl before Jorge sidesteps a few more haphazard punches, then takes the fight back to the ground.
Noons is doing his best to kick his attacker off him and hop back to his feet, but Masvidal isn't having it for the moment. K.J. does manage to scoot over to the fence and uses it to get back to his feet, but given the tentative state of his vision, that might be an adjustment from the frying pan to the fire.
Gamebred lands another shot right to Noons' face and you really have to wonder how much that blood is bothering K.J. A clinch against the cage suddenly reverses with Masvidal ending up on the ground and the crowd rising to a crescendo as Noons snipes away, but Jorge avoids most of the animosity.
Masvidal lands another few shots before the horn ends a second 10-9 round for Jorge.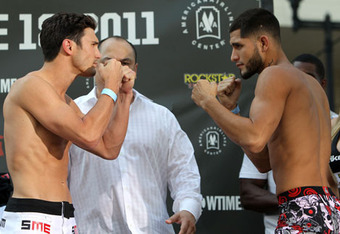 Strikeforce: Overeem vs. Werdum Results—K.J. Noons vs. Jorge Masvidal, Rd. 1
Suffice it to say I'm suddenly not so enamored of my pick, Jorge "Gamebred" Masvidal, after the performances of my first two picks. I'm thinking I should've gone with the chalk here, but oh well.
The fight's on and King Karl, sporting the shorter hair he promised after his loss to Nick Diaz, rushes to take the center of the cage. Masvidal meets him there, but is soon reversing in the face of a striking offensive from Noons.
K.J. has some fantastic boxing and he's using it to take early command of the bout, though Masvidal doesn't look terribly troubled by it. In fact, he takes his time and then chooses an opportune time to shoot in for a successful takedown.
Now, the fight is in Gambred's world and probably will be for the last half of the round, provided Jorge stays busy enough to avoid the restart. Something he's not doing a good job of at the moment. Give King Karl some credit for the stalemate, though, as he's isolated Jorge's arm and threatening it with a kimura to hold Masvidal at bay.
Noons struggles to his feet where he's commanded the action, but Masvidal looks to have found a bit of a rhythm and lands a pretty flush knee to Noons' forehead, which draws a good amount of blood.
K.J.'s swiping at the blood that's running into his eyes from the cut and gets caught as he's doing so. Another knee sends him slamming to the ground and Masvidal dives on top of him. Gamebred is in an all-out frenzy to finish the fight and lands several more punches directly to Noons' grill, but K.J. survives to the bell.
Call that one 10-9 for Masvidal.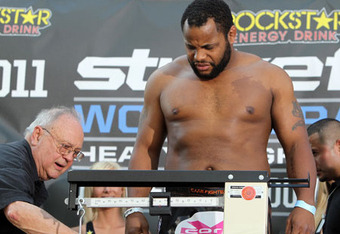 Strikeforce: Overeem vs. Werdum Results—Daniel Cormier Defeats Jeff Monson
Man, was I wrong about Daniel Cormier's striking. I stand by the assertion that the guys he has stopped via strikes may or may not be cans, but he's looking quite slick against Jeff Monson. His power might be a little questionable—tough to tell because the Snowman is a tough customer—but his versatility on the feet is NOT.
He's currently taking Monson apart with all manner of offense—jabs, overhands, high kicks and he even showcased a nice front kick for good measure.
Meanwhile, Monson is in almost complete survival mode as Cormier begins to land some large punches. He still hasn't really floored the Snowman, though he did knock him to the ground, but he's giving Monson a serious blasting in there.
Cormier's also exhibiting some smarts in the hexagon (this isn't the UFC yet) by refusing to engage his victim where he feels most comfortable: on the ground. That doesn't stop Daniel from planting Monson on the ground via a thunderous throw, but he's too wise to follow his antagonist to the ground.
And with the success he's enjoying on his feet, why would he?
The final horn ends another 10-9 round for Monson (possibly 10-8) and I'm now 0-for-2 on the prediction front.
Daniel Cormier defeats Jeff Monson by unanimous decision (30-27, 30-27, 30-27).
Strikeforce: Overeem vs. Werdum Results—Jeff Monson vs. Daniel Cormier, Rd. 2
Hmm, my second prediction is looking more than a little wobbly at this point as Daniel Cormier continues to press his striking advantage home against Jeff Monson. The Snowman is beginning to find his range a it, but it's still Cormier who is getting the clear upper hand so long as this bad rider remains on its feet.
Cormier doesn't look like he's in any danger of stopping Monson, but he is routinely backing his adversary up with punches. In other words, he's having a romp in the judges' eyes (or he should be enjoying one, we'll have to wait to find out).
The flurries stop as both men tap into their energy reserves while in a clinch against the cage, but Cormier ends the respite with a salvo of punches that finds its mark. Daniel even mixes in a shoulder strike to the shorter competitor.
The second horn sounds on another 10-9 round for Cormier and it's obvious now that the Snowman will have to find a way to drag the tussle to the ground if he wants to have his hand raised.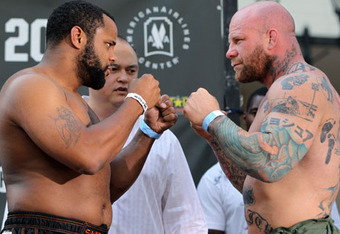 Strikeforce: Overeem vs. Werdum Results—Jeff Monson vs. Daniel Cormier, Rd. 1
Bas Rutten is in the house; actually, he's sitting right in front of me. Good times.
Meanwhile, Daniel Cormier and Jeff Monson are in the cage and exchanging strikes—the Snowman seems to have added tattoos since last I saw him, which is kind of hard to believe. He's certainly added some color to them.
Some tentative striking gives way to a brief clinch before the gladiators separate and continue the feeling out process. SO far, neither man has shown much interest in taking the scrap to the ground, which might make sense given the pedigrees trapped in the cage.
Another stagnated clinch gives way to our first earnest striking of the match and Cormier, the Olympic wrestler, is getting the better of it. The Snowman seems to be more pawing at his adversary than anything else.
Daniel gets off a thwacking kick to Jeff's midsection as he continues to press his apparent advantage on the feet. Cormier again goes to the body, but with a punch this time and Monson is visibly struggling with his opponent's striking.
More shots land from Cormier and the Snowman backpedals again as the horn ends Round 1.
Score it 10-9 for Cormier.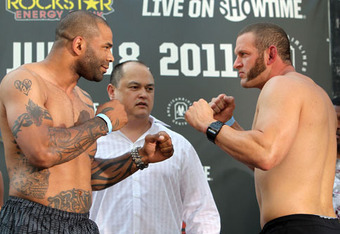 Strikeforce: Overeem vs. Werdum Results—Chad Griggs Defeats Valentijn Overeem
And we're back with Valentijn "The Python" Overeem kicking off the main card against Chad "The Grave Digger" Griggs.
The action is slow-going in the opening minutes of the round as both men try to feel their respective opponent out. Then Overeem throws some sort of spinning nonsense that leaves him with his back facing Griggs and the Grave Digger takes full advantage.
He rushes in and clinches up against the cage for a minute and then hurls Valentijn to the ground. From there, the younger Griggs pounds away on the turtled Dutchman, landing bomb after bomb after bomb as the Python could do nothing but hold onto one of Chad's arms for dear life.
After 10 or 15 unanswered shots from the American, the referee has no choice but to jump in and save the inert older Overeem.
Chad Griggs defeats Valentijn Overeem by TKO (strikes) at 2:08 of the first round.
Well, it didn't take long for my predictions to go up in flames. Just over two minutes, in fact.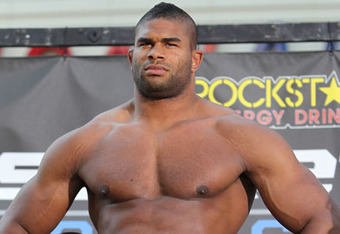 Strikeforce: Overeem vs. Werdum Fight Card Predictions—Picking the Main Card, Alistair Overeem over Fabricio Werdum
Some would say I've been guilty in the past of not giving Alistair "The Demolition Man" Overeem his due. The guy has been an unstoppable force of nature since he, ahem, gained all that muscle and his striking credentials are beyond reproach. My problem with him is the level of competition he's faced—he hasn't quite gone the Fedor route, but he hasn't been fighting the cream of the heavyweight crop, either.
That would be a colossal problem...if I considered Fabricio "Vai Cavalo" Werdum the cream of the 265-pound crop.
I don't.
Yes, he was the first man to beat Fedor "The Last Emperor" Emelianenko. Yes, he beat the second guy to beat Fedor, Antonio "Bigfoot" Silva. Yes, he already owns a victory over the Reem. So what?
Those first two victories are less than stellar in my opinion—the heavyweight division has clearly passed the undersized Emelianenko by and, even so, the gargantuan Silva couldn't really stop Fedor despite having almost a foot and 50 pounds on the Russian. Those two realities take much of the oomph out of Werdum's recent win streak.
Vai Cavalo did stop both Brandon "The Truth" Vera and Gabriel "Napao" Gonzaga (twice) so the infamous submission specialist does have some pop in his hands.
The two-part question is: Does he have enough pop to go toe-to-toe with the Demolition Man and, if not, can he keep the bout on the ground.
It says here, "no on both accounts."
Remember that Fedor actually dropped Vai Cavalo and escaped the first sub attempt in his notorious loss. Based on what we saw that night, it's tough to imagine (A) Overeem faring any worse on his feet; or (B) Alistair being unable to avoid the submissions given the Dutchman's laurels on the ground.
Though Alistair is an infinitely better striker than he is a grappler, he's no chump on the ground.
Oh, and he looks like a different, jacked person since that original bout with Werdum.
Expect him to even his record against the Brazilian and advance to the grand prix semifinals.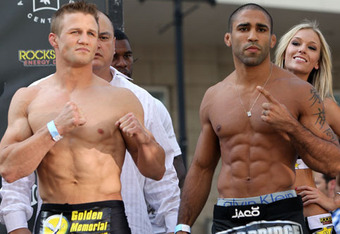 Strikeforce: Overeem vs. Werdum Results—Justin Wilcox and Gesias Cavalcante Fight to a No Decision
Uh oh, this does NOT look good.
About a minute into the second round, Wilcox is coming forward to throw a punch and catches a Cavalcante finger DIRECTLY in the eye. That drops him like a gunshot and he's writhing around on the canvas in agony. After he stops thrashing for long enough, the doctor comes into the cage and takes a look at the injured Silverback.
She tests his vision and Wilcox doesn't pass.
Of course, he's immediately beside himself and insisting he can carry on, but he might want to rethink all the hysteria from seconds before in the future if he wants to sell that bill of goods. The doc ain't buying it as she shakes her head and walks away.
That's all she wrote, folks, we've got a no decision courtesy of an accidental eye poke. The crowd boos the results until Jimmy Lennon reminds the arena it was a great fight until the poke (it wasn't) and that elicits cheers.
See? It's as easy as that.
Justin Wilcox and Gesias Cavalcante fight to a no decision (accidental eye poke) at 0:31 of the second round.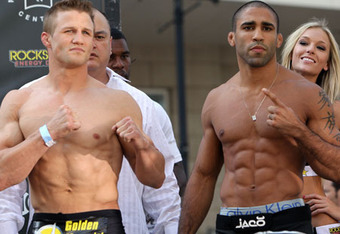 Strikeforce: Overeem vs. Werdum Results—Justin Wilcox vs. Gesias Cavalcante, Rd. 1
Justin "The Silverback" Wilcox and Gesias "JZ" Cavalcante are already in the cage exchanging pleasantries and, so far, Wilcox is getting the better of his opponent. There hasn't been a whole lot to report, but what carnage there has been has all been in favor of the Silverback (incidentally, WHY is that a popular nickname? I get that the gorillas are gnarly, but...).
Since there isn't much in the way of points being scored, let's talk about Wilcox. Holy lord, this dude is built like a brick s*** house—he's got muscles bulging from head to toe, which generally means JZ should be pushing the pace and hoping to force those muscles to use up all his oxygen.
Alas, that's not what Cavalcante is doing. Instead, the Brazilian is opting to stand at range and allow Wilcox to control the pace.
The horn ends a first round surprisingly devoid of actual hostility. Give it to Wilcox for aggression, 10-9.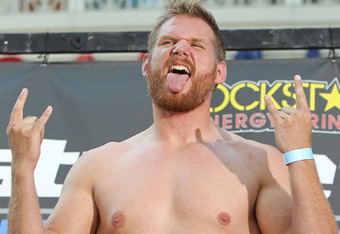 Strikeforce: Overeem vs. Werdum Fight Card Predictions—Picking the Main Card, Josh Barnett over Brett Rogers
Little break in the action so let's get to the co-main events...or at least the two biggest tussles on the card.
First, we've got Josh "The Baby Faced Assassin" Barnett taking on Brett "The Grim" Rogers in the penultimate quarterfinal of the heavyweight grand prix. Barnett has his detractors and they can make pretty strong, accurate criticisms of the grizzled veteran, but say what you want, the man can fight.
What's more, he's highly versatile—listing accomplished strikers and grapplers on his hit list.
On the other hand, the Grim is pretty much exclusively a striker and the jury's still out on just what caliber of a striker he is. The man has power, no doubt about that, but it takes more than that to compete at the highest level of mixed martial arts.
And Josh Barnett is definitely an elite practitioner of MMA.
There's definitely some cage rust concern in Barnett's camp because it's been almost a full year since he's been in the cage. But it's also been eight months since the Grim threw punches in anger and Josh is a weathered veteran of the sport who should be able to deal with a bit of rust.
The Baby Faced Assassin doesn't always take the most cerebral approach so it's not a given he'll try to finish this bout on the ground. Even if he doesn't, however, his ability to do so should make Rogers wary even on his feet and that should tip the tilt to Barnett.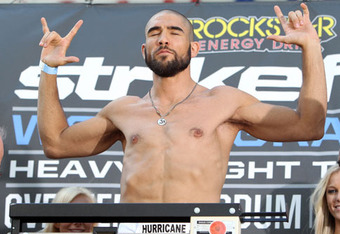 Strikeforce: Overeem vs. Werdum Results—Conor Heun Defeats Magno Almeida
We're off and running in the final round and we're back on the ground where it looks like Almeida still has the advantage. Heun has been game for everything thrown at him in the grappling category, but he's also markedly on the defensive when the scrap goes to the canvas.
A struggle for position gives way to an anaconda choke from the Brazilian after a gorgeous transition, but the Hurricane is—once again—too tough to tap. Not only that, but he also mounts his most convincing assault after breaking out of the hold and reversing the dominant-dominated position dynamic.
Now sitting on top of his adversary, Heun splatters the Brazilian with hammer fists and ground 'n' pound right up until the final horn. I've got Almeida up by two rounds so the beating he just took doesn't matter on my scorecard.
But my sheet isn't always the most dependable (I blame that on the awful judges) and, if I'm wrong, so is Magno because he just might've handed the bout to Conor Heun.
Remember, the judges always like the guy who finishes strong.
As they did in this case.
Conor Heun defeats Magno Almeida by unanimous decision (29-28, 29-28, 29-28).
Strikeforce: Overeem vs. Werdum Results—Magno Almeida vs. Conor Heun, Rd. 2
The second round gets off to a far more tepid start than the first; we're already pressed up against the cage in a bit of a stalemate. The Brazilian is doing the pressing initially and lands with several knees from inside the clinch, but Heun soon reverses and begins throwing knees of his own.
Then Almeida tries to revere, but Heun chucks him off and right into the ref, who goes tumbling to the ground before getting up no worse for wear...except maybe his pride took a bruising because these guys are roughly half his size.
Dude is huge; I actually though it was Dan Miragliotta before getting a better look.
Back to the fight—Almeida again looks to control the action and catches Heun in a severe armbar as the fight returns to the ground. The Hurricane is defending well and trying to open an escape hatch with heel kicks to Magno's back, but the Brazilian isn't letting go.
On the other hand, Conor isn't tapping and seems to be in a safe enough position that Almeida is forced to relent and the fighters now find themselves in an awkward position, with Heun in sort of a backward body triangle.
The horn sounds before anything else of note happens.
Give that one to Almeida, 10-9, by a clearer margin.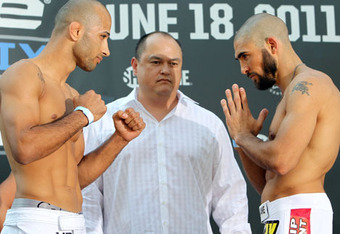 Strikeforce: Overeem vs. Werdum Results—Magno Almeida vs. Conor Heun, Rd. 1
Up next, we've got Conor "The Hurricane" Heun against Magno Almeida, who is making his Strikeforce debut.
After the initial water testing, a first-class grappling battle ensues with both men transitioning from hold to hold and from offense to defense before the flurry of action stagnates against the base of the cage. Hard to tell who had the upper hand while they were rolling around on the ground, but the Brazilian Almeida gave his opponent reason for the longest pause with a heel hook before ending up in Heun's guard against the fence so let's say he had it.
Regardless, the referee saw enough of Almeida sitting in the Hurricane's guard so he restarts them and Magno quickly ends up on his rear via what appeared to be a slip or an intentional fall. Either way, Heun coasts to the end of the first round launching kicks at his prone opponent and scoring some points in the judge's eyes.
Pretty much a toss up from where I sit, but I'll give the round to Almeida by virtue of the busy opening exchange on the ground and the dominant position when it ended.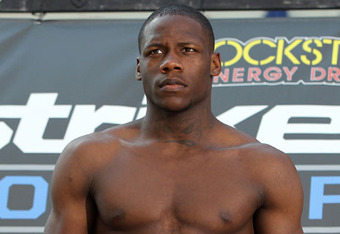 Strikeforce: Overeem vs. Werdum Results—Na-Shon Burrell Defeats Joe Ray
We're "treated" to our first extended striking exchanges of the bout and, suddenly, all the ground fighting makes a whole lot more sense. At least from Ray it does.
Neither man looks perfectly comfortable on his feet, but Na-Shon Burrell looks a hell of a lot more effective so, from that perspective, his repeated takedowns make little sense. He's certainly having a more one-sided time of it on his feet.
Joe Ray is relegated to half-hearted kicks and counterstriking that's not doing enough to turn back the developing tide. Burrell inexplicably scores another takedown, though it may have been more of a guard-pull by Joe than a sincere takedown. Regardless, they're on the ground briefly before Joe gets back to feet and registers what looks like a takedown of his own.
From there, he snaps on a guillotine that looks pretty deep, but Burrell powers out of it sans panic.
With about 90 seconds left, it's pretty tough to tell who is controlling whom because both men are standing and then falling back to the canvas in unison. But the Rocket Bulldog ends up on top so let's give him the points.
Burrell spends the last minute on top of his victim, dishing out a bit of abuse, but more just riding out the position for the win.
Na-Shon Burrell defeats Joe Ray by unanimous decision (29-28, 29-28, 29-28).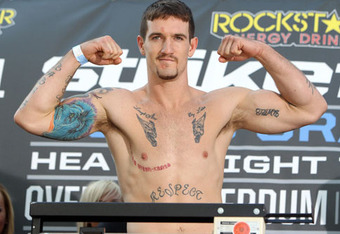 Strikeforce: Overeem vs. Werdum Results—Na-Shon Burrell vs. Joe Ray, Rd. 2
I guess the takedowns are Burrell's gameplan because he secures yet another in the early going of the second stanza. But he's sure not doing much except defending once he gets to the ground. This time, however, he's able to wrap Ray up before the latter can do anything and then...nothing.
Na-Shon just lies on Joe in a bear hug and forces the referee to stand the gladiators back up, but not one to be dissuaded, the Rocket Bulldog comes right back in and plants his opponent on his back. Burrell doesn't follow him to the ground, though, opting to instead rain blows from above.
Or maybe make that "blow," as in singular, because he's really not doing much of anything.
Of course, Joe Ray isn't doing much either as the horn calls an end to Round 2.
Give that one to Burrell, 10-9, because he got the same takedowns, but Ray wasn't nearly as active or effective off his back.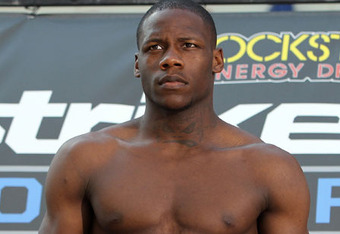 Strikeforce: Overeem vs. Werdum Results—Na-Shon Burrell vs. Joe Ray, Rd. 1
Next up we've got Na-Shon "The Rocket Bulldog (at least I think that's what Lennon said)" Burrell squaring off with Joe Ray and both question marks are physical specimens. Burrell is shredded such that you can see almost every muscle fiber twitch while Joe Ray is heavily tatted up and has enormous calves.
Not that any of the above is indicative of how well they can fight, but it bears mentioning because I mentioned it.
As for the actual action, a brief feeling out process gives way to a shot from Burrell that he turns into a successful takedown. But Burrell might think twice about his next effort to move the struggle to the ground because he spends the next two minutes defending against slick submission attempts from Ray.
Eventually, Ray retakes his feet only for the fight to go back to the ground, where Na-Shon finds himself in a dire armbar. Give the Rocket Bulldog (can that really be his nickname?) credit because he doesn't panic and defends the submission well.
The final seconds of a relatively impressive round for both men tick off the clock. Tough to call, but I'm giving the round to Ray (10-9) for his numerous submission attempts.
This article is
What is the duplicate article?
Why is this article offensive?
Where is this article plagiarized from?
Why is this article poorly edited?